Ramadam: Tambuwal Preaches Unity, Tolerance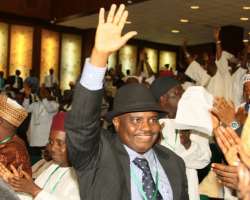 HOUSE SPEAKER AMINU WAZIRI TAMBUWAL.
ABUJA, July 31, (THEWILL) - The Speaker of the House of Representatives, Hon. Aminu Waziri Tambawal, has called on the Muslim faithful to strive for a peaceful co-existence with Nigerians from other faiths as they commence fasting in the Holy month of Ramadan.
Ramadan is a period of intense devotion and reflection upon the wisdom and guidance that come with faith and the responsibilities that human beings have on one another.
The Speaker reminded Muslims faithful and Nigerians in general to reflect on the principles and ideals that we hold in common and work towards advancing tolerance, peace, progress, justice, mutual co-existence and the dignity of all human beings as enshrined in both the Holy Qur'an and the teachings of prophet Mohammed (peace be upon him).
In a statement signed by a principal information officer in his office, Ismaila Uba-Misili, Tambuwal enjoined the Muslim Ummah to use the Ramadan period to pray for continued peace, unity and stability in Nigeria as well as provide support to others in order to advance opportunity and prosperity for people everywhere.
"On our part" the Speaker restated "we are committed to providing legislative measures and interventions that will support government's efforts at guaranteeing peace, welfare, and security of Nigerians and the greater development of our country as we continue to stretch hands of fellowship and build blocks of unity and understanding irrespective of our differences.