OBUH: FROM KABUKABU DRIVER TO FOOTBALL STARDOM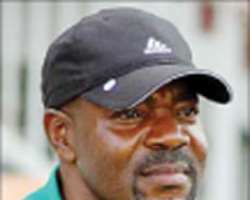 John Obuh
How did you start your coaching career?
I finished at secondary school and started with professional courses when I decided to pursue a career in coaching. I attended the National Institute for Sports in Lagos, Nigeria. I have also done online courses on physical and tactical training. I have attended FIFA high and medium level courses, CAF high level as well as administrative courses. I also have a DFB license from Germany.
Before taking up coaching, did you also played football to a top level?
I played for most of the top teams in Nigeria, like Enyimba, Sharks, Udoji United, Rangers, Abiola Babes and Julius Berger. I was a striker who came in from either the left or right side of attack. I was a forceful striker.I had a good shot with both legs and I was good aerially. Some of the players who were in my generation are Davidson Owumi, Victor Igbonabare, Tarila Okorowanta, Sunday Oliseh, Hilary Chimezie, Basil Okocha, Tyson Balogun and Tony Emeodofu.
Some of the players you mentioned played for the national team. Were you not good enough to also do so?
I played for the national team too but I did not establish myself there. I was invited by Clemens Westerhof once or twice, but I was also at that time looking at possibilities of playing overseas. On one such occasion I received an invitation have trials in Athens, Greece.
For a long time I was undecided about whether to make football a career and I was instead looking at openings to go back to school. A player like Sunday Oliseh left the university to play football, while I was looking at going in the other direction.
It was only when I realised that football was very much a part of me that was when I finally gave everything to the game.
You mentioned going on trials in Athens
Richard Edewor took us to Cyprus, where we played against Panathinaikos of Greece, who then invited me, Hilary Chimezie and Emoedofu for trials. We arrived in Athens only to find out that there was now a new management at the club, not the one who invited us. And the new Yugoslav coach came to the club with his own set of players.
Would that rate as one of your biggest disappointments?
No, because I always believe that there will be a second option. I have tried my hands in so many things. I built myself in such a way that if something does not work, another thing will surely work.
When we were stranded in Greece, the other players said they won't come back, but I came back with Davidson Owumi. I'm a Nigerian and there are so many other things I could do to earn a living, so there was no need to hang around Europe illegally.
When did you finally make up your mind you will be a coach?
This happened even when I was still playing football. Those around me knew I was organising the group I belonged to. I was called adviser…barrister… because I was doing a lot of things while I was playing. Even when I was not the captain of the team, I was always called upon to be part of decision making.
Coach Alabi Aissien predicted at a time that I will make a coach and he warned me not to refuse the calling. Also (Kashimawo) Laloko made a similar comment while I was playing at Enyimba. He asked me to quit playing so as to assist him as coach of Enyimba.
My older brother, Sam Obuh, insisted I should stay in the game as a coach because I have the potentials.
Lawrence Akpokona who was coach at Enyimba also advised me to attend coaching courses. At that time I thought they were just trying to find a way of getting rid of me at Enyimba. Akpokona gave me three of his coaching handouts and after the initial reluctance; I decided to pursue a coaching career.
But the problem was not with going to NIS, but with my job at Enyimba. I had just got married and my wife was based in Abuja and if I now quit the game, how would I pay the bills? What Nwangaga did was to make sure my salary at Enyimba was still running while I was still in school. It was not a lot of money but the club also assisted in so many other ways to ensure I was okay financially.
So, what happened after you graduated from NIS?
The challenge of being a coach was who you knew to hire you as a coach. There are a lot of clubs and also a lot of unemployed trained coaches. It was not the same back at Enyimba because those who supported me while I was in school were now no longer there. I left for Lagos and bumped into Laloko at the NFA lobby. He promptly got me into the Nigeria football academy in Abuja. Monday Sinclair was the technical director and I was asked to assist him.
I enjoyed the experience even when I was not being paid.
But the reality on the ground soon caught up with me - I had bills to pay and no money. I used my car to do kabukabu (taxi). This was only known to me and my wife. I would also travel to Aba most weekends to cut some materials to make suits and come and sell in Abuja. At a time those at the NFA knew me as a tailor, they did not consider me a coach because I was trying to make ends meet.
Before long there was an Under-14 competition as a prelude to the World Cup in France and coaches were appointed, Sinclair would be the head with the likes of Ladan Bosso. I was not.
Then at another time, the federation set up another U-14 camp in Osogbo. I was the second assistant in this camp preparing for a tournament in Spain.
About the same time, the coaches in the Under-17 team led by James Peters and Emmanuel Okalla were dropped about five months to the 1999 African junior championship in Guinea, Conakry. I was formally requested to go to Otta and assist Musa Abdullahi with the team.
Thys Libregts then in charge of the Super Eagles was also in Otta. There was not much for me to do there as there were other coaches also working with the team but I kept myself busy by working with the players who were not part of the main programme.
Libregts took interest in me and in his report to the NFA; he recommended that the association should support me because I will be a good coach.
I worked with them for 14 months without getting a paid. I asked to be employed, but it was really very difficult.
That must have been quite trying…
Yes it was! It was at that the time that then NFA chairman Abdulmumini Aminu asked me to assist his club Katsina United. I worked with Justin Tenger and Alphonsus Dike.
But there was no money at the club. I received the least salary, it was not even enough to transport me from Katsina to see my family in Abuja. My 5,000 naira bonus was also shared with the doctor, curator among others and in the end I would end up with 1,500 naira. Dike encouraged me not to leave despite the difficulties.
I took the team for an away game against Bendel Insurance because both Tenger and Dike were not available. I won the game. I would win three games in a row.
We qualified Katsina United for the CAF Cup that season. Dike would then ask me to join him to be his chief coach at Sharks. I got my first-ever signing-on fee of 500,000 naira. But at a time Dike had to leave and I was now left all alone with the club. Godwin Izilien from Dolphin and I ensured Sharks escaped relegation.
For the next season, Kadiri Ikhana was hired. He did not need my assistance.
I returned to Abuja resume my tailoring service. I bumped into Abdulmumini Aminu while working as kabakabu driver. He asked me to take over Katsina United, who have now been relegated.
But there was no money at the club. I remember a night my wife visited the hotel the club were staying up and she began to cry. The hotel was really not good. We escaped relegation and Kano Pillars approached me.
My wife was transferred to Kaduna, but we decided against it and she was paid off. From the money I bought a V-boot Mercedes Benz and put it at the airport for car hire.
At Pillars we were fourth on the table by mid-season and Baita asked for Bitrus Bewarang to come and before long we were the best of friends.
Bewarang moved after that season to Wikki and asked me to join him there. He negotiated a two million naira signing-on fee and a salary of 250,000 naira for me. He is a wonderful man but later left.
It was a sad experience when I returned to Wikki as Musa Abdullahi was appointed chief coach and he brought his assistant, Bosso. Musa eventually got a deal in South Africa (with Free State Stars). It was at that time I resolved to get a team where I will be head coach. I could not get the job as Ebonyi Angels chief coach and I left for Heartland to assist Ufere Nwankwo. Nwankwo later left and not long after, I was also sacked.
I soon got a contract to coach Niger Tornadoes. I was at the top of the league but coaches were coming around. There were rumours and speculations all over and we lost focus and finished fourth. The next season, they appointed Zakary Baraje, an indigene, as chief coach.
I had offers from Nasarawa United and Kwara United. I opted for Kwara even though they were playing in the lower league. I wanted to do something different.
I won them promotion to the NPL. It was at Kwara that I was given my first brand-new car, a Toyota Corolla, and two million naira for getting them back to the top flight. That inspired me. It was from Kwara I moved to take up the national U-17 team.
How many months to the 2009 Under-17 World Cup were you appointed coach?
It was about two, three months. It was a very short time to prepare the team but I was very, very positive even if I had been given the job a week to the World Cup. I just wanted to just go out there and do it.
Was it an act of desperation?
I wanted to prove a point I can do it. Even If I failed, people would see my contributions within that very little time.
Were you surprised with how well the team eventually did, reaching the final only to lose to Switzerland by the odd goal?
No because I believed I would succeed. This was my time and may this short time never be a hindrance.
I was optimistic even when the issue of the MRI scan came up.
The NFF president at the time, Sani Lulu, stood by me even when I was beginning to think there was some conspiracy against me and the new team I was building.
At a time, I had three players for each position just in case any one of them failed the MRI scan. In the end I had my team.
* Audu is the Media Officer of the Flying Eagles.