U.S to sell Alamieyeseigha's N91 Million House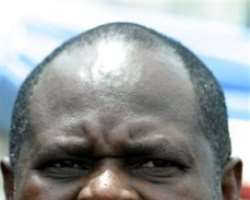 Diepreye Alamieyeseigha
The United States government has put the $600,000 (N91m) house of a former governor of Bayelsa State, Chief Diepreye Alamieyeseigha, in Rockville, Maryland, up for sale.
This is sequel to the filing of a forfeiture order by the Kleptocracy Team of the US Department of Justice on the house in March and a separate one in April on $400,000 (N60m) in a Fidelity Brokerage Services LLC account in Massachusetts.
Both assets were described as proceeds of corruption acquired during his tenure from 1999 to 2005.
Alamieyeseigha was impeached in December 2005 by the Bayelsa State House of Assembly and was consequently prosecuted by the Economic and Financial Crimes Commission on a 40-count charge of money laundering.
He was eventually convicted in 2007 on a six-count charge and sentenced to 12 years imprisonment, although he was expected to spend two years.
He forfeited shares worth over N1bn in the defunct Bond Bank and a luxury penthouse in Cape Town, South Africa, which has three en-suite bedrooms, two lounges, a designer kitchen, an entertainment room, five plasma screen television sets and a sound system worth half a million rands to the Bayelsa State Government.
Other properties forfeited were located in Abuja and Ikoyi in Lagos State. US Assistant Attorney-General Lanny Breuer of the Justice Department's Criminal Division had given an indication of the move to seize Alamieyeseigha's property in a speech at the Franz-Hermann Brüner Memorial Lecture at the World Bank on May 25, 2011.
"The Kleptocracy Team recently brought its first cases, and we expect more to come in the near future. Let me provide a specific example.
"Diepreye (Solomon Peter) Alamieyeseigha, also known as DSP, was the elected governor of the oil-producing Bayelsa State in Nigeria from 1999 until his impeachment in 2005.
"According to court papers, DSP's official salary for this entire period was approximately $81,000, and his declared income from all sources during the period was approximately $248,000.
"Nevertheless, as governor, DSP accumulated enormous wealth through corruption and other illegal activities. He acquired at least four properties in the United Kingdom worth approximately $8.8m, he had money in bank accounts around the world, and he also acquired property in the United States.
"When he was ultimately arrested at Heathrow Airport in 2005, the Metropolitan Police Service in London found approximately $1.6m in cash in his house.
"In March and April of this year, we brought two separate civil forfeiture actions to recover over $1,000,000 in what we allege are DSP's ill-gotten gains. In Maryland, we are seeking forfeiture of a private residence worth more than $600,000, and in Massachusetts we are seeking forfeiture of close to $400,000 in a fidelity brokerage account.
"We were able to bring these cases, even though DSP long ago absconded to Nigeria, because the law permits us to bring a civil action against the corrupt proceeds themselves rather than against the person to whom they belong," he said.
 
The Wall Street Journal indicated on Thursday that the house had already been put on sale. WSJ Blog said the house was owned by Solomon & Peters Ltd., one of the shell companies controlled by Alamieyeseigha.
US federal investigators said in court documents that Alamieyeseigha, through an associate, paid for the home with funds he diverted from Bayelsa State, while the brokerage account was opened by a person using a false passport, with the name Nicholas Aiyegbemi.
It was then infused with funds drawn from a Bank of America account opened in the name of 'Peter Alamieyeseigha' in 2001, according to court documents. Investigators said the funds were derived from bribery, kickbacks and the misappropriation of Nigerian public funds.
The paper quoted Alamieyeseigha as saying that in trying to sell his house, the US government was "trying to score cheap points as the global crime watchdog."
A picture of the house on web site has a 'For Sale' sign placed outside the shut one-storey building.