SCIENCE, TECHNOLOGY KEY TOOL FOR NATION'S DEVELOPMENT -LADIPO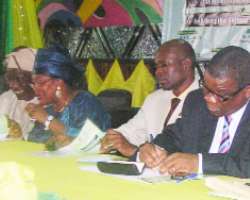 • Elder Fadairo, Dr. Ladipo, Dr. Olaseni and other guests at the YABATECH exhibition
The Rector of Yaba College of Technology (YABATECH), Dr. Margaret Ladipo has identified science and technology (ST) as a key tool to Nigeria's economy development. Ladipo, who spoke at a three-day conference and exhibition organized by the World Bank Step-B project in collaboration with the Applied Research and Technology Innovation (ARTI) unit, said science and technology has a vital stake in our overall development as a nation.
She disclosed that a the nation aspires to become a major player in the World economy in line with the vision 20-20-20, the crucial vehicle for attaining the goal is through science and technology.
'In this competitive era of globalization, science and technology is key to our national development. Management would continue to support ST education and encourage both staff and students in this area. Also, innovations and intellectual properties developed in this process would be promoted at every opportunity', she stressed.
The rector said the conference and exhibition are practical ways to achieving the vision of being a leading Polytechnic in Africa and implored the organizer to sustain the initiative for the benefit of the staff and students.
The Governing Council chairman of YABATECH, elder Joju Fadiro noted that the event would enable the staff and students to showcase their talents and skills in the area of science and technology noting that ST is one of the indices used to determine socio-economic growth and development of a country.
He lauded the Federal Government and the World Bank on the collaboration through the Step-B project stressing that the project has made tremendous impact on ST landscape in our educational institutions.
The acting Project Manager of YABATECH Step-B project, Dr. Abubakar Olaseni told the gathering that the vision underlying the project is a strong ST led growth for the country which addresses disconnection in the education landscape.
According to him, YABATECH projects submissions include equipping and upgrading ST laboratory at $250,000, equipment upgrading and capacity building for entrepreneurship development for $500,000 and innovators of tomorrow $40,000.
Olaseni who is also the Deputy Rector of YABATECH said the outstanding projects out of the approved work plans for 2011 are the training of staff in the use of ICT in teaching and research, enterprise development programme for students graduates and women skill acquisition.