SECURITY EXPERTS PROFFER TECHNOLOGICAL SOLUTION TO INSECURITY, CRIME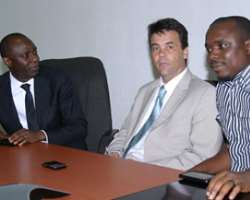 Technology solutions have been proffered by security experts as the saving grace to address insecurity and cybercrime in the country. They noted that the world has moved away from analog CCTVs and DVRs to high definition Internet Protocol (IP) and network video surveillance.
They acknowledged during a security workshop tagged: 'Physical Security and Building Management' organized by Weco Systems International Ltd., that security had grown beyond just having someone stationed at an entrance of a building complex to a digital control room for monitoring.
'It has gone beyond reactionary responses to preventive measures. That is why organizations and public sectors across the globe are migrating from manual processes and geographically dispersed facilities and personnel to an internet protocol-based video solution that provides clear video footage to detect threats or criminal activities'.
One of the experts, Mr. Laurence Summers, National Sales Manager, Quadrant Security Group, United Kingdom, stressed that internet protocol-based video solution provided clear video footage to detect threats and would easily allow users to access, search and review footages from anywhere instantly.
'Adequate deployment of internet protocol- based Closed Circuit Television System (CCTV), Electronic Access Control System (ACS), Intruder Alarm System (IDS) and Perimeter Detection System (PIDS) are some very important technological innovations that can help in the area of physical security and building management system. An organization or government agency that currently operates the analogue CCTV, for instance, could upgrade to the IP-based cameras for effective and real time recording. This is because unlike the legacy CCTV, the IP-based cameras have video analytic capabilities, which means they can automatically analyze videos or images to detect and determine criminal events not just based on a single but multiple images and can also drill down to chain of events monitored.'
Head of Systems Engineering, Quadrant Security Group, United Kingdom, Mr. Alan Davis, who spoke extensively on Electronic Access Control (EAC), explained that there was need for organizations and agencies to implement what he called 'credential technology.' This, he noted, was a means of personal identification that could be in form of a card, a key held and biometrics, or it could be a combination of the three. All of these, however, require a device to read the information. These can be card readers, PIN pads and biometric readers. The readers in-turn should be connected to a barrier or some form of gateway.
In his presentations, Senior Pre-Sales Engineer, WECO Systems, Mr. Dafe Oroghi, spoke on the importance of single sign-on solution as a way of reducing crime and criminal activities in an organization or country. Speaking on the topic 'Leveraging on convergence of Physical and Logical Access security,' he emphasised the need for organizations to ensure identities of employees are protected from theft, cannot be shared, are unique and if stolen or lost, cannot be used by the person who stole it. He said this was possible if organizations could employ what he called the 'authentication process.' This process just involves the migration from the regular username and password to a third factor or an object which cannot be defined by the administrator. These could be any of the following or a combination of PIN, codes, finger prints, iris scan and facial recognition.
'To achieve this, companies or government agencies must utilise  'network' and security application to confirm an employee's identity, verify if the system he/she is accessing is authorised and approved by the organisation or  whether it also meets basic security level for antivirus, malware, anti-spyware, operating system (OS) patch level and necessary services. This would also ensure registry keys and applications are installed and running. Once all of these are established, 'network admission control' can be said to have be achieved,' he concluded.
On his part, Director of Infrastructure Solutions, WECO Systems, Mr. Obinna Ekwonwa, charged communities, organisations and every country to be fortified with a security consciousness that goes beyond dedicated architecture for hardware, applications and storage to virtualized architecture for security applications, and storage.
'Let us transit from local storage to local data center and cloud storage. Most importantly, we must develop centralized security management via IP to deal with the current security challenges in our organizations, agencies and communities.'