YAYA TOURE EYES EPL TITLE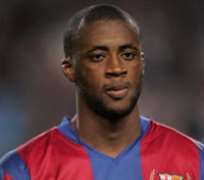 English football's biggest spenders qualified for the Champions League for the first time last term and won the FA Cup, and Toure thinks that will only be the start.
He told the club's official website, 'The new season will be very, very hard and we need to improve, because this season the club will play in the Champions League.
'And we expect to stay in the top four of the Premier League and we expect to win the Premier League because now we are coming with more confidence, the players know each other better. I think this year will be fantastic for us.'
Toure enjoyed an impressive debut season in the Premier League after joining City from Barcelona and capped it off by scoring the winning goals in the FA Cup semi-final and final.
However, there were also tough moments, not least when brother and team-mate Kolo was suspended for six months after failing a drugs test.
The defender will return to the club in September, and Yaya cannot wait to see his brother back in action.
'Kolo's well,' said 28-year-old Toure. 'He's in New York with the family. We hope September will come quickly and we hope to help the club win something again next year.
'Now I think he's more happy than anybody because he will come quickly back to the team, and for the team we need him because we know the Premier League is very hard and we need to have two or three players per position.'
City are currently in the USA on a pre-season tour, and the player who has caught Toure's eye in training is Spanish teenager Denis Suarez.
The highly-rated 17-year-old joined City from Celta Vigo earlier this summer, and Toure said, 'He's a midfield player with very, very good quality.
'He's young and he has an amazing ability to take the ball, like all the Spanish players, and I think it's fantastic for the club.'
One player who will not be part of the City side this season is midfielder Patrick Vieira, who on Thursday announced his retirement from professional football.
The 35-year-old Frenchman will, though, remain at the club after accepting a varied behind-the-scenes role as football development executive.
Toure added: 'Patrick Vieira was an amazing player. He brought a lot of experience and he always tried to help young players like me and David Silva, who were coming from another country to the Premier League.
'I think he can help the young players to grow in the Premier League.'