NO NIGERIAN IN JAIL IN KUWAIT -ENVOY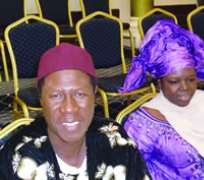 Kuwait! Remember Kuwait, the red-hot bone of contention between Saddam Hussein's Iraq and the allied Western nations led by the United States? Ambitious, power-drunk Saddam had in 1990 invaded Kuwait, determined to annex it. The US, under Bush, played the global policeman and, with the aid of Western freedom warlords, challenged Iraqi's aggression in a confrontation that culminated in the capture and execution of Saddam Hussein.
With its autonomy regained, Kuwait in just a few years, became a modern-day Canaan in the Gulf. The country's modern history began in the 18th century with the founding of the city of Kuwait by the Uteiba, a subsection of the Anaiza tribe, who are believed to have emigrated from Qatar.
Threatened in the 19th century by the Othoman Turks and various powerful Arabian Peninsula groups, Kuwait under its famous leader, Sheikh Mubarak Al Sabah 'the great,' masterminded an agreement with Britain, which effectively insulated the young nation from further external aggression until 1990 when eccentric Saddam Hussein launched his very disastrous adventure that led to his trial and execution. Kuwait, which gained independence on June 19, 1961, is today a highly developed welfare state with a free market economy.
The Nigerian government, in its wisdom, established diplomatic relations with the state of Kuwait. Since September 2008, a young Nigerian steeped in the intricate art of international relations, has, most assiduously served as Nigeria's ambassador in oil-rich Kuwait. Ahmed Bala Gusua, a graduate of the Ahmadu Bello University, Zaria; Foreign Service Academy, Lagos and the Obafemi Awolowo University, Ile-Ife, has tenaciously grappled with the challenging task of cementing bonds and reconciling identified opposites in Nigerian and Kuwait relationships. He, in a number of telephone and internet chats, has beamed great light on his diplomatic activities since his arrival in the gulf.
On assuming office, Gusua recognized, as his primary mission, the solidification of the existing bilateral relationship, which had been negatively affected by the one year closure of the Nigerian embassy in Kuwait. Today, the erroneous belief that the mission had been closed to spite the host government stands corrected. Nigerians in Kuwait have got a new sense of belonging, reciprocal visits are ongoing and three agreements earlier in suspense, have been renegotiated. Eight agreements are in the offing. They include Investment Protection and Promotion Agreement, Avoidance of Double Taxation Agreement, and Agreement on Mutual Assistance and Co-operation in Custom Matters. Others are Trade and Economic Co-operation, Science and Technology, Bilateral Air Services, Cultural and Education Agreements.
The first Nigerian Kuwaiti business forum was held, kickstarting meaningful round tables between businessmen and investors from both countries. Asked what Nigeria could learn from Kuwait, Ahmed said: 'There are things we share in common. Take the sole dependence on oil, which was discovered here in 1938. Like Nigeria, Kuwait is only just beginning to take practical steps to diversify and reform its economy. It must, however, be acknowledged that our hosts have managed their resources superbly.
'For example, the welfare system practised here yearns for emulation back home in Nigeria. The practice here of dispensing social amenities, including free education, would be most welcome back home in Nigeria. Health-care facilities and wealth distribution are superb. Everyone feels the impact of government positively. Crime rate is almost zero and respect for the human person as well as freedom of association is very much encouraged. It must, of course be recognized that the stupendous disparity in both countries' population figures (Kuwait's 1.06 million as against Nigeria's 150 million) are factors nobody can ignore.'
Still on social benefits, Internet sources reveal that the government has sponsored many social welfare, public works and development plans financed with oil and investment revenue. Among the benefits, meant exclusively for Kuwaiti nationals, are retirement income, marriage bonuses, housing loans, virtually guaranteed employment, free medical services and education at all levels. By government decree, a portion of the national budget is occasionally disbursed as grant to all Kuwaiti citizens. In 2006, a government grant of 200 Kuwaiti Dinars (approximately 700 dollars or 105, N700) was paid to every Kuwaiti national.
The Amir had, in March 2011, distributed KD 1000, the equivalent of about 3, 500 dollars - N528, 500.00 - to each Kuwaiti. In addition, every Kuwaiti will be supplied free food, excepting meat, for the next 14 months. This gesture is in commemoration of the Amir's fifth year on the throne, Kuwaiti's 50 years as an independent nation and her 20 years since liberation from Saddam Hussein.
One major challenge confronting the young diplomat has been that of dispelling the assumption by virtually all Kuwaitis that Nigerians are a bunch of crooks who should not be trusted for any business transaction. They also see Nigeria as the home of fraudsters, kidnappers and other criminals. This is the result of negative reports from Western media and the Internet. Constant dialogue between Kuwaitis and embassy officials, press statements and interviews along with ongoing exchange visits by nationals of both countries have very considerably corrected those ugly impressions. On the disposition of Kuwaitis toward foreign nationals in their midst, Ambassador Gusua made this comment: 'Kuwaitis are overwhelmingly very friendly nationals. This could be attributed to their international exposure, closed family affinity and affluence. 'Generally, they are well-to-do and almost everyone has something doing, thus avoiding envy. Furthermore, their under-population could influence their reliance on outside manpower to service almost all sectors of the economy. This, by itself, makes it almost mandatory for them to be friendly. Unfriendly attitude may force foreigner - exodus, leaving Kuwaitis to fend for themselves.'
Reflecting on how Nigerians in Kuwait have been adjusting to Kuwaiti judicial system, Gusua described it as most satisfactory. The problem has been greatly eased off by the existence of laws for every religion. Though the state is predominantly Muslim, strict Sharia law is not applied. The ambassador is happy that Nigerian nationals have demonstrated awareness that it is always better to respect sensibilities. For example, even Christians are not expected to eat in public during the Ramadan fasting period. Places of worship are readily available everywhere, catering for the spiritual needs of non-Muslims. The key is to respect their sensibilities and avoid falling foul of their laws.
To the question, whether there are Nigerians in Kuwaiti prisons, Gusua's response came in these words: 'Alhamdulullahi. Of the multitude of Nigerians here in Kuwait, none, not even one is in jail or detention. At least not to our knowledge.'
What about prostitution? Do you have Nigerian prostitutes?' Again, the words of the ambassador: 'Thank God once more. Nigerians are not involved in any vice. Most of them are gainfully employed, pursuing their studies and engaged in profitable ventures, which surmount every security scrutiny. Even the crime of human trafficking is unknown in Kuwait. No Nigerian, to the very best of our knowledge, is involved in trafficking of whatever kind and it will not surface.'
Talk of rebranding. Does the envoy feel that Nigerian nationals in Kuwait require rebranding? He holds the view that Nigerians everywhere need it, because of the long-existing negative and pessimistic ideas in our psyche, honestly require rebranding. His words: 'Don't forget that Nigerians abroad are a reflection of the majority at home. Each is not living outside for his own liking, but because of the realities of the economic situation in Nigeria. However, thanks, things are now taking shape in Nigeria and our nationals abroad are seeing the differences between yesterday and today.
'We conduct fora here periodically, where Nigerians of all tribes and different religious backgrounds sit together and hold discussions. Pieces of advice given are relayed home accordingly. Open-door policy for our nationals here in Kuwait is preached and practised on a daily basis.'
Does the overall social comportment of Nigerians in Kuwait give Ambassador Gusua any hope for enduring national unity? He holds this view, quite honestly, that national unity is the core of our existence, both at home and among Nigerians living in Kuwait. This, he has always preached and although a number of obstacles have been identified by him, he remains excited by the level of unity exhibited by Nigerians in Kuwait. The display of unity by our nationals in the gulf state greatly dwarfs the status quo over here in Nigeria. He found the position he had met on arrival most encouraging. Promoting and consolidating it remain Gusua's prime objective. Open-door policy, already adopted and thriving, keeps fuelling the phenomenon for more positive results.
Asked what his embassy's outing was like on Nigeria's Golden Jubilee Day, he responded thus:??'It was spectacular. The 49th anniversary celebration was good but the Golden Jubilee outing was simply splendid. Nigerians here were proud of their embassy and we the officials were equally proud of all our nationals. Our guests, on their part, were thrilled by the programme-content of the hosting agenda. To God be the glory.'
Some four months after marking Nigeria's Golden Jubilee, Ndigbo in Kuwait staged Igbo Day within the embassy premises. It proved a day of the glorious celebration of Igbo culture. Celebrants from the South eastern zone appeared in colourful traditional dresses, accompanied by nimble-footed Igbo dance troupes of varying descriptions. Foreign guests also adorned the occasion with their presence. Nigerians from other geo-political zones enriched the celebration with thei