Reflection by Lorens Chuno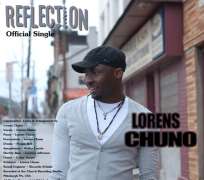 Lorens Chuno is a Nigeria-born jazz musician currently based in the US. His sound can be described as jazz fusion with noticeable west African influence. In addition to being a talented jazz pianist, percussionist, composer and vocalist, Lorens Chuno is also a trained mathematician with graduate degrees and has also taught mathematics in a few American universities. Chuno cites George Benson, Fela Kuti, and Angelique Kidjo as some of his influences. Chuno has played concerts and festivals in several cities across the U.S, wowing not only mature audiences but also younger people with an ear for great music and artistry. As a brand, Chuno is relentlessly unique and creative, constantly pushing the boundaries of genre to give the listener a memorable experience.
Funk Island, his sophomore project, is a carefully bred jazz project with a generous dose of African touch. The album features inputs of several renown musicians including Poogie Bell, a Grammy award winning drummer who has worked with the likes of Angelique Kidjo, Erykah Badu, Chaka Khan, Al Jarreau, etc. Funk Island is due for release in Fall, 2011. The first single off the album is Reflection, an afrobeat song that describes how human beings are alike in essence, irrespective of our differences.