YOU DON'T NEED GODFATHER TO WIN GOVERNMENT CONTRACTS- EZEH DG, BPP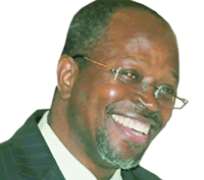 • Ezeh
Engineer Emeka Ezeh, Director General of the Bureau of Public Procurement (BPP), is making giant strides in sanitizing Nigeria's procurement process by setting up rules and implementing policies that have brought respectability to the nation's business community.
He assured Nigerians and the international business community that the phenomenon of godfatherism is dead for good, stressing that no one needs to know anyone to get government contracts and jobs. According to him, all you need is track record and competence to do the job and it will be yours. But he warns that the era of abandoned projects and corruption were over as breaches related to these vices would be dealt with according to the law.
He recently spoke to Daily Sun on the challenges of implementing a prudent procurement programme after the 3rd European Union Delegation meeting held in Lagos.
Ezeh also commented on other critical issues influencing the agency's decisions and how it has been coping with the challenges of managing the agency established to enhance due process in the award and execution of public sector jobs in the country.
Excerpts
Assessing Nigeria's procurement processes
The job is not about how much you can save, but more about how many Nigerians are given the opportunity to participate and the value for money that is obtained from an open competition. We have many Nigerians winning bids for contracts. The pressure of unemployment will be less, the agitation for people who are idle will be less, so that money will not be left in the hands of a few people, who connive with people in government to steal the funds. It is not so much as to how much that is saved, but how much opportunity you give the other Nigerians to participate and the actual value for money you get from the competition.
15 % contract mobilization
I expect young companies to start small and grow bigger with time.  But often times many people tend to misunderstand the fact that organizations are expected to evolve and grow overtime. You do not just set up a small company today and expect to win a contract of one billion naira in the next one year. You must establish some track record to convince your clients that you can do the job satisfactorily. Remember that money is involved here and its not just a few thousands but most times we are talking of millions and billions of naira or dollar of public funds.
For instance, there are financial thresholds, like ten million, or twenty million naira and more so that as a contractor, you can easily strategize on how to raise money from banks, say about a few million naira in cash or bond to execute it. So how do you convince a bank to fund the project for you if there are no structures on ground to enable them assess your reliability and capacity of the organisation and its management to do the job satisfactorily.
The beauty of setting up such track record is that it gives you a sense of responsibility in the sense that when you want to earn money you are under pressure to make sure you perform it very well. As a matter of fact, it helps you to deliver it. But when you are not under pressure of somebody's money, you could make mistakes because you will assume that you have nothing to lose at the end of the day since there is no personal commitment on the project. So to avoid all these mistakes, we insist that people are given jobs based on their pedigree, track record and ability to perform tasks expected of them satisfactorily.
Cost of fraudulent contracts and prosecution
I do not want us to create the impression that Nigeria is a country of fraudulent people. No, it is not so. But what we are trying to achieve is to set up standards that could guide people to know that it is more rewarding to be orderly in everything that we do in life and business. For instance, when people operate in unregulated environment, they seem to have no restriction, and thereafter opportunity could be abused. What usually happens in unregulated environments is that people are acting without knowledge of the rules. But under a regulated atmosphere, we need to understand the terms of regulated competition in business because that is the standard elsewhere.
So many things happen in unregulated aspects of business, that most people do not know about and you are competing with those who know. Again the man who is regulating ideas may not know that somebody can take advantage of the system to make money. What we are doing in Bureau for Public Procurement is to make sure that such lapses do not happen so that people do not continue to take the nation for granted. Our objective is to use free market forces to determine those who know the job in the environment and ensure they do the business and get  value for money.
I want us to see it from that point of view, than looking at fraud as the basis for our actions. Some of these cases are not as a result of what we lost, some of them are just because people are not sure of when they will be paid after completing their jobs. If you have ever done job for government, you will discover that the process of getting paid is challenging, so if after the first exercise you loose money, next time when you have the opportunity, you will not quote the same price.
And when you are bidding for the next job from somebody who is ready to pay you as and when due, you will find out that there is a difference compared with somebody whom you are not sure will pay you when the job is completed.
Discrimination in contract awards
I cannot confirm that allegation, because what is in the budget is that when you do your job and get the certificate of completion you will be paid. And so all contractors that got their jobs through the approved procedures and get the projects completed will be paid following due process.
Those that have problem may be those who fail to follow the normal processes of bidding for jobs. We do not discriminate against any contractor local or foreign but all we need to do is to ensure that the process is transparent. And as I said earlier, there are certain basic rules that we insist must be observed. For instance, a contractor must have track record to be able to do certain jobs for government. So when we think in this direction, you will not be talking about discrimination against local contractors in the award of government jobs.
As a matter of fact, our desire is to encourage local entrepreneurs and contractors to handle more jobs but this has to be done without compromising standards.
So we would continue to encourage our local contractors to do the right thing and grow their competences so that they can compete with others anywhere in the world.
BPP's targets for 2011
I do not want us to look at it from how much we have saved. Rather I prefer to be assessed by the level of ethics we are bringing into government business, including such issues like how many more Nigerians get jobs without having godfathers in the institutions they are bidding for contracts. While in the past people complained about such ethnicity and godfatherism, the situation is really quite different today because we insist that only contractors that are technically competent are awarded jobs that they have capacity to execute.
When this is done, we now have strong legal grounds to prosecute them if they fail or abandon the job or execute it below specification.  And that is because we realised that it is natural for people that are not regulated to take away what belongs to others when they have the opportunity. So just like banking there are rules that must be followed in all procurement processes in the economy.
Transparency in Nigeria's procurement process
Well, that is part of the reason we are holding the meeting to clarify most of the grey issues about our operation. At the same time we are using the opportunity to challenge everybody that has claims that we are not transparent to make it public because we have a duty to do things that will move this nation forward.
Our objective has always been to build strong institutions and businesses that can compete with any other anywhere in the world and that motivates us to work harder and go the extra mile for our country men and women.
The prison theory
The prison theory is that so long there is government, every Nigerian is a potential criminal, and that the choice is yours through your conduct whether you want to go to prison and be free after service. But as long as government exists, every Nigeria is a potential prisoner. The system has sanctions for every offender and the long arm of the law will catch up with all offenders.
Obstacles to full implementation of budget for contract
Well, this is a problem we have been addressing headlong over the past few years. It was in the light of this that we are engaging all stakeholders involved in the budget process through the Ministries, Departments and Agencies of government because our objective is to improve their processes, so that if they want to engage in huge projects they are executed in a manner to suggest that the money should be ready in one year. We believe it is better to programme it in the number of years, that the construction will last, such that if we have this understanding, it will be easier, I want to assume that it is true that all Nigerians wish Nigeria well, it is not only in BPP that we have people who love Nigeria, everybody loves this country and so we must agree to a common code of conduct and behaviour when issues that border on the wellbeing of the citizens arise.
Our belief is that everybody must come to the common understanding of how to handle projects, spending should be based on needs basis and not because there is an allocation for a ministry to spend.
Sanction against erring staff and companies
This is one area we have been doing significantly well since inception. So far, we are doing very well in matters of staff discipline and it is an ongoing process because there are so many of such cases currently being handled at the moment.
With respect to contracts, we already have about 952 contracts for this year alone out of which nine were denied while 100 is awaiting information from the ministries. The contracts vary from one billion naira up to N20 and N30, N40 billion naira and they are in different sectors and categories. We will continue to do our best in the understanding that Nigerians will continue to love their country and endevour to give in their best for it.