Senate Gets Ministerial List As Mark Assures Of Constitution Amendment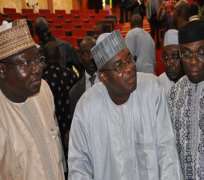 ABUJA, June 27, (THEWILL) – The Senate Monday received the names of some ministerial nominees from the Presidency as senators reconvene Tuesday for the seventh session of the Senate.
The Senate had gone on a three-week recess after it was inaugurated on June 06, 2011.
A Senate source confirmed the receipt of the list in a conference call with THEWILL on Monday afternoon. The source however would not disclose the names of those on the list but said one or two names were substituted from the list published in the media on Sunday.
The source added that Senate President, Senator David Mark may formally present the document containing the names of the nominees to Senators tomorrow (Tuesday).
Meanwhile, Senator David Mark has dispelled insinuations that there is a division within the Peoples Democratic Party (PDP) caucus in the Senate over the zoning of principal offices, especially the position of the Senate Majority Leader.
Speaking with journalists after inspecting the chambers ahead of Tuesday's resumption, Mark said the Senate PDP caucus was as united as ever.
''There is no division. But where did you say the division is coming from, if you do know the zone producing the Senate Leader, how did you know? It is not my understanding that there is a division, that is not what is happening," Mark said.
Responding to a question on the review of the revenue sharing formula between the three tiers of government, the Senate President said it is a constitutional issue that shall be looked into, but added that anything that is not in the best spirit of national unity will be amended.
''The issue of revenue formula has been on the table for years and I am sure that it is a constitutional issue. We are amending the constitution and looking at everything that is not in the best spirit of national unity at the moment, but it is not just revenue formula only," Mark said.