WHY I RECONCILED WITH BUKOLA - OLUSOLA SARAKI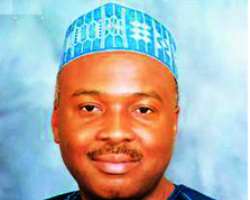 The strongman of Kwara politics, Dr. Olusola Saraki has comfirmed his reconciliation with his son, Senator Bukola Saraki, citing the need for peace and unity in the state as the motivating factor.
The elder Saraki said the reconciliation was initiated by Bukola and that he succumbed to pressure from him so that 'peace and unity can reign supreme in the state.' He disclosed that reconciliation became necessary to prevent other political parties from capitalising on the crisis to infiltrate the state.
The reconciliation came just as Dr. Olusola Saraki, popularly called 'Oloye', advised President Goodluck Jonathan to expedite action on the constitution of his cabinet. Saraki who spoke with newsmen yesterday in Ilorin, the state capital at a special prayer organised to mark the reconciliation of the two warring factions in his political family, said Nigerians were anxious to know their ministers.
Noting that Jonathan was wasting much time in unveiling his cabinet, Saraki described as unfortunate the Nigerian situation where appointments into various political offices would not have been completed before a general election as was being done in other climes. The immediate past governor of the state, Dr. Bukola Saraki, who was a major factor in the crisis that rocked the Saraki's political family was the first to break the news of reconciliation to newsmen in Ilorin at the weekend.
The then gubernatorial ambition of Senator Gbemisola Saraki had polarised the powerful Saraki political dynasty into two campas. Senator Gbemisola's brother, Bukola Saraki, who was opposed to her ambition became the leader of the ruling Peoples Democratic Party (PDP), while his father, Dr. Olusola Saraki, defected to the relatively unknown Allied Congress Party of Nigeria (ACPN).
However, shortly after the conclusion of the general elections, which was swept by the PDP, both Bukola and the incumbent Governor of the state, Alhaji AbdulFatah Ahmed extended olive branch to the elder Saraki and his ACPN supporters. At different fora, both Bukola and Ahmed attributed and dedicated their successes at the polls to the elder Saraki who they described as their political leader.
Confirming the development, Senator Bukola Saraki said, 'I want to categorically confirm to you that the family is back to one.'
He said the motivational factor behind the reconciliation 'is our collective desire to move the state forward and build on Baba's legacies.'The love of the Saraki's political dynasty for the common man is still firm. We have always been one. Everybody is working to have this unity.'What is important now is for us to move forward. If all of us now line up behind the new governor, there is the greater hope that he will succeed.'