HOW I RENOUNCED MEMBERSHIP OF 12 LODGE SOCIETIES -OBA TEJUOSO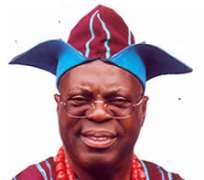 On Monday 13 June 2011, Daily Sun published the first part of a media parley with Oba (Dr) Adedapo Adewale Tejuoso, Osile of Oke-Ona, Abeokuta, Ogun State, who marked 22 years on the throne.
Connection with Rotary international District 9110
Rotary has sharpened my life positively. A life of serving others without counting costs or returns. Rotary teaches one to work with others to achieve the best for his/her community, international communities and development of acquaintance as an opportunity for service. Rotary brings hope to this troubled world. I recommend it to all business and professional men and women to be part of Rotary movement.
Role models
I knew myself as loved by decent and loving parents, Pa Somoye Tejuoso who was my excellent role model whose command of spoken English and deep Yoruba cultural knowledge fascinated me. My late mother, Chief Mrs. Bisoye Esther Tejuoso (OON) nee Karunwi, was highly industrious. She was the third Iyalode of Egbaland, the first woman industrialist in Nigeria. My entrepreneurial skills flowed from her veins. My parents were very good to me and my late sister, Rolayo Adebimpe. I was a disciplined person right from youth. Knowing to do the right thing at the right time, methodically, and in an insightful way. Integrity and modesty also helped me. If one is not disciplined, one cannot have integrity and without integrity, one cannot have courage.
At the Abeokuta Grammar School, 1951 to 1959, I became the senior prefect in 1956. I received great tutorship from our wonderful science teachers, Chiefs (Drs.) Femi (late) and Dotun Oyewole. They were classmates of my mother at St. John's Primary School, Igbein, where my father was their teacher in the early 1930s. The then principal of the school, Rev. Israel Oludotun Ransome Kuti, popularly known as DAO (Daudu) was a super role model. He taught us that knowledge without character is like a chaff of wheat. In fact, we kept a positive mind conditioner in every classroom 'My character is greater than my books' the leadership quality of discipline with courage was already imbibed by me.
At the spiritual level, my real role model is Jesus Christ. Without Him, I am absolutely nothing if I detach myself from Him. He is the author and finisher of my faith. I look up to Him for His humility and steadfastness to His Father. I look up to him for the role He played as the Son and the representative of His Father while on earth and up till now. I endeavour to emulate all His attributes. My ambition, always, is to do His work and that of His Father. My prayer is that I should always do the will of our Lord Jesus Christ. He has sent the Holy Spirit and the Holy Spirit keeps telling us what to do. May I always be able to display as much humility as He did display when He was physically present on this planet earth. When I was in school, I was dealing with God the Father I later graduated to God the Son and now I am working with God the Holy Spirit.
Membership of lodge
On January 20, 2011, Pastor Ajetumobi of the Men of Issachar, Ibadan, was holding a retreat, I was invited. At about 1.20 p.m., I was called to the rostrum to give the testimony of my life. I talked about how God sent me a message through Prof. Adeyemo who presently happens to be coordinator of Oba Karunwi III Evangelical Movement (OKTEM). He was on his way to Port-Harcourt, Rivers State, when God told him to tell me that I belong to a society that God wanted me to quit. That He, God, was going to use me, and by the time He starts with me, I would have no time for that society anymore. Of course, the message was very clear in my mind. I knew the society he was talking about. It was the Lodge Freemasonry.
I resigned from the 12 lodges I belonged to. I told them at that conference, that I was deceived into becoming a freemason. I was deceived in the sense that I went for the interview, the first question they asked me was 'Do you believe in God?' and of course said yes. That was the only qualification required from me for membership. Any other thing was just formality. They did not tell me that it was a taboo to mention the name of Jesus Christ in an open lodge. I joined freemasonry on September 15, 1973. I went as high as the 32nd degree out of 33 degrees. That was one of the things I told them at the conference during the afternoon session before the break at 2.00p.m.
When we came back for the evening session, which was for traditional rulers only, the lecturer started his lecture by talking about me. He said that when they earlier called me up to give my testimony, he said he was very unhappy because I was the man who, when I became a traditional ruler on May 20, 1989 wrote a book about my life and I devoted a whole chapter eulogizing freemasonry. He hoped that I did not come that afternoon to recruit all of them into freemasonry. He was however, shocked and pleasantly surprise when he listened to my testimony. He then wondered how a man of that character in 1989 became such a firebrand for Christ.
Encounter with Jesus
I was born a Christian, I grew up in Zaria, and our church was St. George's Anglican Church, Zaria, now a cathedral. I was a member of the church choir at a very early age. I left Zaria for Abeokuta at the age of eight years to further my education. I was then operating on the level of God the Father, but I later graduated to the level of God the Son. I graduated to the level of God the Son when I had this very vivid dream. Before I dreamt, I had always prayed to God that I would want to see Jesus Christ face to face, before I see death. I always said that anytime I prayed. One day, I dreamt and I found myself in an open field all alone, grazing at an empty space. Suddenly, a figure appeared at a very far distance from me. The figure was that of a cross. But the amazing thing was that the cross itself now started walking as if on two legs, it was coming towards me from a great distance.
It got closer and closer until I saw that there was a man hung on the cross. When the cross now got to a distance, where I could see the image more clearly, the cross then stopped moving and the man on the cross got down and started walking by Himself towards me on His two legs. I suddenly woke up and that was the end of my dream. I started praising God and thanking Him for that very vivid dream. I said to myself that day that nobody in this world can ever convince me that Jesus Christ is not alive. He is indeed very much alive and well.
I am very sure that nobody can have a vivid dream like that and still deny God the Son The dream was so real and so very clear that I can never forget it. My serving Him today is therefore, not fake. I am a living witness almost like Saul turned to Paul. God has mercifully and gracefully proven Himself to me. All I need now is to reciprocate. Paul knew what he was doing because he had seen Jesus Christ in broad daylight. I am also not surprised that every time I read the Bible, the Holy Spirit explains things to me. He is very much with me I thank him for that.