MY NOCTURNAL BONDS WITH DAVID MARK - EKWEREMADU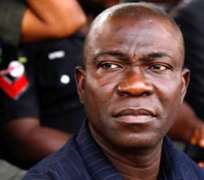 Senator Ike Ekweremadu, lawyer, academician is unarguably one of the most enduring political stalwarts of the Fourth Republic. His political progression has seen him pack experience from the executive and legislative branches of government having been local government chairman, 1998, Chief of Staff to Governor Chimaroke Nnamani 1999; and subsequently Secretary to the Enugu State Government. In 2003 he was elected to the Senate and rose to become  Deputy Senate President in 2007. He was re-elected to that position unopposed early this month setting him on course to eclipse the durability of his immediate predecessor in that, office, Senator Ibrahim Mantu. In an interview penultimate Friday, Senator Ekweremadu spoke  sat down to a brief on the challenges of the past Senate and the issues before the Seventh Senate. Excerpts:
How do you compare the 2011 leadership contest with that of 2007?
We thank God that the Senate is maturing as an institution. In 2007 it was quite rancorous, but the 2011 experience to me was very smooth. Our colleagues showed a lot of solidarity from inception and made it impossible for any other candidate to emerge at the level of Senate President or deputy Senate President for which we are very grateful to our colleagues. The level of maturity showed that the institution is taking shape and democracy is growing. I think it is something that we need to commend our colleagues for and we hope to bring about a new scenario of brotherhood and improvement in relationship with our colleagues. We are taking off from a point of comradeship.
Unlike your predecessors we don't see a cat and mouse relationship between you and the Senate President? Why the difference?
First, we didn't meet ourselves at the level of presidency of the Senate. We have been colleagues since 2003, he came in, in 1999, I met him in 2003 and then we became friends. We had our seats close to each other, so we saw ourselves on a daily basis and we became friends and interacted.
During those turbulent days of the Wabara crisis we had several nocturnal meetings together and so we bonded and as a matter of fact we kept that relationship. So when in 2007 the issue of Senate presidency and deputy came up and it pleased God to place us in those responsibilities we had already known ourselves and had mutual respect for each other and already admired ourselves.
That mutual respect continued and I believe that Mark has a lot to offer to this country and all I could do is to make sure that I support him to make sure that he made the Senate stable.
Considering the religious sensitivities in the country, how have you and the Senate President been able to manage the Senate as you are both Christians?
Well that is why the Senate is one institution that is unique. It is one institution that binds us together as a country. We are beginning to move away from such sentiments as religion, we are looking at patriotism, we are looking at people who are nationalistic and you can find most of them in the Senate. For us in the Senate the issue of where you are coming from, or religious practice is of no moment.
We see ourselves as fellow Nigerians, we see ourselves as patriotic Nigerians. We want to build a society that is egalitarian where the issue of religion will not matter and the Senate has shown that such an institution can exist and that is why in the last four years we have had Senator Mark and myself as Senate President and deputy Senate President and nobody complained and nobody said there were issues where individuals were shortchanged in any manner on account of religion.
So once you get into the Senate nobody understands the religion you practice. Sometimes I don't know who is a Muslim or who is a Christian in that chamber. So, it is even in terms of tribe or ethnicity. You see Senators dressing like people from the Niger Delta while they are northerners. You see Niger Delta people dressing like Yorubas meanwhile they are from the Niger Delta. Sometimes you see somebody like Lee Maeba (from Rivers State) dress like a mallam from the north. That is the character of the Senate we have. We don't have issues about religion and I just hope that in this seventh Senate that such issue will not come up.
What would you consider as the greatest challenge of the last Senate?
The greatest challenge we faced was the ill-health of our late President. It almost brought the whole country to a halt but we thank God that He guided us with wisdom to navigate those trying periods. That was the greatest challenge that we had. Then the second was the amendment to the constitution. We were determined to break the jinx of constitutional amendment but it wasn't quite easy.
*Ekweremadu
There were a lot of frustrating periods and some people were out to ensure that it didn't happen. So, it took a lot of prayers and insistence on our part that we will succeed for us to succeed and I am happy that we did. So, we have provided the example and experience which we can henceforth use in further constitutional amendments in the future.
Now what would you consider as the agenda for this seventh Senate?
We will continue to make laws that will make meaning to the people of Nigeria, that will address infrastructural deficit, address the issue of security, address the issues of diversification of the economy and our relationship with the outside world. Our agenda is to ensure that every Nigerian will have the benefit of the country he calls his own.
Not only will we make laws in that regard, but follow up through our oversight to get the executive to be accountable so that budgets are implemented and then we will be able to see how we will be able to address the issue of poverty. Every Nigerian is entitled to good living, at least to the basic things of life and we are going to provide all the necessary legislative infrastructure that will enable the government to provide all that is necessary for people to live meaningful lives.
Is states creation in your agenda?
We have made this promise and we intend to tackle it. We know it is going to be a very controversial issue but we are not going to run away from it. We have made our recommendations to the Senate as a committee and we have said that Nigerians are asking for creation of additional states and we recommended strongly that the National Assembly do follow the process and ensure that more states are created.
But many Nigerians are worried that most of the states are not viable? So why do you want to create more states?
There is no time anywhere, any day when you can say that every state will be as prosperous or have the same prospects. In America you have big states you have small states, you have poor states you have rich states and all fingers will never be equal, so states will never be equal.
The important thing is for those who will lead those states to create the enabling environment for those states to thrive and prosper. We have seen places like Japan which have prospered. In 1970 South Korea was more backward than Nigeria, but today it is one of the leading countries in the world. The UAE where Dubai is in 1990 it was more like a village, in one street they had only two houses, it was more like a desert! Today, Dubai is one of the best cities in the world. So, the issue of prosperity is a function of vision of leadership and leaders. You cannot say that because a particular state is poor today that it will remain poor. Once you have visionary leaders in charge of that state it can transform that state.
Are you then worried about the cost of governance?
I am very worried, no doubt about that. Even in the National Assembly we have insisted in cutting the cost of running the National Assembly by 40 per cent and we expect that the executive, judiciary and every other MDA should be able to make the same sacrifice. We need to cut down. We adopted the presidential system of government which is quite expensive without looking at the entire cost. If I had my way we will have to review being in the presidential system and look for some cheaper form of government that we can afford.
So, what does a Senator earn now?
I don't know because the budget has just been signed. When the calculations are made we will be able to know what a Senator will earn. Whatever a Senator earned in 2010 will be cut by 40 per cent in 2011.
Are you referring to the quarterly allocations?
Yes.
Are you not worried that House members are officially drawing more or about the same with Senators?
I am not aware. I am not in the House of Representatives so I am not in a position to compare.
It has been confirmed……
I have not seen the evidence.
But are you worried?
Well, I am not worried because I will like to look at the Senate as a different institution. I think the important thing is to ensure that at every level of government that there is sacrifice, everybody need to make sacrifice at this moment.
At times they talk about the cost of running the National Assembly, some say it is ten times the amount they use in running the American congress. Sometimes I find this funny because it is not based on any statistics and some of these statements are based on total ignorance. What we need to do is to see how much we can afford to spend on our public institutions and our public officers.
It is not about separating the National Assembly and beginning to demonise them. I don't think that is right. In comparative terms, the amount that America uses to run its congress cannot be afforded by Nigeria.
We don't have the statistics and that is why some people conjure all sorts of figures but I can tell you on authority that the budget of the American Senate in each year is four billion dollars and I am aware that each Senator in America each year spends about twenty million dollars to run his office. We had two Senators from America who came here last week (penultimate week) and one of them said that he returned three million dollars of unspent money from his office account. So sometimes people mistake the amount used in running your office with the amount that is supposed to be your pay. That is where we have the misconception.
The National Assembly has consistently failed to establish a National Assembly Budget Office to give a platform for oversight of the executive. What effort is your own leadership making towards addressing this issue?
The problem was that the Senate and the House of Representatives never worked in synergy in establishing that office. The House of Representatives took it as a House project and was going about as if we had a unicameral parliament. I understand that just last month they eventually set up a budget office which they handed over to the management. Hopefully, the management will now call a meeting of the leaderships of the two houses for a proper establishment of the budget office.
With the NABRO taking off what prospects would there be for oversight of the executive arm?
It is going to be good because they are going to have a lot of statistics about the budget, the level of implementation for which we can use to oversight the agencies and the government ministries. It would also help us to plan ahead as we will have technocrats that will advise parliamentarians in respect of budgetary issues and the level of implementation so that with sound information we can take on the executive.
Lastly, what is your impression of the treatment being given the erstwhile Speaker of the House of Representatives, Rt. Hon. Dimeji Bankole?
I am a lawyer, I believe in the rule of law. So, if somebody is called to answer questions regarding his conduct as a public servant, I believe that all he needs to do is to be able to prepare his defence and then allow the government to establish his guilt. I don't want to see it as any witch-hunting. So, I believe that if his hands are clean he will be out of it in no distant time.