ACN'LL RULE NIGERIA-LAM ADESINA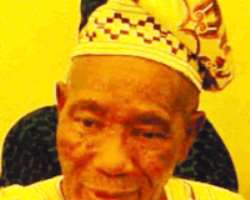 It has been said that godfatherism is the bane of Nigerian politics and good governance. Many elected public office holders' failure to deliver on their electoral promises had often been attributed to their desperate proclivity to satisfy their godfathers, who breathe down their necks for financial and other patronage to the detriment of the masses.
Where the elected officials tried to revolt and be their own men, the consequence is friction, which often paralyse services to the electorate. We saw this in the face-off between the Uba brothers and former Governor Chris Ngige in Anambra State, and between Rashidi Ladoja and the late Lamidi Adedibu in Oyo State.
Prior to and after the April election, fears were rife that the Action Congress of Nigeria (ACN) gubernatorial candidate in Oyo State, Senator Abiola Ajimobi, who eventually won, would be a lame duck governor pandering to the wishes of a coterie of godfathers who support him. People like Alhaji Lamidi Adesina, Chief Michael Koleoso, Asiwaju Bola Tinubu, all ACN leaders, and the Alaafin of Oyo, Oba Lamidi Adeyemi III, as well as billionaire business tycoon, Arisekola Alao, were touted as those that would get all the patronages and resources of state at the expense of the masses.
Sunday Sun put this question to Alhaji Adesina, who singularly played a crucial role in campaigning for Ajimobi throughout the state.
The ACN leader dismissed the insinuation, saying he and his colleagues would not mount undue pressure on the new governor. He, however, insisted that Ajimobi was duty bound to respect the party's leadership and implement its manifestoes. Lam, as he is fondly called, similarly dispelled the view that ACN had become a one-man show, with Tinubu emerging the overall leader.
The former governor also speaks on the controversial article The Nation's columnist, Sam Omatseye, wrote, allegedly disparaging the Awolowo family; the ongoing trial of ex-Speaker of the House of Representatives, Dimeji Bankole, and the exclusion of the South West in the nation's top four political offices. He argues that the region, which is now controlled by progressive opposition parties, need not be in the centre to develop. Excerpts…
Let's start with the ACN's victory in the South-West. What does it portend for politics in the region, national level and people of the zone?
If you recollect, all the time I spoke with journalists, they asked me questions about ACN in Oyo and the South West. I would always reply that the ACN was firmly on the ground and would control the South-West eventually. That has come to pass. Now, the victory of ACN portends good future for the South-West. The South-West has been democratically destroyed in terms of values. The ACN will rebuild all these things. And I can tell you we are bringing rapid development into the South-West with the control of the CAN, which has its own manifesto.
It always has a programme of action, and with that, it's not possible for ACN leaders or those at the helm of affairs in each state to steal the people's money. They will have to apply the money for the things that had been put down for them to do by the party. That is why you'll see development in all facets of human endeavour, in education, health, employment, infrastructural facilities and economic empowerment to the people and the nation, because I can tell you that other parts of the country would look at the South-West and see how it has developed and would like to copy. And that would fast-track development in those areas as well.
There is no visible presence of the South-West in the top hierarchy of the Federal Government now. What do you say to this?
I have nothing to say to that, because it had always been like that. It was only when General Obasanjo became president that he said he wanted to bring South-West into the mainstream of Nigerian politics, then he 'took us there'. But there is nothing to show for it. We had always been on our own and we don't rely on people or the Federal Government, and we have been developing. Even, we can say the opposition role is all right for us. We don't need to be in the Federal Government before we can develop our area. The psychology of the south-westerner is, what do they mean we have to be in Abuja or at the centre? They stay at home and get whatever they want and that is all.
Are you saying that even when we were mainstreamed under Obasanjo there was nothing that came to the South-West?
Look, we missed being at home under Obasanjo. It's not a matter of condemning Obasanjo, what did Obasanjo achieve in his eight years? I'm not talking of Nigeria now; I'm talking of the South-West. Look at the roads, whichever, Lagos-Ota. Look at the road from Abeokuta to Ibadan, he met and left it as it was. Look at the Lagos-Ibadan Expressway and the Ibadan-Ile-Ife, and everything. He did not achieve anything. It's a loss. A total loss to the South-West. He just wasted our time. Eight whole years! And there's nothing to show for being in the mainstream.
But, is it okay that the Yoruba remain excluded from the central government, or what is your party doing to capture power at that level?
We don't need to be at the federal level to achieve whatever we want to achieve for our people. Nigeria belongs to all of us. They share money from the federation account. They cannot say they won't give the South-West its share. Moreover, we are developing our own area at our own pace. And at our own time, God's own time, the ACN, the opposition, will control the centre. Look at what happened in the last election and what happened in this election. The ACN is the second strongest party in the National Assembly. See what happened in the First Republic and what happened in the Second Republic. Awolowo's party, the Action Group, was not very strong. After NPC, you have the NCNC, and then the Action Group. That was in the First Republic. Look at the Second Republic, Awolowo's party was the second and it posed a threat to the Federal Government at that time. That is what is going to happen now. In the next election in 2015, you'll see what'll happen in Nigeria.
Somebody described ACN as Tinubu Investment Company Limited. Do you agree?
Am I not part of the leadership of ACN? And I've been existing politically for a long time now.
He said the party has become a one-man show, is it?
What do you mean by one-man show? Is it a one-man show when all the people in Oyo State voted for ACN? Did they take money from Tinubu? What are they saying? I agree that Tinubu is a fighter, a fighter for civil liberty, a fighter for democracy. And that is how it should be. He fought for democracy in the Third Republic when Abiola's mandate was annulled, and today he continues to fight with whatever God has given him.
But you are no less a fighter, are you?
That is it. You know Tinubu is much younger than me. And the strength in him is bigger than mine and that is why he is going about. I can't be going about now. I must reserve my energy for the fight in Oyo State. And see what has happened to us today. To us in the ACN, Tinubu is a leader and a fighter, and we salute him for that.
Let's come to Oyo State. The new governor is your protégé, but opponents and critics are saying he has so many political godfathers like yourself, Chief Koleoso, Tinubu, among others, who will bring pressure on him that he would hardly be able to resist. What do you say to this?
What of when we were in the Alliance for Democracy with the state governments in the South-West. Were we not under pressure from the Afenifere leaders? Did we succumb? And in actual fact it was the programme of action, the manifesto that we implemented. So, it's just a way to denigrate us by saying this and that. We have been in government before. Myself, Tinubu, Akande, Osoba, Niyi Adebayo and others, and we know what it means to be in government and people putting pressure on us. What type of pressure? We will give them free hand.
The only thing is that I consider the party to be supreme. I am the leader of the party in Oyo State. So, the governor must implement the programme of the party, and he knows this. That is the only pressure from us. All other things he is free to do. Recently, he appointed his SSG, Chief of Staff and all what not. The party never interfered. So, it's only people who want to cause confusion that say he would be under pressure, under pressure for what? Am I going to take any money from him? God forbid. Is Tinubu going take any money from him? God forbid. So, if we are not under pressure when we were governors, we cannot put our own governor under pressure at all. That is the fact of the matter.
What advice do you have for ACN public office holders - legislators, and governors?
They have to conduct themselves in a manner that would satisfy members of the public. The public looks up to them for leadership. And we have told them so. It's not a matter of if you cannot beat them join them. They are not going to join any bad company in politics. They are progressives and must show they are progressives. They have to fight the cause of the people. That is why we did a lot of retreat for them to know they are going to serve the people and not themselves. That is what we told them point blank. So, they have to behave.
What is your take on the N18,000 minimum wage Governor Ajimobi inherited from Alao-Akala?
Well, that is what was agreed upon by the powers that be in Nigeria and the labour movement. And there is nothing anybody can do about it; there is no going back on that. The money will be paid, I know, but at present, there is no such money in Oyo State. And that is why the governors are approaching the Federal Government to increase revenue for the state. Eventually, the money is going to be paid. Every state must pay that money.
How did you see ex-Governor Akala 'imposing' it on the new regime?
You know, quote and unquote, Akala is an illiterate. He doesn't know that you cannot legislate for the incoming government. If you are going away, you cannot legislate for the incoming government. That is a fact. He doesn't know anything about issues in government; that was why he did all he did. He knew he could not pay. The money was not there. He just wanted to put blocks in the way of the incoming government. See all the things he did to Obas in Oyo State.
He wanted to create problems, time bomb, but he did not succeed. In the developed world, there is always cooperation between the incoming government and the other because they see it as a continuity of service to the people. It is the society that is paramount, not political rivalry or contest. But here, it's more like vendetta. Akala did not want to leave Government House. He thought he would continue. It was when the facts were made clear to him that he had lost the election, that's when he unwillingly left the Government House. And when you hear what is going on in Government House, they've vandalized everything - either Government House or Deputy Governor's Lodge. Yes. In fact, people have come to tell me that they met nothing in the Government House, nothing in the Deputy Governor's Lodge. Just imagine, at the twilight of Akala's regime, a day or two, he still withdrew N3 billion. You can just imagine that.
Let's talk about the national level once again. Recently, former Speaker Dimeji Bankole was arrested and is being prosecuted by the EFCC for fraud and other allegations. And this is only after he had quit office. Why, in your view, is it that in Nigeria's public officers aren't touched while in government, I'm not talking about governors who have immunity?
Well, I think it is wrong. When you are in office and you are not covered by constitutional immunity, you should be accountable. If you do anything wrong to the people, you should be held accountable, you should be arrested. I was wondering why Dimeji Bankole was arrested shortly after he left office. They should have taken him up before he left office. All these things they say he did wrongly and all the scandals and all what not, had been on for sometime. Everybody knew that most of these things happened. At least, some honourable members were against him and those members were suspended for sometime. All these things had been on for a long time now, so I don't know what happened. But I heard that long before the election started, a directive was issued from the presidency that even the governors or those who wanted to contest elections, including those who have cases should not be touched until after the election. So, after the election, some of them that lost were taken.
Are you saying there was official complicity even at the highest level?
That's what I heard. I heard the directive from the presidency came long ago. So, that is why I was wondering. Some people should not even have been allowed to contest election at all. They should have been arrested and charged to court. Some had charges against them in the court of law, and they were allowed to stand election. The EFCC did not even arrest them. And those of them who were arrested and charged to court were not prevented from contesting. I think it was a directive from the presidency. That is what I heard.
Recently, Mr. Sam Omatseye of The Nation wrote something that was critical of the Awolowo family. That they did not identify with the core Awo political dynasty to which you and others belong, but were rather hobnobbing with conservative politicians. What is your take on this?
Look, let me tell you, you journalists write whatever you want and those of us in public service, either past or present, will have to submit ourselves to you for scrutiny. You know they have written a lot about my son and me in the past, since I was a former public office holder. What could I do? Except to correct them where they went wrong. So, journalists have the right to write about something.
At least, the Nigerian Tribune wrote a lot of unpleasant things against me, look at me, an Awoist to the core. They wrote that I imposed my son on ACN to contest election when such thing never happened. Of course, I will not say anything against the Tribune writer, it's left to them to find out, and they never apologized up till now. When I was the governor of Oyo State, the Tribune did a lot of writings against me. The matter got to a stage that I had to go to Ikene to tell mama, and mama invited the editor. I asked him why were you doing this to me? I am an Awoist to the core. At least, I contributed to the development of Tribune when it was not doing well. So, when Omatseye wrote, of course, I did not even read it, but, when Tribune started lambasting him and mama went further to say they see the hand of Tinubu there and the ACN's, I raised an objection to that. Number one:
Tinubu will not ask The Nation to abuse mama. I can vouch for him on that. Number two: the ACN did we hold a meeting where we said we should be attacking mama? Never. It's a sacrilege. For mama to issue a rejoinder that ACN knew about it, including myself as a leader of the ACN, it's something I don't like at all. Remember, when I was a columnist for Tribune, I faced a lot of ordeals, being arrested today, tomorrow and all what not. Matters came to a head when the then military governor of Oyo State, Brigadier-General Jemibewon, said they should bring me to Government House.
I went there and he told me you are writing the mind of your leader, Awolowo. Awolowo said you should write against my government and you are writing. I allowed him to say all those things. Then I told him, Mr. Governor, sir, at my age, how could anybody say write against this man for me? I said I have been writing for several out of my own mind. I told him so point blank. He said no. So, I told him well, that is what is happening. If you don't accept it, all well and good. So, people are apt to confuse situations like that, especially when Tinubu is the proprietor of that paper.
They can say he knew about it, but I can tell you that Tinubu never knew about it. Number three, to say that the ACN was involved is a disservice to us, honestly. We, who are Awoists, children of mama, no. That is why I did not talk again because I wanted to talk, but I didn't when they allowed mama to say people like us could be involved - Osoba or Chief Bisi Akande. No. It's a disservice to those of us that served Papa Awolowo and are still serving him today. So, I don't think Tinubu knew anything about it. Omatseye, I think, wrote whatever he wrote out of personal conviction. So, they should have attacked Omatseye instead of attacking Tinubu or ACN. Again, I read today the reply they gave Tinubu after writing his letter.
They said he did not address the issue and so on and so forth. They were trying to cast aspersion on him. It's in very bad taste. I think we should not do such things. Mama should allow the sleeping dog to lie, for God's sake. Left to me, I would have wished mama would be with us throughout her lifetime, that is, with the progressives. But she has chosen to be neutral. She says she's neither for this nor for that and she has every right to do that. We can't crucify her for that. It's her individual right, personal right. But, having said that, personally, I'd love mama to be with us.
That is my own personal opinion, but since she is not with us, we should not persecute her for that. The ACN has no hand in that. And I vouch for the integrity of Tinubu. He would never tell anybody to lambast mama or any other person in the Awolowo family. The whole thing is a misconception of the situation. But, I call on both sides to forget the past and allow peace to reign.