EX-BP BOSS TONY HAYWARD'S VALLARES FUND RAISES £1.3BN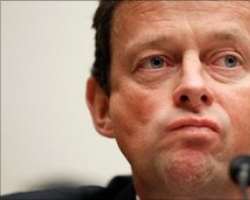 Tony Hayward may end up running some of the oil companies that the fund hopes to acquire
Ex-BP head Tony Hayward and financier Nat Rothschild have raised £1.35bn for their new oil investment fund.
The Vallares fund aims to buy £3bn-£8bn of oil and gas assets in developing countries over the next two years, or else return money to shareholders.
Investor demand was greater than the expected £1bn, prompting the founders to close the share offering early.
It comes less than a year after Mr Hayward quit BP over the Macondo oil spill in the Gulf of Mexico.
The fund, which has been floated on the London Stock Exchange, will offer the opportunity for existing privately-owned oil companies to gain an easy listing by being bought up.
Mr Hayward and Mr Rothschild, along with fellow founders financier Tom Daniel and former Goldman Sachs banker Julian Metherell, have put a total of £100m of their own money into the venture.
The fund will look at opportunities in Russia, Latin America, Africa and the Middle East, said Mr Hayward, who may end up running some of the companies that Vallares buys.
However, it is not looking in the US, where the former BP boss was heavily criticised by politicians for BP's safety record and his handling of the Gulf of Mexico oil spill.
Mr Hayward also recently joined the board of Glencore, the commodities trading company which floated on the London Stock Exchange last month.
Vallares is a sequel to Mr Rothschild's Vallar mining investment vehicle which bought interests in Indonesian coal projects.