THE DIFFICULT TASK OF ACCOUNTABILITY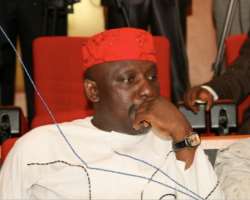 IMO STATE GOVERNOR OWELLE ROCHAS OKOROCHA.
A few weeks ago, I received an e-mail from a reader of mine based in Imo State. The man wanted me to know that how much he liked my piece titled Ohakim's Parting Address to Incoming Governors. The correspondent's contempt for former Governor Ikedi Ohakim was unmistakable. Then he ended the letter with these words: May God bless Imo State and Owelle Rochas – our biblical Moses!
I was disturbed by the tone of that closing sentence. Rochas Okorocha, the object of the man's adulation, had not even been sworn in as governor at the time. Why gush praises for a man who had just won a governorship election but had done nothing else?
For me, the e-mail revealed a perilous habit. That habit is to credit public officials with great accomplishments – not based on certifiable work, but ahead of it. We garland our leaders with pompous titles that do not fit.
I felt so strongly that this rush to venerate a man who had not taken an oath of office ought to be discountenanced. In my response to the correspondent, I wrote: "Rochas Okorocha is not yet a Moses, much less a Biblical one. Let's watch and hope he delivers for the people."
Don't get me wrong. I truly hope Mr. Okorocha turns out to be a skillful, visionary and enterprising governor. In fact, if he has a sense of history and a depth of humanity, he would have no choice but to spend his waking hours and energies on the challenge of providing stellar service to the people of Imo. There was a reason the people of Imo came out in droves to support his candidacy. There was a reason they rejected Mr. Ohakim and his (bad) works. Imo voters not only propelled Mr. Okorocha to the Governor's House, they also seemed prepared to do whatever it took to defend their choice. The new governor better work hard to earn the faith and confidence of the people of Imo State.
As Mr. Okorocha grapples with his challenge, the last thing he needs from anybody is effusive (unearned), anticipatory celebration. To call a man a Moses before he has shown his hand as a leader is to lend him a terribly false and low sense of the people's expectations. It's akin to declaring a football player as the Most Valuable Player even before he has played a second in a crucial match. Except that, in the case of a governor, the stakes are much higher. The lives and fortunes of millions of people are involved.
Such excessive generosity with praise is also, ultimately, dangerous for the polity. I won't forget reading the encomia heaped on the late dictator Sani Abacha by a parade of "traditional" rulers who called on him. Each delegation sought to surpass its predecessor in their invention and inflation of Mr. Abacha's achievements and attributes. Each group of courtesy callers at the shrine of power committed ever-graver assault on language in categorizing their host as "patriotic," "dynamic," and "visionary."
As soon as death claimed Mr. Abacha, his praise singers disappeared with the lucre he dispensed to them into the shadows. None of them had the spine to interject their old words of adulation as Abacha bashing became a frenzied national sport. It turned out that, as some of us were proclaiming him the very definition of leadership, Mr. Abacha was busy emptying our treasury into his – and his cronies' – bank accounts.
Abacha's fate mirrored that of other Nigerian leaders, military and civilian. Two forms of deception are at play here. Those in authority pretend they're outstanding leaders when their expertise lies in looting and other forms of self-aggrandizement. Sadly, some of us collaborate in the ruse when we baptize these public officials as geniuses and patriots.
Whenever Nigeria's shameful luck with leadership is discussed, some analysts are quick to blame the Nigerian people in general. A people get the leadership they deserve, these analysts are quick to conclude.
The claim that a people get the caliber of leaders they deserve has always struck me as largely false in the context of Nigeria. The historical record sustains the view that Nigerians' quest for quality leadership has been thwarted again and again by a nucleus of hijackers intent on living off the resources of the nation. At the street level, Nigerians have often resisted those imposed on them. Just as often, the godfathers of imposed rulers have called on the machinery of state power to put down the resistance and sustain the imposition. Take "June 12," an event that started as hope and ended as a fiasco. From different parts of the country, Nigerians voted for M.K.O. Abiola as their leader. But the Ibrahim Babangida and Sani Abacha regimes used a mixture of coercion and propaganda to nullify the popular will.
Still, as happened in Imo State, the people's will triumphs on occasion. When it does, it behooves us to serve notice to the custodian of power that we expect the highest standards of accountability and transparency. We should hold leaders to high expectations, not hand them blank cheques to do as they please, or declare them iconic achievers even before they have shown up to run a race.
Nigerians ought to cultivate – or deepen – the habit of demanding accountability, insisting that those entrusted with power submit themselves to ongoing scrutiny. In the end, we foster democratic values more deeply by serving as watchdogs over those in authority. In the absence of a culture of accountability and transparency, what we profess as democracy would amount to a hollow ritual of periodic (rigged) elections. Democracy thrives only when those who hold one office or another become aware that the people they represent are watching their every move.
An Okorocha may yet become a Moses of Imo, but he – like other officeholders – has to work tirelessly to earn it. And if a man like Okorocha ever forgets that there's a reason the people of Imo stood behind him, then the people should remind him immediately, instead of bemoaning their fate in patience whilst waiting till 2015 to try out another would-be Moses.
Written by Okey Ndibe ([email protected]).


Disclaimer:

"The views/contents expressed in this article are the sole responsibility of the author(s) and do not necessarily reflect those of The Nigerian Voice. The Nigerian Voice will not be responsible or liable for any inaccurate or incorrect statements contained in this article."
Articles by thewillnigeria.com