EUROPE DROUGHT: FRANCE PLEDGES 1BN EUROS FOR FARMERS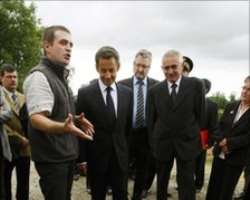 President Sarkozy visited farmers in the Charente region
France has pledged 1bn euros (£0.9bn, $1.5bn) in compensation for farmers after the EU's top grain producer saw its worst spring drought in 50 years.
Announcing the figure in parliament, Prime Minister Francois Fillon said it might change "because it depends on the requests of the farmers".
Farmers are being offered relief on tax and loan repayments.
Drought has gripped much of northern Europe, with recent rains believed to have come too late for many crops.
Weather forecasters say it could be the worst spring drought in Germany since records began.
France also saw its hottest spring since 1900, and cattle breeders already struggling with low meat prices have seen supplies of grass and other fodder dwindle, forcing some to sell off livestock for slaughter.
Water use restrictions are now in place in more than half of France's administrative regions.
The EU agreed earlier to bring forward to mid-October the payment of certain subsidies for cattle farmers at the request of countries like France.
This week, Brussels also agreed to offer vegetable farmers hit by the E. coli crisis compensation of up to 210m euros.
'Partially satisfying'
"We now have to implement direct national support for the farmers," Mr Fillon told the French Senate on Thursday.
Continue reading the main story
'
Start Quote
I met one producer who was selling his animals rather than feed them'
Daniel Prieur
Deputy head of the French farmers' union FNSEA
"It is nearly a billion euros that the nation will have to commit to our farmers."
The prime minister added that a national disaster fund for farmers had already been set up and had made available 200m euros for "the most urgent cases".
President Nicolas Sarkozy visited farmers for the first time since the drought began on Thursday, Reuters news agency reports.
Meeting cattle farmers in the western region of Charente, he said: "The thrust of what we're going to do is to give you some room for manoeuvre in terms of liquidity and to put back loan repayments by one year."
Daniel Prieur, deputy head of the French farmers' union FNSEA, described the aid plan as "partially satisfying".
Interviewed by Le Monde newspaper, he said fodder was a major concern, and called for a limit of 100 euros per tonne on the price of straw, noting that it was as high as 140 euros in some parts of the country.
"I find the farmers very anxious and their morale is low," he said.
"I met one producer who was selling his animals rather than feed them. You see the animals coming out of the farms more quickly: it means fewer mouths to feed."