No Human Can Demystify The Awolowo Family - Oni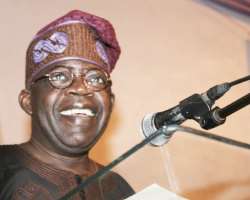 FORMER LAGOS STATE GOVERNOR AND LEADER OF THE ACN, ASIWAJU BOLA TINUBU.
SAN FRANCSICO, June 09, (THEWILL) - Former Governor of Ekiti-State, Chief Olusegun Oni has appealed to the Matriach of the Awolowo Dynasty, Mama HID Awolowo not to bat an eye over the "garrulousness of any irresponsible person" against the Awolowo Family, saying; "no human being either plucked nor grafted or born by a woman can succeed at demystifying either the Awolowo Family or the Awolowo legacy."
In a release by his Chief Media Aide, Mr. Wale Ojo-Lanre, Chief Oni said; "The Awolowo Dynasty was planted on an unshakeable godly platform of truth, honesty, unalloyed commitment and genuine service to humanity devoid of Selfish aggrandizement. It is a platform which no temporary political hurricane, tsunami or tornado stoked by any leadership-seeking irredentist can erode away.''
Chief Segun Oni, who described the vitriolic attack being unleashed on Mama HID Awolowo and the entire Awolowo family as an insult on the Yoruba nation said "no one dare ridicule Sir Ahmadu Bello in the North as Sam Omatsheye did to Awolowo in The Nation newspaper and expect to be praised."
He however said; "We should all look beyond Omatsheye, the agent of destruction but the mastermind, who is desirous of forcing himself into the big shoe of the Sage, Chief Obafemi Awolowo."
Chie Oni warned that ''whoever is behind this latest attempt at denigrating the Awolowo family should learn from the fact that those who tried it in the past met their doom at the point of their glory.
"Only an evil and idiotic person who lacked proper home training and bereft of any historical sense will open his mouth and employ uncouth and rude language to denigrate the Awolowo Dynasty.
"Whoever does that is on the way to irredeemable perdition and destruction.
"The Awolowo Dynasty is not a business for those who cannot point to their origin to feast on for undue publicity, attention seeking stunts or any blind and bland foolish irredentism," he said.
Chief Oni pointed out that those who are engaging some poor fellows to denigrate the late sage and by extension ridicule the Yoruba race just to further their political expansionist agenda would give account of their deeds before God someday.