COUNTDOWN TO MONDAY 06-06-2011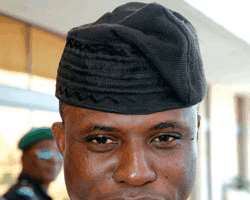 I am very sure everyone is curious to find out the significance of the date, whats so special about it?, is it the new date for the supposed end of the world,No,No,No it has nothing to do with all this, but that's the date the former Speaker of the House of Representatives-Honourable Dimeji Bankole would be officially handing over to another speaker, So?, whats so special about that, whats special is that from tomorrow, the former speaker would cease to enjoy immunity from prosecution, and its going to be a lot of battle for him to fight. Only recently, there was a bit of brouhaha about him been invited by the EFCC to answer to a petition about the 10 billion Naira loan the house took under his leadership & also the mismanagement of funds totalling about 9 billion Naira for capital projects After initially ignoring the invitation to appear before the Economic & Financial Crimes Commission to explain himself, and also resisting arrest at the weekend, it took the intervention of the Inspector General of Police-Hafiz Ringim, to give him respite till 06-06-2011, the former speaker is now said to have agreed to appear before the commission by 2pm on Monday.
We are all gradually counting the hours to see, what would happen tomorrow from 2PM.
Click the link below to go to ...
SPEAKER DIMEJI BANKOLE ALLEGED SPENT PART OF THE #10 BILLION LOAN ON INI EDO AND GBEMI SARAKI