WHY I WAS RECALLED AS MINISTER -IHEANACHO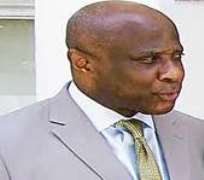 The former minister of interior, Captain. Emmanuel Iheanacho at the weekend disclosed that President Goodluck Jonathan absolved and reinstated him as a minister after discovering that he was not guilty of allegations leveled against him.
Iheanacho , who spoke to newsmen in his Emekuku country home in Owerri North Local Government Area , Imo State during a reception organized for him by his kinsmen and political associates also commended President Jonathan for his wisdom in restoring him back to his position as the minister before dissolving the cabinet.
He said: 'I feel much fulfilled that at the end of the day, the truth triumphed over falsehood. Though I cannot say exactly what transpired, but for the fact that my hands were clean, Mr. President in his wisdom and mercy absolved and recalled me to my job before the dissolution of the last cabinet.'
The former minister, who also expressed gratitude to his teeming supporters and political allies for their support and encouragement during the trial period, reiterated that he would always stick to politics of truth and forthrightness as well as continue in the direction of rendering selfless service to the nation if reappointed again by President Jonathan to serve in his new cabinet.
On the expectations of Nigerians from President Jonathan, Capt. Iheanacho stated: 'The President's capacity to transform Nigeria is not in doubt. Of course, he has started well by launching a road map towards ensuring that stable electricity is achieved in the country which will largely drive other sectors of the economy, especially in the areas of job creation and infrastructural development.'
Iheanacho, who commended the leadership of the Independent National Electoral Commission (INEC) for conducting acceptable elections despite obvious challenges, added that the recent development in the politics of Imo State had proven that democracy had come to stay in the country.