WHY I WON'T ACCEPT POLITICAL APPOINTMENT -DOKUBO-ASARI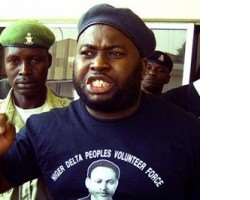 Leader of the Niger Delta Peoples Salvation Front (NDPSF), Alhaji Mujahid Dokubo-Asari, has expressed confidence in the ability of President Goodluck Jonathan to move the nation forward.
He, however, said he would not accept any political appointment from the Presidency 'until the sovereignty of our nation is restored.'
Speaking to journalists in Abuja, the former president of Ijaw Youth Council (IYC) dismissed speculation that he had been penciled down for appointment as Special Adviser to the President on Niger Delta.
He said: 'Let me state clearly here that I have not been contacted by the Presidency or any authority to that effect. I only heard it from people who have been calling me as a result of the rumour.'Let me also state that even if the Presidency is thinking along that line, I will not make myself available for such offer for obvious personal and collective reasons.'
Speaking further, Dokubo-Asari said his reasons include that Hon. Kingsley Kuku, former occupant of the office, is his brother and a very good friend.'He was the spokesman of the IYC when I was IYC president and I worked with him very closely. I also worked with him to become a member of the Ondo State House of Assembly.
'When I was in detention, Kingsley Kuku stood by me at the risk of his position as a legislator in Ondo State and as a member of the ruling Peoples Democratic Party (PDP),' Dokubo-Asari said.
He added that Kuku, for theshort period he was Special Adviser to the President on Niger Delta in charge of the amnesty programme, performed marvelously well like his predecessor, Mr. Ndutimi Alaibe, in the area of oversea training, interfacing with the ex-militants and training vendors. 'And it will be difficult for anybody, including myself, to do better in the circumstance,' he said.
While appealing to President Jonathan to reappoint Kuku, Dokubo-Asari said he expected good governance from the President.'We expect him to make his mark as President by appointing people who will be good, by appointing people who will fit in properly as technocrats and we expect that he should focus on certain areas of industrialization. For instance, he can pick an area like garment and footwear and put a lot of protection; protective tariffs, tax holidays and so on.'