Nigeria Investigates Simultaneous Blasts After Jonathan's Swearing-In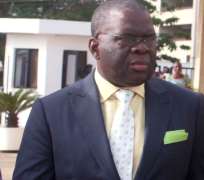 Nigeria's security agencies launched an investigation on Monday into a series of bombings which killed at least 14 people hours after President Goodluck Jonathan was sworn into office on Sunday.
Three improvised explosive devices tore through a popular drinking spot inside a barracks in the northern city of Bauchi at around 8 p.m. (1900 GMT) on Sunday, killing 14 people including four women, and injuring around 40 more.
Two more people were killed and 11 injured when a device exploded at the same time at a beer parlour in Zuba on the outskirts of the capital Abuja, more than 250 km (155 miles) to the south, the National Emergency Management Agency said.
A third simultaneous explosion hit another drinking spot in the northern town of Zaria, seriously injuring two people who were taken to a military hospital. A fourth device, apparently abandoned, exploded early on Monday close to the Emir's palace in the town but nobody was hurt, a military official said.
"We have commenced a preliminary investigation to ascertain the kind of explosives used and who was behind them," a senior security source told Reuters, adding that it was a joint investigation by the army, police and secret service.
Visiting the Bauchi blast site, Army Chief of Staff Azbuike Ihijirika said additional joint military and police checkpoints would be set up to try to prevent further attacks.
The explosions underline the challenges Jonathan faces uniting Africa's most populous nation after elections which, while deemed the most credible in decades, also threw the country's religious and ethnic fault lines into sharp relief.
Jonathan is a southern Christian whose victory disrupted an agreement in the ruling party that power alternates between the mostly Muslim north and mainly Christian south every two terms.
Jonathan picked up millions of votes in the north and won 59 percent of the overall vote, comfortably defeating his main rival, ex-military ruler Muhammadu Buhari, a northern Muslim.
But rioting erupted in northern towns after his victory was announced. Human Rights Watch said more than 800 people were killed. Homes, shops, churches and mosques were set ablaze in violence which the government says was orchestrated.
NORTHERN RADICALS A GROWING THREAT
In the run-up to the polls, many Nigerians said the ethnic or religious background of their head of state was of little import provided he created jobs and improved living standards.
But the controversy heightened tensions in the "Middle Belt" between the north and south, a region which has been beset by decades of sectarian violence and where the worst of the rioting, much of it carried out by jobless youths, took place.
The presidency has made no comment on the blasts.
The main security concern in Nigeria had for years been militant groups in the oil-producing Niger Delta in the south, but security consultants in the West African country say radical Islamist groups from the north pose a growing threat.
Islamist sect Boko Haram has carried out frequent fire bombings of police stations and government buildings around the northeastern city of Maiduguri and also claimed Christmas Eve bombings in the Middle Belt city of Jos.
An explosive device planted where a military patrol vehicle is usually stationed exploded in Maiduguri on Monday but the truck had been parked in a different place and nobody was injured, military officials said.
Suspected members of the sect also threw explosives at a government building in the town but it was empty as Monday was a public holiday and the attack caused only minor damage.
REUTERS.