Fashola Takes Oath Of Office, Tells Lagosians To Limit Their Expectations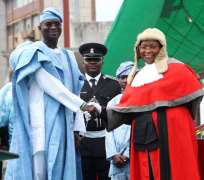 LAGOS, May 29, (THEWILL) - The second-term administration of Lagos State Governor Babatunde Raji Fashola (SAN) kicked off today after taking his oath of office, telling Lagos residents not to expect too much due to what he attributed to the escalating cost of running government.
However, the governor harped on the need for job creation, security and safety of lives and properties just as he renewed his commitment to law and order as the most important pre-condition for the achievement of all aims and aspirations.
He gave the hint in his inaugural address shortly after taking the oath of office at the Tafawa Balewa Square, where he called for cooperation and understanding from all residents of the commercial hub.
The swearing-in was graced by the State's former civilian Governor, Alhaji Lateef Jakande, its first Military Administrator, Major-General Mobolaji Johnson, it immediate past Governor, Asiwaju Bolaji Ahmed Tinubu, Rt. Hon. Adeyemi Ikuforiji and Senator Olorunnibe Mamora among others.
Fashola's oath was administered at 11:15 a.m while his Deputy, Mrs. Adejoke Orelope-Adefilure took her turn at 10:57 a.m.
In his address, Fashola said, "the revenue of the state has unfortunately not grown in such proportions that could meet up with the people's expectations. It therefore suggests that we will have less to spend on capital projects until we find other sources of revenue generation. While your Government will not relent in its efforts, we cannot solve all the problems at once."
He further said, "The cost of running government has escalated as a result of many upward reviews of wages of staff across sectors and also as a result of the new minimum wage prescription.
"While we will do our best to run an inclusive government, we must remain mindful of, and balance the enormous costs associated with running a large government.
"Let me advise that in all these expectations, we will be limited only by resources especially those of a financial nature that are available to us, and certainly not by our own complacency, passion or desire to work hard to serve you," he said.
He however promised to invest in security and safety to further reduce crime in the state.
"We will continue to be innovative, evolve and expand policies like the Agriculture Youth Empowerment Scheme, the Lagos Ignite Programme, Technical and Vocational education, and our skill acquisition and microfinance schemes.
"Our government sees the unemployment of young people as a challenge to be addressed and not as a license for young people to take to crime or to act outside the law. We will be fair, firm and uncompromising in enforcing the laws of the state.
"If we must exceed the standards of those societies by whose performance we assess ourselves, then we must all reach a consensus from today to play by the rules, such as paying our taxes, driving in the proper way and on the proper lanes, trading in the proper and designated places, building only in proper and designated places and doing everything in accordance with the rules," the governor stated.