ADEPOJU CHARGES EAGLES TO ERASE USA'94 MEMORY WITH VICTORY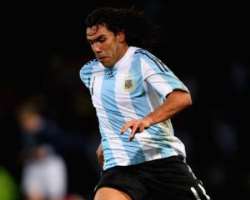 Shooting Stars of Ibadan General Manager, Mutiu Adepoju, has charged Super Eagles to go all out against Argentina and give Nigeria a deserved victory that would erase the memory of the country's first round elimination from the 1994 World Cup in USA.
In a chat with Daily Sunsports in Lagos at the weekend, Adepoju praised the efforts of Guinness for bringing a quality international friendly  match to Nigeria especially now that Coach Samson Siasia was building a new team.
He said though he saw the Ethiopia match as a more important duel, he could not wish away the Argentina match because it would serve as a tune up to the must win Ethiopia encounter.
' My joy knew no bounds when I heard that Argentina national team is coming to play our national team in Abuja.'I was happy because it could be a time to avenge the 1994 loss to them during the World Cup.'That defeat is still fresh in my memory and I cannot wish it away. The only favour the Eagles can do to the 1994 squad is to beat Argentina to erase the sad memory.
'We were a goal up early in the match only for the Argentines to equalise and snatch a winner with minutes left to play. Even though we qualified from our group, I'm still have pains my heart any time I remember that match'. ' I am a realist but most people at times misunderstand me. I have never opposed the Argentina friendly match, rather I have said that the Ethiopia match should be a priority  and I have my reasons.
'Yes, Siasia can use the Argentina friendly to assess his players because he is still building a new team. But they must not play the match as a do- or-die match. I know Siasia is ready to learn and I wish him the best', he said.