ACTRESS FATHIA BALOGUN WEDDING PLANS SUFFERS SET BACK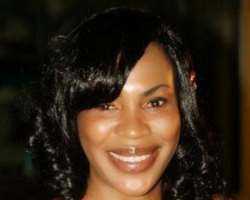 Some months back, sultry Actress Fathia Balogun officially announced that she's walking down the aisles come May 21,2011.Many looked forward to the date after her engagement to Ade,a US based Nigerian took place in January 2011.
But to our dismay, the marriage didn't hold on the said date.
According to our sources, what led to the cancellation of the wedding was based on the fact that,Fathia discovered that Ade is still married to a white woman.
Reports further reveals that Ade and the white lady also have a child together. The white woman was said to have threatened to sue Ade over what she considered bigamy.
In bid to confirm the story, Fathia waved the question aside stating that May 21 wedding was only a provisional date.
Fathia was married to veteran actor Saheed Balogun before their marriage crashed.