LAGOON HOSPITALS BLAZES TRAIL WITH JCI ACCREDITATION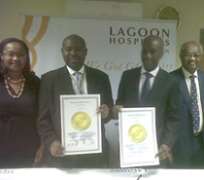 L-R: Mrs Fola Laoye, GMD, Lagoon Hospital, Dr David Bayogbona, Dr Folabi Osunkoya, Prof. E. A. Elebute, Chairman, Hygeia Group and Dr Jibike Oyewunmi during the presentation of the JCI certificates
Photo: Sun News Publishing
More Stories on This Section
Lagoon Hospitals have become the 1st hospitals in Sub-Saharan Africa to earn accreditation from Joint Commission International (JCI), the worldwide leader in improving the quality of healthcare. JCI's on-site evaluation of Lagoon Hospitals occurred in April 2011 and was conducted by a team of international health care experts.
The commission whose mission is to improve the quality of care in the international community through its provision of accreditation and consultation services has accredited over 200 organizations around the world; its sister organization, Joint Commission on Accreditation of Healthcare Organization (JCAHO) is the Gold Standard for hospitals in the United States. In 2015, JCI and HCAHO were designated as the World Health Organization (WHO) Collaborating Centre for Patient Safety Solutions.
'Health care organizations around the world want to create environments that focus on quality, safety and continuous improvement,' says Paula Wilson, President and Chief Executive Officer, JCI. 'Accreditation meets this demand by stimulating continuous, systematic improvements in an organization's performance and the outcomes of patient care. The citizens of Nigeria should be proud that Lagoon Hospitals has made a commitment to quality and safety.'
'We sought accreditation because we want to provide the best care possible for our patients,' and we are excited to be the first in sub-Saharan Africa to be accredited' says Hygeia Group Managing Director, Mrs. Fola Laoye. 'Earning accreditation from JCI is a significant step in our quality and patient safety journey.'
Mrs. Laoye notes that accreditation was possible only through collaboration among all staff members. 'Providing high quality care is a team effort. Our employees have worked very hard to build a culture driven by clinical standards and safety and therefore deserve the prestige of working in a JCI accredited organization.'
JCI is dedicated to improving the quality of health care through voluntary accreditation. JCI's uniform, high standards for patient care and safety are designed to be adaptable to local needs, thus accommodating legal, religious and cultural factors within a country.
The standards that are measured cover both clinical care and organizational management areas such as assessment of patients, infection control, facility management and safety, staff qualifications, quality improvement and patient safety, organizational governance and leadership, and management of information and communications.
Joint Commission International has accredited about 200 hospitals worldwide, and these hospitals are believed to offer the highest level of care and quality in clinical services to patients. With Lagoon Hospitals accreditation by JCI, it means Lagoon Hospitals has been rated to offer the same standard of health care with any JCI accredited hospital worldwide whether in America, Europe or Asia. The good news is that Nigerians may not have to travel out of the country for any specialty of medicine that Lagoon handles.
There are over 3000 elements that JCI check and assess before they give accreditation. Joint Commission International is the gold standard globally in terms of hospital accreditation. 'We have to keep the standards always. Every three years, the hospital has to be re-assessed. It is usually three years cycle, they give you 24 hours notice and they come in, so you can't have to make-up anything. We have to be ready all the time. By 20th of April 2014, they would have to put us under the microscope again. And next time they come, they are going to be more stringent,' says Dr Jibike Oyewunmi, General Manager, Quality, Lagoon Hospitals.
'The emphasis of accreditation is patients safety. You might be surprised that most hospitals all over the world are not safe. And why they are not safe are human errors. Not that people go out of their ways to harm patients, but errors sometimes do occur. To maintain patients safety has to be a culture,' Dr Osunkoya, Medical Director, Lagoon Hospitals, Apapa added.
Continuing, Dr Oyewunmi said: 'We are working to standards, improving workers satisfaction, improving patients rights. We have continuous process to improving patients care.'
Lagoon Hospitals become the first hospitals in sub-Saharan African to achieve accreditation from JCI. What picture does that paint of the healthcare delivery system in Nigeria? Prof. E.A. Etebute, Chairman, Hygeaia Group, answered, 'Nigerian hospital operators still have a lot to do in terms of adding quality into their clinical services. It is one thing to get a licence to operate a hospital and it is another thing to offer quality healthcare. We have been encouraging them to do that,' he said.