Why I'm not planning to remarry now - Saidi Balogun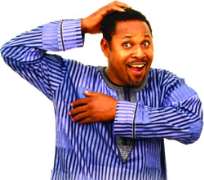 Popular actor, Saidi Balogun has continued to remain a regular face in Nigerian movies since he broke into the industry over a decade ago, despite the fact that he features mostly in Yoruba films, he has also featured in English movies. Born in Enugu State, Saidi who spent most of his formative years in northern part of the country and speaks Hausa language fluently, speaks with Segun Adebayo and Seyi Sokoya, on his latest movie'Eti Keta' (Third Party) which has been getting a massive buzz since it was premiered some weeks back, life experience, growing up and future plans. Excerpts:
IF you are to take a look at that point where you started, did you envisage movie could bring you to this height?
My ambition and passion has been a factor. Secondly, I believe that I have to be ready for anything that is yet to happen. I have always been interested in learning, listening and sharing people's ideas because I believe that everything one wants done must be done thoroughly, once they say it is movie, you will always find me there. Scientists, producers, and directors in developed nations usually work hand in hand because they realize the fact that movie-making is a wide job. I have made up my mind that I want to be one of the best movie producers around.
Did that bring about the revolution of one cast and two cast movies you have produced?
Yes. As a producer, you have to think very deep and wide, do research and be very thorough because nothing good comes easy. You will see foreign movie producers going scientific because they want to bring out something special and educative, surpassing what they have done before. Those days, our forefathers that started producing movies had this supernatural friction that they believed in. They can disappear and appear with what they call Egbe. The white people don't have that, so they made the plane. Within a short time, they brought GSM and computer, turning the world into a global village. These people are not different from me, they sleep the way I sleep, drink the way I drink and eat the way I eat. What makes them different is their ability to think deep.
But you did not start out as a producer, you started as an actor, why did you wait till now before turning things around?
I had to go through the rudiment of acting before I became a professional at it. I have outlived that stage a long time ago. I have been producing movies way back 80's. I was the associate producer of Enu Orofo in 1994 but did my first movie in Ilorin in 1980. Because I started as a stage person, it became imperative for me to build on the experience I had garnered over the years. I have been doing one-man shows across universities in Nigeria long time ago, producing a one man film or two is not new because I have been doing it for long. Mark my word, this country will lead the league of film producers in the next five years because we are getting there.
Your latest movie, 'Eti Keta' is getting a lot of buzz. What is the idea behind it?
It is about life, but which some people have chosen to ignore. For example, a man needs fifty naira to survive but can't get the money. He dies and a rich man comes with millions for a befitting burial for the man. There are certain things we do and perceive to be good, but they are very bad. The movie is about the invincible dos and don'ts. 'Eti Keta' is 70 per cent English, 10 per cent Yoruba, 10 per cent Hausa, five percent Igbo and five per cent Nupe. It is a love story full of drama and action showing how far love can take you. It also reiterates the fact that there are many things you do that a third party must not hear about. It's a 100 per cent Ankara movie, everybody in it wore Ankara in all the scenes shot in Nigeria, Ilorin and the US. It is to tell the world that my culture is beautiful and that love is strong.
Some people have argued that you are trying to copy what you have seen in the outside world, what is your take?
If you are a copy type, you will always be the second to the best. Those who saw the movie were convinced and they can tell a different story today.
You were said to have spent a substantial amount of money on your latest film, how true is this?
We are getting close to thirty million naira now, I won't say I don't want to make some good cash at the end of it all, but what matters to me is not the money. Somebody called me few weeks back and said; I came to watch your movie, I loved it. I told the person to forget about the money he has used to watch the movie, what you have gained is my principal reason for investing much in a movie.
How did you manage to raise that kind of money?
From sponsors who believe in what we were doing. Unity bank, DAVIVA and others were very supportive. Those who have at one point seen what we have done before they all rose to support.
Why did you cast Kate Henshaw and Ndidi Obi in the movie?
To prove that movie has no language. Ndidi Obi, for example, plays a Yoruba girl who can't speak English. Sola Kosoko plays an Igbo girl who can't speak Yoruba much and Kate Henshaw plays a Yoruba girl. I studied some of the films they have done and was convinced that they could deliver. When I was writing and consulting with Kola Olaiya, Eniola Olaniyan, and others, we decided to go for the best. So, Doris Simeon plays a cripple in the movie in spite of her beauty. She is bold and you could see the confidence flowing as she delivers her lines.
After Eti Keta, what next are you planning to do?
I have a lot of projects lined-up. After Eti Keta, it is You and I, and The Rider.
What actually do you think is wrong with the leadership of your association, crisis seems to be rocking it for a long time?
There is no problem with the association, just some idiots who do not believe in their handiwork. They believe in milking others.
We had an election, somebody took us to court for nine years while that lasted. He withdrew the case from court and came back to contest and we supported him. Some people also backed Dele Odule. The shocking thing was that after the first election, there were some irregularities and we decided to have another election, but the man decided to contest on his own without following due process. He went back to court. When I saw him, I told him that it was a big shame on me to have followed him initially. He took us to court for nine years, now we are re-contesting, where are we going to land again? The man felt he couldn't make money through producing or acting and decided to go the other way, but I told him that one day people will tell his son the legacy he left behind. His legacy is too always go to court after any election.
What is the way out?
We should come out and say no to these people who cannot make the desired change. We have had enough of court injunctions. Look where we are because we couldn't get ourselves together.
You have not been singing for some time now, why did you stop music?
Entertainment is general. Eddy Murphy sings, Will Smith sings and his son also. Late Hubert Ogunde and Isho Pepe sang. If you cannot learn like this, forget it.
But some of these big guys who sing Fuji have found their ways into movie, and they are doing fine and they may become so domineering if care is not taken…..
These guys are not taking it easy, they are also coming into the acting world, and if you check their acting then, it was low, but now it has become the men and the boy's world. If you watch most movies these days, you won't find me in it because I have decided to stay back. If you want to be a good producer or director, you have to take your time.
Why do few Yoruba actors cross to the English genre?
No one is at fault. Or have you seen a law that says it is only a set of people that can produce film in a particular language? Movies have no language. Don't blame anyone for this. I think it's up to the creative ability of the artist. You have to ask if they are ready to take the risk or match up with others.
Why do you think Yoruba movie producers don't pay actors well enough, compared to their counterparts in the English circle?
It is not peculiar to Nigeria alone, it happens even outside the country. The solution is simple, if you cannot meet up with my fee, then it is not necessary I appear in your movie. I have decided now that if you don't have a big money, don't call me to your production, I won't come.
It was reported sometime ago that you were making up with your erstwhile wife, Fathia, but nothing concrete seems to have happened….
The Yoruba people will say that you don't spread all clothes outside, you keep some inside. I am a public figure, and I have decided to keep it that way, I want to maintain that stance on that.
Is it true that the dissolution was fuelled by a particular caucus in the industry?
We are still saying the same thing. Go and watch Eti Keta, you will get the right response to the question. Let us leave the third party out of this interview. All these things don't affect me, once your hands are clean, everything will work the righteous way.
Women are said to be scared of you, they said you beat women....
Let me tell you something about life. A musician once said, when you're doing something good, some people will say you're doing the opposite. It's your conduct that will lead you to success. I'm happy and enjoying my life while some people are mad at themselves. That's what we call Eti Keta. If you do something and people are abusing you, they don't know your inner thought.
Any plans to remarry?
I am not thinking about that for now, I want to concentrate more on my profession and other things will follow. As a matter of fact, I am enjoying bachelorhood now, because it gives enough time to think deep about how I can better the lot of those who are looking up to me and produce movies that will improve the standard of movie production in the country