CHIKA IKE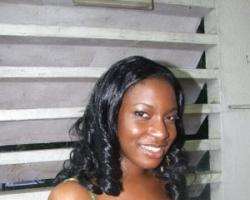 One look at Chika Ike and it is not hard to imagine why this young lady is quickly becoming one of Nollywood's sensations and unlike many others, she is quickly carving a niche for herself and coming out with an identity people rather not compare but complement.
Born on the 8th of November several years ago, Chika has always had love for the arts. As a child Chika loved to play short drama's by herself in front of mirrors and her family. She quickly bagged the nickname 'fancy Nancy', but even then Chika never imagined she would one day make 'real movies'. That day was sometime in February 2004, Chika encouraged by numerous peers decided to audition for Chico Ejiro's Sweet Love and got the role.
It was a minor role, but soon enough, she bagged another role in Tchidi Chikere's 'Standing Alone', and weeks later, in 'Bless The Child'. Since then, Chika has gone ahead to make prominent appearances in 'Paradise', last years sensational drama 'Everything We Touch', 'My Prince And My Princess', 'Django', 'Emotional Blackmail', 'Wisdom And Riches' among several others. A student of the University Of Lagos, Chika admits it's very challenging mixing a career in film and an education that means a lot to her.
She only recently flew to Sierra Leone to shoot the upcoming action thriller 'Assassin' alongside Mike Ezuruonye and Step Nora Falana. Chika seems to attract the action genre as she has been placed to play the lead female in several action flicks which include her debut in 'Bless The Child' alongside Sam Dede. While Chika is not working, she is reading, traveling or working out in her school's sport center. She has decided that her career would not encompass everything, instead she would be selective about the roles she plays. Chika is the fourth of six children, and while her dad was initially skeptical about her interest in the movie industry, he has become her biggest fan.