MURDER AT MIDNIGHT: HOW HEARTLESS KILLERS BUTCHERED PASTOR'S WIFE, 3 KIDS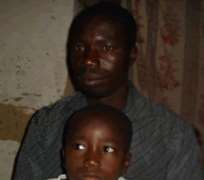 • Pastor Reke and his surviving son
At the moment, Pastor James Musa Reke is in deep sorrow. It is not without reason. The man of God who serves with the Church of Christ in Nigeria recently lost his wife and three children in a village in Bauchi State.
Pastor Reke's wife and kids didn't die a natural death; they were brutally murdered when suspected Fulani men attacked the village where he was serving as a minister.
The 36-year-old cleric is probably one of the biggest casualties of the recent serial attacks on villages in Bogoro and Tafawa Balewa Local Government Area of Bauchi State.
The pastor's wife, Dune, 35, and three children were killed in cold blood in the latest onslaught on Kurum Dodo village, leaving the family and the people of the area in deep pain and fear.
Bauchi State Commissioner of Police, Johan Abakasanga disclosed that the attack on Kurum Dodo claimed 16 lives while over 20 houses were burnt. The pastor's house was one of those attacked when the killers stormed the village. Reke who said he has been in ministry for over five years, serves in the village inhabited by members of the Seyawa ethnic group.
The clergyman spoke to Daily Sun at Mwari village where he fled to. He described the attack on Kurum Dodo which claimed 16, mostly women and children, as the height of wickedness of man. He revealed that the attackers were suspected Fulani men who came about midnight on Wednesday May 4, 2011.
The pastor who had served in the village for over two years recalled: 'I was in my house sleeping when I heard gunshots everywhere. It was around past 11 in the night. I told my wife that if we tried to come out in this situation, we would be killed. Then they came to the house. They tried to open the door but they couldn't so they started shooting.
'Later they gave up and wanted to go but those that had entered the compound kept pushing. I realised that the door had just a nail as the lock, and that if they added a little more force, it would open and they would easily enter.' Reke said while contemplating what to do next, the heavily armed men entered the house. The pastor said he had no option than to follow his instinct.
'I saw an opening and I ran out and saw one man that I knew,' he said, sobbing. 'The man said, 'Mallam stop,' but I refused. My wife was running too with our one year old son, Fyali on her back, and our four-year-old daughter, Faith. She was running away from the house when they stopped her and hit her with a machete on her forehead. They also killed our two children that she was carrying.'
By the time the attackers fled Kurum Dodo, the village had been shattered, he said.
The clergyman said he ran as fast as his legs could carry him to where the bodies of his dying wife and lifeless children were and met his wife, Dune, battling for life. His two kids, Fyali, one, and Faith, four, were already dead, he recalled. They had been hacked to death with machete cuts on their heads and stomachs.
He said: 'My wife was still talking when I met her with blood everywhere but she was weak. The cut on her forehead was very deep. I knew she wouldn't make it so I prayed for her and encouraged her to remain steadfast in the Lord. She replied that her faith had been strengthened by my words of encouragement and she gave up.' The clergyman said his 13 year old daughter, Sun, a JSS one student of Gil Model Secondary School, Bogoro, was killed in her room where the attackers met her.
Pastor Reke said one of the amazing things in the whole sad episode was how his seven year old son, Seth, survived the attack.
According to him, the boy was sleeping in the room when the attackers came, adding that throughout the operation, the boy remained asleep with his friend.
'Seth was sleeping with one boy on that day,' he recalled. 'Incidentally, that boy had never slept in my house. But when they played that night, he fell asleep. The attackers came and did everything but the boys did not wake up. This was clearly the hand of God.'
They killers also did more, he said. 'They met my adopted daughter, Wulhim, an SSS I student of Government Girls Secondary School, Tafawa Balewa and asked her to give them the box of offering. She handed it to them and as they were leaving, one of them turned back and hit her with a machete on her neck. She is currently admitted Bogoro General Hospital and her condition is improving.'
The pastor said that he had a premonition before the attack but could not imagine it would come in form of such untold disaster to the village and his family. He recalled: 'When villages were being attacked in the area, we took all our children to Mwari for safety. We went back to Kurum Dodo because we felt our daughter Sun needed to be close to us before she would resume school the following Monday.' Reke said he was experiencing an unusual feeling on that fateful Wednesday before he went to bed. He said he has forgiven those who murdered his family.
'When I met my wife as she was dying, it further strengthened me, and I am not afraid of death. I look up to God despite what happened. I have forgiven them. I don't feel bad about what happened because my wife knew Christ before she died. But her death is a very big loss to me because she used to help me a lot in my life and in the ministry. For my daughter Sun, I miss her so much because she was a very good girl filled with wisdom. God has given her the gift of boldness and when the attackers came, they called her an infidel.
She replied that she was not an infidel and they were the ones that were infidels, so they grew angry and killed her.'
But reacting to the Kurum Dodo attacks, the state government promised to deal with the perpetrators and urged the people of the area to embrace peace. It said the government is doing everything possible to find a lasting peace in the area. The warning was contained in a press release from the office of the Secretary to the State Government signed by the Permanent Secretary, Special Services, Audu Aliyu Illelah.
'Government is aware that some individuals and groups have been inciting gullible youths and communities against one another and also bringing in mercenaries to attack villages and hamlets in the two local government areas with the sole intention of spreading the killings of innocent lives and destroying property so that the state becomes ungovernable,' the statement noted, adding that the government would accede to the wishes of the people by creating chiefdoms and villages areas as a way of tackling the problems and bringing lasting peace to the area.