IBB EYES PDP BOT CHAIRMANSHIP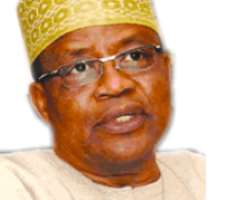 Former Military President, General Ibrahim Babangida, has reportedly oiled his political machinery again in an alleged bid to assume the chairmanship of the Board of Trustees (BoT) of the Peoples Democratic Party (PDP).
The position is currently occupied by former President Olusegun Obasanjo.
Although Babangida recently said he was quitting active politics, an impeccable source said the former military leader only 'flew a kite' and that he had already set in motion the machinery to vie for the position.
Those who want Babangida in the BoT chairmanship race believe he is the only former Head of State with the clout to slug it out with Obasanjo, whose tenure is expected to end next year.
Besides, they are not comfortable with Obasanjo's commanding presence in the PDP despite the party's poor showing in his state, Ogun, in the just-concluded general election as well as the South West region.
As a former military leader, it is still not certain whether Babangida is qualified to contest for the seat. In 2007, the PDP constitution was amended to make only former presidents eligible to occupy the BoT chairmanship.
This paved the way for Obasanjo to elbow out the former chairman, Chief Tony Anenih, from the position immediately after his tenure in Aso Rock ended on May 28, 2007.
But an impeccable source informed Sunday Sun that some of Babangida's foot soldiers met last week in Ibadan to fine-tune the plan. In attendance at the meeting were a former Ekiti State governor, who has an axe to grind with Obasanjo, and an outgoing governor of a South West state that is also not on good terms with the former president.
The arrowhead of the plot is said to be a former Minister, who at one time was Nigeria's Ambassador to the United States.
Our source also informed that Obasanjo had been hinted of the plot and that he was equally planning a counter-strategy, at least to retain the position until his tenure expires. Babangida however dismissed it as mere speculation, saying he was not interested in the position. The former military leader, who responded through an SMS by his spokesperson, Mr Kassim Afegbua, said he was not a professional party man but a leader who plays stabilising role across political parties.
'It is not true that General Ibrahim Babangida has interest in the BoT of PDP. Please do not pigeon-hole IBB as a professional party man. He is a leader that plays stabilising role across party lines.'He has stated that he is quitting politics and would be ready to offer services to those who are vested with certain leadership responsibilities. May Allah bless our country,' Afegbua said.