IMO: ROCHAS, DO NOT REJOICE YET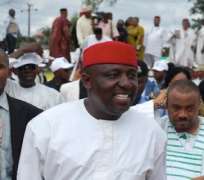 The supplementary election of May 6th 2011 in Imo State that culminated in the declaration of Chief Rochas Anayochukwu Okorocha of the All Progressive Grand Alliance (APGA) as the governor-elect is generally regarded by most indigenes of Imo state as one of the best things to happen to the State since it was created in 1976.
Never in the life of Imo State has the emergence of a governor-elect created such a monumental momentum and an overwhelming outpouring of excitement by a majority of the people like what happened on Saturday May 7th 2011 when the returning officer for Imo State Professor Hilary Edeoga declared Rochas Okorocha the winner after the results of the three local government areas whose results were not taken during the April 26th election in the State, were announced.
The governorship poll was earlier declared inconclusive as Okorocha and Ohakim ran neck and neck in the 23 councils declared by the commission on Wednesday, April 27, 2011.
Specifically, INEC had ordered that a supplementary poll be conducted on Friday, May 6 in four councils comprising Ngor Okpala; Mbaitoli; Ohaji/Egbema and Oguta as well as a ward in Orji in Owerri North LG.
However, in the results declared on Saturday by Edeoga in three of the four councils and Orji ward, Okorocha swept the poll, scoring 15,234 in Ohaji Egbema against Ohakim's 11,588; Ngo Okpala, APGA, 17,370, PDP, 9237; Mbaitoli, APGA 24,305, PDP, 12,278 and Orji ward, APGA 22,723 and the PDP 8,025. Media report said there was no election in Oguta as youths and women in the council protested against the late arrival of voting materials.
Professor Edeoga, who is also the Vice-Chancellor, Michael Okpara University of Agriculture, Umudike, Abia State, said Okorocha, having satisfied the constitutional requirements and polled above other contestants had been declared the governor-elect.
I had cancelled my trip on Thursday to observe the election following conflicting reports that a federal High Court may rule against the holding of the Supplementary election. But when on Saturday 7th May 2011, the Independent national Electoral Commission announced Chief Rochas as the winner; I got several calls from Imo from jubilant indigenes who were happy that Ikedi Ohakim the incumbent Governor has suffered defeat.
One of the many calls that came through was from one of my civil society partners who shouted on top of his voice that the entire Imo State was in jubilant mood because of the political tsunami that has just swept away Ikedi Ohakim who is one of the worst Governors to have presided over the State. I also got several calls from Arondizuogu my home town, which is one of the most marginalized and neglected towns in the entire Imo State. My callers informed me that the elderly, children and women were in jubilant mood that at last a humane politician has been elected to govern Imo State and that they are optimistic that he will not forget Arondizuogu like most other former governors including Ikedi Ohakim.
Another caller and indeed a former classmate spoke with me from Ohaji/Egbema and expressed similar sentiment of worry that most rural communities in Imo state have suffered longstanding neglect from almost all successive administrations particularly in the hands of the outgoing administration of Ikedi Ohakim.
On Sunday May 8th 2011, I did a quick content analysis of about seven national papers that ran the story of the Imo election on their front pages and I can confidently say that Punch did one of the most thrilling and graphic stories of the victory party that spontaneously happened in Owerri and other parts of the State soon after the announcement was made that Chief Rochas Okorocha defeated the incumbent governor who is now the public enemy number one in Imo State because of the rapid underdevelopment of Imo State that was the hallmark of his four years stay as governor from 2007 to May 2011.
According to reporters who witnessed the jubilations by Imo people all around the State, people gathered in massive numbers on the express ways of Owerri celebrating the victory of Chief Rochas Okorocha over Ikedi Ohakim.
Also at the Owerri Municipal Council, Owerri West and Owerri North local government areas, there was wild celebration by youths, children as well as the elderly.
Some climbed the top of moving vehicles, some half-naked, while others took over the major junctions, expressways, roundabout and streets, dancing, singing and celebrating in grand style.
A jubilant resident, who craved anonymity, said the victory of Okorocha was an end of slavery, poverty and trampling of fundamental human rights of people.
Okorocha's victory, he said, would teach politicians lessons that things go wrong when they disconnect with the people.
Also the APGA National Chairman, Chief Victor Umeh, said the party's victory was an indication of its acceptance in Imo.
He promised that APGA government would not disappoint the people and that they had made a very wise choice in voting Okorocha, whom he described as an agent of change and transformation.
Umeh said, "We are going to end their sufferings. We are going to give them responsible government and our candidate, even before his victory has proved to be a man of impeccable charity. He is going to take care of every body, the less privileged. We thank them for the honour done to our party and we assure the people that good things await them".
Punch newspaper of Sunday May 8th 2011 also ran a photograph of a jubilant Chief Rochas Okorocha been surrounded by joyous crowd of his supporters.
As one of the stakeholders in what goes on in my State, I am not one of those that will embark on elaborate celebration because what Chief Rochas Okorocha needs to do is not to keep celebrating the victory handed to him by Imo people but he should in fact go into deep reflection on what steps he needs to take to rebuild Imo State from the ruin that it is right now.
We know that Chief Rochas Okorocha made name for himself as a philanthropist but he must know that Imo people are neither beggars nor lazy but are only interested in seeing good governance whereby transparency and accountability would become the watchword of whomsoever they have elected to govern the state for the next four years. Governor-elect Rochas Okorocha should therefore not see his election as a call for philanthropy but rather a call for genuine transformation of the state so that the people can become self reliant and the economy of the state would become one of the best in the entire country within the shortest possible time.
I, too was happy to notice that almost the entire populace of Imo State were ecstatic and excited that a new dawn will take place or rather that Imo State will witness a rebirth from May 29th 2011 when a new governor in the person of Chief Rochas Okorocha will by the Grace of God be sworn in to serve our people for the next four years after the last four years of the locusts and gross underdevelopment.
But I also think that Chief Okorocha need not dissipate energy in jubilation over the mandate given to him because his ways will be rough and tough and he will surely experience the roughs and tumbles or rather the extreme difficulties that await him if he truly wants to serve the people of Imo State because in the past decades, Imo State according to popular saying has gone from bad to worst in terms of governance.
The incoming governor of Imo State should not rejoice if indeed he understands the enormity of the challenges that would confront him as he takes over the mantle of governance in a State that has seen some of the most fraudulent and bad governance ever.
Rochas Okorocha must rebuild the education, health, Agricultural and environmental sectors of the State and also transform Imo State to become an industrial hub of the South East by creating the enabling environment for genuine investors to come in and aggressively establish private manufacturing firms that would boost the productive sector of the State and engage the hundreds of thousands of graduates who have been compelled by circumstances of past and present political misgovernance to become petty transporters on tricycles or Keke NAPEP.
Places like Arondizuogu and parts of Orlu that have rich soil for rice farming must be given proper attention and infrastructure of roads and power supply must be equitably distributed in the entire state. The era of media governance of Imo State must be buried with the outgoing Ikedi Ohakim's regime and genuine, credible, transparent, and good governance must become realistic in Imo State. Enough of these monumental sufferings of the people of Imo State.
For the State House of Assembly, the people expect nothing less than constructive law making process that would guarantee good governance in Imo State.
Chief Rochas should please stop dancing and start putting together those critical ingredients for the rapid transformation of Imo State and he must ensure that every Kobo stolen from Imo State's treasury by whomsoever is retrieved back to the state to be used for public good and interest.
Emmanuel Onwubiko heads Human Rights Writers' Association of Nigeria.
Disclaimer:

"The views/contents expressed in this article are the sole responsibility of

thewillnigeria.com

and do not necessarily reflect those of The Nigerian Voice. The Nigerian Voice will not be responsible or liable for any inaccurate or incorrect statements contained in this article."
Articles by thewillnigeria.com