THE NEED TO HAVE A HARMONIZED NATIONAL DATABASE: A CASE AGAINST DISPARATE DATABASES BY INEC, IMMIGRATION, NATIONAL IDENTITY SCHEME, ET AL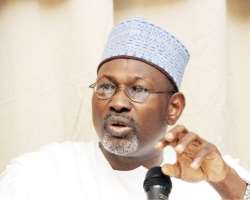 INEC CHAIRMAN, PROFESSOR ATTAHIRU JEGA.
The elections have just come and gone. One of the highlights of the Jega-led INEC was to setup a new voter register to which Billions of Naira was expended on the exercise. An entirely new voter register was necessary because it was common knowledge that the integrity of the previous one by Prof Iwu was seriously compromised. The compromised nature of the register ensured that the likes of Mike Tyson was able to "punch his way through" and Michael Jackson "moon-walked" to that voter register, becoming "Nigerians" without being citizens. Citizens! That brings to the fore the question of who is a Nigerian citizen? This is one question that can only truly be answered and accepted on trust rather than with verifiable proofs with majority of the rural dwellers not having a single document to prove they are Nigerians. For those who have any form of documentation, it sounds like a joke but it is difficult to assert your citizenship with the current documents used as a means of identification being seriously susceptible to compromise. Only recently in the US, Donald Trump questioned the citizenship (birth place) of President Obama. In response, President Obama had to make his birth certificate public in order to clear the air. In Nigeria, not many persons are privileged to have a birth certificate. Although I was told that I was given birth to in a government hospital, my parents were not issued my birth certificate as it was a common practice those days not to be given one. Even today, most hospitals and clinics would deliver a baby without even issuing one, when they do, it's just a piece of paper with no link what so ever to the relevant government authorities like National Population Commission (NPC). It's an embarrassing situation that we must overcome.
Several schemes have been proposed over the years to answer the question of national identity and a citizens' database. In Nigeria, the issue of National Identity Scheme was first conceived in 1977 but eventually executed almost 25 years later in 2003. Don't ask me the politics of the delay as we all have our versions, one of which was that a section of the country did not want this to expose their inflated population and voting strength. Whether that is correct or not, it's a debate for another day. Again, another round of billions of Naira was expended on this scheme, the expenses being cost of personnel and Biometric equipment. I still remember the SAGEM logo on the one that registered me back then at St Mary's Church premises in Port Harcourt. The result? Without being too harsh, the scheme was at best a failure. Don't ask me what that means. I didn't get any ID card despite going through the process and the few that eventually got the ID card only use it for identification in the bank. Like Solomon Grundy with a one week life span, that was the end of that project. Did we expend such billions of Naira just so a few citizens will be able to have ID's to present to the cashier in the bank for withdrawal purposes? If the biometrics capture done then were real, where is the national database were all these parameters captured were stored? Why store something that you will never have course to retrieve, modify or make reference to? If there is such a database in existence, can the Nigerian Police Force be allowed to compare forensic evidence (assuming they have the expertise) with the captured biometrics? If there is such a database, does it have any role in schemes like the National Insurance Schemes? Will that database be accessible by Federal Road Safety Corp in identifying victims of road accidents? If there is such a database, is it useful to the relevant tax authorities? Is this database accessible to other government agencies like Immigration, National Bureau of statistics, INEC, etc? I can go on and on with the questions. The plain truth is that any such national database that cannot answer these questions in the affirmative is not worthy of our billions.
Moving away from the national identity misadventure, another means of Identification is the International Passport. With the introduction and successful implementation of the e-Passport scheme, it looks like this is the most reliable means of Identification to date. But wait a minute, I have mentioned three separate databases now, all having information of citizens of one Nigeria. (Lest I forget, there is yet another; a certain manual population database also with citizen information.) Each of these three captured biometric information of the citizens; each gulped billions of Nigeria, with only the e-passport having some financial return on investment from the proceeds collected at the issuing point by Immigration Authorities. The question is why will a country maintain three disparate databases for her citizens knowing the huge cost of having the technology and manpower in "triplicate". It is unreasonable, uneconomical and a big waste of funds and resources. The tax payers are left to bear the brunt of these unnecessary costs in three-fold. Apart from the fact that it is a big waste of resources and expensive, it also encourages corruption and abuse of the system. I shall throw more light on this later.
Now back to Jega's INEC. One of the sore points of the last elections was the worry-some sight of under-aged voting. Some of the pictures I saw looked like kids in their pre-teens. Most of them by their looks were youthful innocents, who probably do not even know that what they were doing was wrong and punishable by law. The parents of these kids allowed (or encouraged) them to register because they know that the register would probably "die a natural death" with the election. If that parent knew that the voters register will be harmonized with the national database and indeed the international passport database, they would know the implication of registering their 9 year old as a nineteen year old. If only that father would know that his 9 year old that registered as a 19 year old would automatically be disqualified from participating in the U17 football tournament assuming he was a footballer. If only that father would know that his son would be retired 10 years earlier than he should have because he chose to fast track his age by 10, just so he could vote. If only that father knew that his ten year old son would be prosecuted as an adult if he was caught committing an offense that he would ordinarily have been exonerated or received a lighter sentence had he not upgraded his age. If only that father knew that his son would not be qualified for youth service and consequently loose lots of job opportunities because he fast tracked his age by 10. I can go on and on, but alas, the fathers need not worry because the information supplied will remain with INEC and will most likely never be used elsewhere. This is not the only shortcoming; the whole process is static and not dynamic. Indeed there is the issue of what happens if a voter dies? The family will simply bury the dead and inherit the card. Will you blame the next of kin for not reporting to INEC that the voter had died so they can expunge his name from the database? Definitely not, because there is no law that makes INEC function as a death registry. Even when the voter died in an organized hospital and the deceased family was issued a death certificate, I bet the file copy only ends up in the cabinet. The National Population Commission is not informed. Assuming they were informed, then they in turn did not pass on the information to other agencies like the National Identity Scheme, INEC, etc. Even if they have such a perfect understanding that such information is actually transmitted, why go through that long process of updating three or more separate and disparate databases when it could have simply been done once and the others dynamically updated.
Now back to the deceased family. If you are fortunate that the family is one with strong morals, then the case will end there with INEC having a voter register inflated by one. If you are not so lucky and the next of kin is a "fast guy" then you can be rest assured that the deceased will vote in the next election. Also think of what happens when a youngster suddenly turns 18. Going by the current system, he has to wait for the next voter registration to get registered. However, if we had a database that is harmonized or logically and physically linked with the national identity database, the INEC record will automatically be updated on his 18th birthday and all he has to do is to visit the nearest INEC office to update other details like his current ward and get his voter card printed out. It might sound too abstract or scientific but it's possible with proper planning.

This problem of national identification system is not peculiar to only Nigeria. Other countries have at some point in their history had their challenges; some are still plagued with same challenges and setbacks we have. In the US, they had a national identity system as far back as 1935 known as the Social Security Number. Basic citizen information was stored under this scheme. Japan did theirs in 2002 with each citizen given an 11 digit number tied to basic biometric data and other information of the citizens. In 2005, Malaysia introduced the primary document for identification with the launching of the national identity card, a micro-based smart card which securely stores information about the citizen. This card which is issued to citizens up to 12 years and above is used in all basic inter-personal transactions. In China, every citizen from the age of 16 is expected to carry a national identity card for most inter-personal transactions. In 2009, the Gambia introduced a new biometric identity card system. In Mauritius, all citizens that have reached the age of 18 are issued national identity cards. In South Africa, citizens up to the age of 16 and above are issued identity documents that looks like the international passport but is however not admissible as a travel document. While most of them are still stuck with isolated and disparate databases like ours, others have made efforts to eradicate this. For example, In the United States, states issue optional cards for people who do not have a driver's license as alternative means of identification. To avoid duplicity, these cards are issued by the same organization responsible for issuing driver's license. That way, the same organizations control and administer the two databases physically and logically linked.
So what is the way forward for Nigeria? In 2007, the National Identity Management Commission (NIMC) Act No.23 of 2007 established the NIMC with responsibilities (as stated in the official website) for "setting up a National Identity Management System Infrastructure which will improve how individuals assert or prove their identity, in a dependable manner, anywhere in the country and enable both public and private sector organizations to transform services, become more efficient and reduce crime that is enabled by identity fraud". I'm not quite sure much has been achieved since then but if they want to do a thorough job, they must be ready to put an end to these disparate databases. If they don't want to waste another round of tax payer's money, they must take time to plan on the right strategy. While I cannot recommend to them to inherit any of the existing databases because of the inherent issues and short comings, they can use this opportunity to put together a well designed database that will form a good framework upon which other related government agencies can build theirs. They must design the database bearing in mind that it will be useful to other agencies of government. It must be designed in such a way that the database will be logically linked to credible existing databases such as that e-passport database maintained by Nigerian Immigration. Whether they choose to do it this way or not, when next someone challenges my nationality/birth place, if they are not satisfied with my international passport or driver's license, I'll have no choice but to take them to the site where the midwife that delivered me buried my placenta. You can't blame me that much, how else do you want me to prove it when I'm not as privileged as President Barack Obama to have a birth certificate. However said, with or without an identity card, I'm a confirmed citizen of Nigeria.
Written by Robinson Tombari.


Disclaimer:

"The views/contents expressed in this article are the sole responsibility of the author(s) and do not necessarily reflect those of The Nigerian Voice. The Nigerian Voice will not be responsible or liable for any inaccurate or incorrect statements contained in this article."
Articles by thewillnigeria.com