WHY WE PRACTISE DO-OR-DIE POLITICS -PASTOR AMOS FENWA, HOLYGHOST CHRISTIAN CENTRE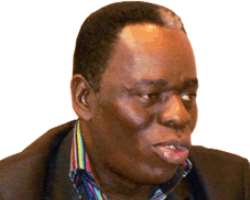 You can't miss him. Not even in a crowd. No matter how hard you try, his patch of gray hair and elegant dress sense shout at you. They shoot at you like arrows. Combine these with his youthful zest and bohemia, what you get is the image of a popstar. Anybody unfamiliar with him could be forgiven for taking him for a Nollywood or showbiz star. And like a star, he commands large followership.
Meet Amos Fenwa, Founder and Senior Pastor of Holyghost Christian Centre. At 15, the church has witnessed appreciable growth. It has four branches in Lagos, two in Abuja, and one each in Ogbomoso, the UK and America. The headquarters at Matori, Lagos has an estimated 15,000 worshippers. The pastor enjoys near cult followership among his predominantly youthful congregation.
A vast and widely travelled minister, who has taken the gospel to South Africa, England, Ireland, Canada, Netherlands and the United States, Pastor Fenwa means different things to different people. And not a few see him as a yuppie preacher. And he takes no offence at being so described. 'Me, a yuppie pastor? Well, I don't really mind,' he says, a smile spreading across his face.
'To some extent, I belong to the younger generation of pastors. And I believe that I am sent to influence the youths. If you look at our church, 60 per cent of our congregation is between 16 and 30 years old. Another 20 per cent is between ages 35 and 50. So, we have more younger people in our congregation because of the kind of person that I am. God gave me a message for young people. I like to challenge young people to posses their future. And when you look at the kind of music we play at the church, it's more like contemporary music-American kind of music; not hip-hop per se, but something close to that. Yes, I learn some people call me yuppie pastor. I don't get bothered. I love it.'
If there is anything that bothers him, it is the need to step up the word; to capture more people for the kingdom. He is also bothered by the increasing rate of marital failures among Nigerians. As a relationship enthusiast, he says he cries whenever he hears of troubled relationships (marriages). The reason, he says, is because there is a correlation between the marital institution and the socio-political wellbeing of the nation.
Also important to him is the state of Nigeria. As we set to enthrone a new administration on May 29, 2011 he believes Nigerians would be doing themselves a great deal of good if they commit the country and its leadership to God. It is this feeling that has birthed the 'Night of Mercy', an open air crusade by the church to pray for Nigeria.
For Pastor Fenwa, the programme is quite significant. It's the church's first open air crusade in Lagos. It holds at the National Stadium on May 13.
The programme
In our Church, we believe in the power of prayers. So, we always create time to pray for our nation. God speaks to us about our nation all the time. I remember that before President Umaru Yar'Adua died, there was a prophecy in the church. While we were praying for the nation, it was revealed to us that it was going to happen.
It's on record in that we pray for the nation all the time. Last December, God told us that in May, before the inauguration of the new President, we should meet at the National Stadium, and hold a prayer session called 'Night of Mercy,' to ask for mercy for our nation.
We want God to take part in the selection process of those who would come to power; and when they also come to power, we want the Holy Spirit to take over their lives so that they would do the right thing. We believe that it's one thing to be elected, it's another to do the right thing when you get into office. So, we're going to be praying for the Holy Spirit to help them take the right decisions, and at the right time that would move the nation forward.
The second prayer point is for the Holy Spirit to break the yoke of power outage in Nigeria, because I believe there's a spirit behind this thing.
We're also going to be praying for the personal need of the people; like people believing God for fruits of the womb, among others. I'm going to be ministering alongside one of my friends, Bishop Bernard Asari from Ghana. Ghana had been experiencing a great development and progress. It is our belief that somebody from that country, with that kind of anointing should join our team to minister to our nation.
I was in Ghana last December. What I saw overwhelmed me; I saw that electricity was steady throughout, the security arrangement was good. And I told my friend, you have to come around me and let's speak with God about mercy for this Nigeria. During the programme, we're bringing lots of guest artistes. Of course, it's not going to be all prayers. We're going to have a time for praise, praising God for credible elections.
We want the grace and anointing of God to come upon those people that would take over the mantle or leadership so that the mercy of God would work with them; so that this nation would change for the better.
General elections
I want to thank God because the conduct of the general elections was very good. Also, I want to commend the efforts and knowledge of Prof Attahiru Jega. The first thing that endeared him to my heart was his sincerity. For him to have summoned enough courage to tell us on the first day of the election (April 2) that because the materials didn't arrive, he would not be able to conduct the elections is worthy of commendation. What he did was un-Nigerian. Nigerians hardly behave like that. We believe in sweeping the dirt under the carpets. It was that same sincerity he carried through to the end.
It's very difficult to operate in this kind of environment; an environment of corruption and poverty where N1, 000 can make a lot of difference to the average person. In such environment, it is very difficult to conduct credible election. But the outcome shows that Nigeria is getting to where it's going.
Agenda for President-elect
The first thing I'd tell him is to remind him that he only has four years to put Nigeria back on track. The major problem requiring urgent attention right now is the power issue. There are other problems, but power is the major one. If he could do something to ensure the power outage is tackled permanently, I believe he's going to write his name in gold.
The second thing he must do is to redress the rot in our education sector. The situation is that quite a number of our rich people don't want their children to school in Nigeria. It's not because they have a lot of money to throw away, but because the situation in the sector is very pathetic. Our curriculum is not what they have in the developed world. I'd like to tell Jonathan that he should know that Nigeria is 25 years backward in every aspect. I have travelled very widely and so I can tell you authoritatively that we are very backward in very many aspects.
So, if he could only take one or two of the major issues and tackle them to a logical conclusion, I believe that he's going to etch his name in gold. Unemployment is there, but power would take care of that, because the huge sum we use for powering our generators, if there is power, employment could have been generated. School leavers would have been able to get jobs. In any society where unemployment is tackled, insecurity would not be a problem. Once poverty is eradicated, security would not be a problem. I see our problems as a chain.
Cash and carry politics
In Nigeria, we play politics of the stomach. It's more of a business than service. We don't play politics here. When you use the world 'play', it means if I don't enjoy it, I can opt out. There is too much money in our politics. I know of a man who sold his house for N10 million because he was running for a political office. Not quite three months after he was elected into office, he bought a house bigger than the one he sold. You can imagine that. So, because it's business (money-politics), it has become a do-or-die affair. I either get there or kill somebody to get there. Then, I think another major issue is poverty. Poverty can give rise to greed and so many other vices.
Failed marriages
I feel bad whenever I hear or see marriage packing up. I cry because I believe it's a disaster to the coming generations, especially when children are already involved. This is because a child raised in a broken home can never be the same as when a husband and a wife sit together to raise a child. They both have complementary role to play.
I know that factors responsible for broken marriages are so many. To some extent, the way the previous generation was raised plays a part. It's very easy for the child of a politician to become a politician. It's easy for the child of a rich man to become rich man, because he can take a cue from the father. So, if you're raised from a broken home, you'll need the grace of God not to have broken home.
To a large extent, stable marriage institution is a guarantee for a stable country. Yes, because everybody in government comes from a family. And the way you're raised would determine the way you'd rate and relate with others. If you have a problem with your spouse, you'd never be composed at work. It would affect your reasoning. If somebody in government has a problem at home, it's going to affect the way he relates with other people. So, if we have stable homes, we'd have a stable country. Perhaps, it may not be a bad idea to examine people's homes before we appoint or elect them into public offices or positions at trust.
Memory Lane
I came into the ministry about 25-years ago. I was actually born in Ghana where my father used to be a missionary. I was in Ghana for years before we were brought to Nigeria during the 'Nigeria must go'. After my primary and secondary education in Nigeria, I went to Trinity College, a seminary in Aba, Abia (then Imo State). I graduated from the Bible School with a theology degree, and joined the ministry (Christ Apostolic Church) where my father was a pastor. I was there as Associate Pastor between 1988 and 1995. From 1995-96, I was waiting on the Lord for my new assignment. The new assignment gave birth to the Holyghost Christian Church in 1996. It started in Ilupeju Estate as a prayer meeting.
One of our core values is prophetic grace. We run like a prayer ministry.
Passion
One of my passions is relationships, marriage. I like to teach people how to relate with people. I have authored books on that. We conduct seminars on marriage. God has used me as a blessing to stabilize so many marriages.