Shell Sells Nigerian Oil Block Stake To Nest Oil Consortium - Sources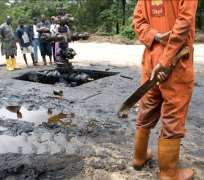 Royal Dutch Shell agreed to sell its stake in a Nigerian OML 42 oil block to a consortium including Nest Oil Group, sources close to transaction told Reuters.
A single source said the consortium that also includes Poland's Kulczyk Oil Ventures, an oil exploration company of Polish billionaire Jan Kulczyk, paid about $600 million for a 45 percent stake in the production license.
The stake is jointly owned by Shell, France's Total and Eni's local unit Nigeria Agip Oil.
The bloc's reserves are estimated at some 1.8 billion barrels of oil, a source said.
Both Kulczyk Oil Ventures and Shell declined to comment.
Shell has already found buyers for two out of four oil blocks in the Niger Delta it put up for sale. Earlier in April the oil giant sold the smallest bloc of the four to Eland Oil and Gas and Starcrest Nigeria Energy.
Shell has more onshore oil reserves in Nigeria than any other foreign oil company but it has also suffered some of the toughest challenges working in the vast and volatile wetlands of the Niger Delta, the heart of Africa's largest energy industry.
Sabotage attacks on pipelines and oil platforms by militants who say they are fighting for a fairer share of the wealth created in their back yard, have cut out large chunks of Shell's output in the past, some of which will never be restored.
Courtesy of Reuters.