ACN Take 18 Out Of 26 Ogun Assembly Seats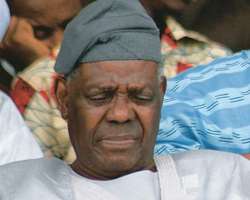 ACN NATIONAL CHAIRMAN, CHIEF BISI AKANDE.
ABEOKUTA, April 29, (THEWILL) – The Action Congress of Nigeria (ACN) has won 18 of the 26 seats in the Ogun State House of Assembly.
In the results released by INEC in Abeokuta on Thursday evening, the remainder 8 seats were shared by the PDP and the Peoples Party of Nigeria (PPN) -- 5 to 3 seats respectively.
The ACN also won all 5 seats in the re-scheduled Federal House of Representatives elections held the same day with 5 of the current 9 legislators who contested the election securing return tickets while the other 4 failed in their bid for re-election.
Hon. Remmy Hassan, the Deputy Speaker of the House, and Hon. Adijat Adeleye-Oladapo, the House Committee Chairman on Local Government and Chieftaincy Affairs, who both defected from PDP to ACN were among those who were re-elected.
Others are Hon. Akintan Job, Hon. Abiodun Akofoyan and Hon. Adeleke Salmon, who defected from PDP to PPN. Hon. Shoyemi Coker, factional Speaker of the House, Hon. Musa Moruf, the Chief Whip of the House were however defeated in the election.
Other legislators who also lost in the election are Hon. Adegboyega Adekunle, the House Committee Chairman on Finance and Appropriation and Hon. Boye Pelumi.
Meanwhile, the five federal constituencies won by ACN are Ijebu North/Ijebu East/Ogun Waterside, Egbado South/Ipokia, Abeokuta North/Obafemi Owode/Odeda. Others are Ijebu-Ode/Odogbolu/Ijebu North East and Ikenne/Sagamu/Remo North.
They were won respectively by Abiodun Balogun, Isaq Akinlade, Olumide Osoba, Olusegun Odeneye and Taofeeq Bunkunola.
However, at the Abeokuta North/Obafemi Owode/Odeda federal constituency, Olalekan, the son of the late Chief MKO Abiola lost to Olumide, the son of former governor Olusegun Osoba.
Olalekan, who finished fourth, scored a total of 1,503 votes representing 1.4 per cent of the total votes cast. Olumide scored a total of 68,235 votes representing 62.6 per cent of the total votes cast.