At last, Atiku congratulates Jonathan, Others, Says It's Time To Get To Work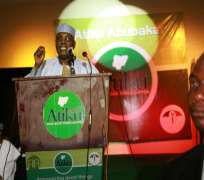 SAN FRANCISCO, April 29, (THEWILL) - Former Vice President Atiku Abubakar has congratulated President Goodluck Jonathan on his recent election as President.
The former Vice President also congratulated all elected state governors, senators, members of the House of Representatives and members of the state Houses of Assembly in particular those of his own party, the PDP.
He said that with the successful conclusion of this year's general elections, all elected leaders and fellow countrymen should get to work in earnest to deliver the much-needed democratic dividends to Nigerians.
In a statement issued by his Media Office in Abuja on his behalf, the former Vice President urged President Jonathan to use the opportunity of his election to unite the country behind him, which he described as the immediate challenge of the President-elect.
In view of the unfortunate and misguided post-election violence that greeted the election in certain parts of the country, Atiku advised President Jonathan to begin an urgent healing process in the entire country and also within his own Peoples Democratic Party (PDP) family.
He noted that with the challenges of improving the quality of life of Nigerians, the President has a duty to heal deep divisions and wounded feelings, which may be needless distractions to the challenges of governance that lies ahead.
According to Atiku, the future and unity of a nation should be uppermost in the mind of every statesman.
While extending his hands of fellowship to President Jonathan, the former Vice President advised him to carry every section of the country along regardless of how they may have voted during the elections.
He explained that partisan politics ends with the election of leaders and that the next challenge should focus on how to uplift the welfare of Nigerians.
"It is no longer news that President Jonathan and our camp differed on matters of principle. But let no one be in doubt about our resolve to work together with him in the arduous task of economic development and nation building," Atiku said.
He, however, restated that all those who may have any reservations with the outcome of the elections should avail themselves with laid down judicial processes in seeking for recourse and not to resort to acts that may be inimical to national unity and stability.