LAGOS NOW HAS NIGHT LIFE, SAYS AFRICAN CHINA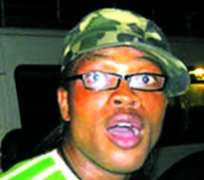 Popular singer Chinagoro Onuoha, better known as African China, has expressed his love for Mr Babatunde Fashola (SAN), based on his achievements as Lagos State governor.
African China who made the call recently at an all-night held in Surulere, Lagos said that Fashola's development of infrastructure especially through street lighting has impacted positively on night clubbing in the state.
' Streetlight has made entertainment an all night affair. People now go clubbing 24 hours daily now than it used to be.
When we started back in those days, there was no internet, night crawling was out of it. We used to have. And when it was 6pm the show would have ended. But thank God for today there is street light and crawling everywhere in Lagos and Nigeria, and indeed everyone in Lagos State has accepted night shows.'
The ace musician who doubles as an advocate of growth in Nigeria's entertainment industry', said my music is inspirational and people love it because it is like an everyday food: one eats and digests it' Speaking on major events he has featured in, African China said ' I have played in shows organised by Nigerian Breweries, OGD Concepts, Jeans Carnival Lekki beach, MTN friendship and life is Beautiful'
He described the experiences as worthwhile, adding that, he is widely accepted in the Nigerian showbiz because I'm an advocate of growth and I speak for the people.' The melody merchant explained further that his music usually runs commentaries on daily problems such as power outage, inadequate transportation and fuel scarcity, adding, however, that ' today, we don't face fuel scarcity anymore but we face killings'