WHY RE-ELECTING GOVERNOR EMMANUEL UDUAGHAN ON APRIL 26, 2011 WILL HERALD A NATIONAL CATASTROPHE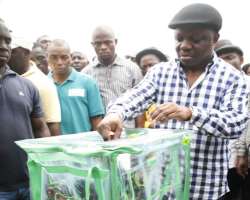 DELTA STATE GOVERNOR EMMANUEL UDUAGHAN.
Dear Great Umu Anioma,

I am writing you today because at the moment when the stakes are the highest in our great country Nigeria, the people of Delta State face on this Tuesday April 26, 2011 the most important election in their history.

The reported violence that erupted in some parts of Northern Nigeria after the results of the free and fair election of April 16th were announced is cause for us to go down recent memory lane as to how we got here. As a responsible leader, I cannot stand aside and allow our people to be misled by our clueless "Old brigade" Anioma leaders whose sole aim in politics is to put food on the table for their immediate family.

These Anioma leaders whose antics you may have been exposed to in recent public pronouncements to the effect that we should allow the criminality and looting that has been going on in Delta State to continue for another 4 years so that an Anioma indigene can be allowed to become governor in 2015--Mscheeeew as many of my Facebook friends would say… What rubbish? Who cares where the Governor comes from if he is working hard to make the people's lives better? Ask yourselves, "Who knows what part of Lagos State Governor Fashola is from and that is even if he is from Lagos State originally?" As you can imagine, residents of Lagos care less what part of Lagos he is from. And that, Umu Anioma is the same attitude we should have about those we choose as our leaders.


The fact is that, His Excellency President Goodluck Ebele Jonathan and Umu Anioma Foundation believe that Government has a responsibility to invest, to give people the tools to make the most of their lives. Most importantly, President Goodluck Ebele Jonathan and Umu Anioma Foundation believe that all Nigerians MUST have the liberty to attain ANY political office in the land without any hindrance such as "zoning" but Chief James Ibori and his cousin current Governor of Delta State have a different vision.

That is why I am writing you today. The Delta State election of April 26, 2011 is a crucial test of our strength. By voting OUT the incumbent Governor of Delta State Governor Emmanuel Uduaghan on April 26, 2011 you have the power to prove to the pundits and the opponents of President Goodluck Ebele Jonathan that grassroots Anioma people are standing together with him to defend our freedom as Nigerians, to aspire to ANY public office in the land no matter what part of the country they are from.

Folks, I'll cut the chase….
Dear great Umu Anioma, it is not a secret that Chief James Ibori who is in a jail in London, U.K. right now never wanted President Goodluck Ebele Jonathan to become acting President when Late President Umaru Yar Adua became ill and traveled overseas for treatment. Because of Chief James Ibori and his cousin's lack of vision, they preferred a Northerner such as the then secretary to the Federal Govt. of Nigeria to have assumed leadership of our country thereby denying President Goodluck Ebele Jonathan his constitutionally protected rights as a Nigerian to be able to aspire to ANY public office in the land. In fact James Ibori and his cousin current Delta State Governor used Delta State money kept in their trust to pursue such dead-end politics.
Not to bore you any further you were all witnesses to how events unfolded when the announcement was made that the late President Umaru Yar Adua whom by all account was a good man had passed on.

The "Cabal" as it were; was forced by our very loud and sometimes thunderous voice to do the right thing in spite of Chief Ibori and Governor Uduaghan and their "Cabal" masters refusal to yield to the constitution.
History, my good Anioma people will show that our dear President Goodluck Ebele Jonathan is the first Nigerian "Facebook" President who used 21st century technology and the social networks to reach millions of Nigerians. Our activities during this very trying times in our history is also documented on Facebook with several groups created to address the danger we all faced with the artificial vacuum created in Aso Rock by James Ibori, Governor Uduaghan and the rest of the cabal.
One of those Facebook groups was named "NIGERIANS ARE DEMANDING AN END TO THE LEADERSHIP VACUUM IN ASO ROCK"

All through that period it had only 181 members and none of those members as you can see by double clicking on the link below is any of Dr. Emmanuel Uduaghan's Media aides who parade the internet like prostitutes joining any group that they feel best represents Chief Ibori and his cousin's vision.
Please double click on the link below and go through the membership list of the above group. You will not find one single aide of Governor Uduaghan demanding that the cabal do the right thing. Also, read the articles posted on the Group Page" and then fast forward to the present moment with what happened on April 16, 2011 with President Goodluck Ebele Jonathan resounding victory at the polls. You can double click on the link below to see the actual page we created with 181 freedom loving Nigerians who are members.

https://www.facebook.com/group.php?gid=265360579318

If you scroll down the membership list of that Facebook Group you will never find on any of the groups that were created to end the impasse at Aso Rock any aides of Governor Uduaghan. Anyone who is from Anioma and has a Facebook Account knows who these individuals I am referring to as "Aides" of those who don't wish our able President Goodluck Jonathan well are. These truly show that they are not on the same page with our newly elected President and cannot be trusted with leadership of a great state such as Delta. If God forbid, Dr. Uduaghan is rigged back to power and the courts don't do anything about it. It is very likely that these individuals may resurrect their cabal ambitions thereby impeding our President from tackling the enormous challenge of nation-building that he is facing.

Chief Ibori and his cousin Governor Emmanuel Uduaghan are losers, plain and simple.
They lost April 16, 2011. It is now our duty as Anioma people, first and as Deltans secondly to finally bury them on April 26, 2011.
Please make no mistake about it folks, if Governor Uduaghan is allowed by INEC to rig himself back to power as ALL the polls show that he is VERY un-popular even in his hometown, I can guarantee you that the resources of Delta State will be used by him and his co-travelers to try first to pursue a pending money- laundering court case in Southwark Court, in the U.K. In previous hearings on related case, Governor Uduaghan's name featured prominently in testimony and court submissions in already decided guilty cases of Chief Ibori's wife, mistress and foreign lawyer.

They will also use Delta State money to cause disturbances in the creeks during President Goodluck Ebele Jonathan's tenure, a tactic they readily use to seek attention by organizing some of our gullible youths to do their evil bidding. Great Umu Anioma, it can also be argued, that Chief James Ibori and his cousin's already documented and taken position of not wanting President Goodluck Ebele Jonathan to fulfill his constitutionally mandated duties as Acting President may be the reason why those who are murdering Youth Corpers who are serving in Northern Nigeria have been emboldened to cause the post Presidential election carnage that has been reported in the news media. Please let us end this lack of vision and criminality by Chief Ibori and his cousin on Tuesday so that our newly minted President can get a fresh start that he has worked hard for.

In asking you to VOTE OUT Governor Emmanuel Uduaghan, I would like to share with you a quote.

QUOTE:
My dear country men and women, this is a new dawn!
UNQUOTE: President Goodluck Ebele Jonathan GCFR April 19, 2011 during his acceptance speech.

My dear Great Umu Anioma, you have heard it directly from the President himself. He never said let us continue from where we stopped but said it is a "New Dawn" meaning…. let us get rid of the old and turn a new page.

While Chief James Ibori, his cousin Governor Uduaghan and their criminal gang are trying to drag us back to the past, His Excellency President Goodluck Ebele Jonathan and Umu Anioma Foundation are working to win the future for our great people.

Voting OUT Dr. Emmanuel Uduaghan on Tuesday April 26, 2011 is a sure way to ensure that.
Please forward this e-mail message to all our Anioma brethren on your mailing list. Pick up the phone and call our folks in the grassroots who may not have access to the internet and share this very important message with them. Let them know that on April 26, 2011 we are standing with President Goodluck Ebele Jonathan by voting out the incumbent Governor and his cousin former Governor James Ibori who have been running the affairs of our great Delta State like a criminal enterprise. We desperately need a CHANGE!

Dear Great Umu Anioma when you call the folks back home, and you are asked why we should NOT vote for incumbent Governor Emmanuel Uduaghan on Tuesday, tell them he is NOT qualified. [Period]
Give them the example of the uncompleted Asaba Airport which not only has been used to launder public funds, but to insult our Anioma people by passing it off as being completed with a staged "Test Flight" and all the paraphernalia of corruption including photo-op.

Please share with the home folks available fact that two current governors who were sworn in same day as Governor Uduaghan….. Governors of Akwa Ibom and Gombe state each built [About the same or better airports than the one in Asaba] airports in Uyo and Gombe respectively in less than 2 years at a cost of 7 billion approximately, while the Asaba Airport so far has cost an estimated 40 billion [That is 40 billion with a "B"] and counting and has been under construction literally since he was sworn in as Governor.
Tell them that all across Delta State that we have tons of un-completed contracts.
Let them know that since President Goodluck Ebele Jonathan became Acting President after Late President Yar Adua's incapacitation, the Cabal, Chief James Ibori and Governor Emmanuel Uduaghan had lost the moral fight and therefore became "Lame Ducks" This fact is only clear to the discerning I might add. Let them know that from that point on, the Contractors in Delta and around Nigeria appear to have gotten the whiff of things and would therefore not complete any contracts awarded by a "Lame Duck" governor who is ready to spend the very precious resources of Delta State to achieve such mundane things such as gathering his constituents to fill a hall for an address.

If [God forbid] Uduaghan is returned as Governor, he may well award contracts to build infrastructures in Delta State but I can guarantee you that none of those contracts will be completed on time and as contractually agreed to. Ask yourself the simple question….If you are a contractor and you have been awarded a contract by a corrupt Governor who is part of a criminal enterprise and who has a money laundering case hanging over his head; would you be compelled to deliver? That is what we are facing if God forbid, he were rigged back in.

The word is out, so everyone the governor has surrounded himself with are all feasting. Don't take my words for it. Go to Lagos State, Edo State and Rivers State and see for yourself what those Governors are doing. I am confident that we have qualified Deltans who may be on the ballot for the election on the 26, 2011 who can equally perform as these other state governors or better. Chief Ibori and his cousin have had their opportunity for 12 years to show us what they have, and you can see some of the results by double clicking on the link below to read the "Exposé"
http://www.saharareporters.com/news-page/photonews-delta-state-asaba-n40-billion-airport-test-flight-scam
Tell the home folks that the Asaba Airport is nothing but a conduit to siphon public funds and that we will be re-visiting the issue once Chief Ibori and his cousin's reign in Delta State are over.
Please let them know that world over construction of an airport is usually not enough reason for an incumbent to seek re-election. (?) What makes matters worse is that this Asaba Airport is behind schedule and has gulped several billions of naira over estimated cost. All the noise about this un-completed project, frankly, should make us all sad if not ashamed to be Deltans. High school drop-outs in U.S. Army design and build bridges in faraway places such as Iraq and no one finds out unless they visit those places. Our so called Governor spends over 40 billion trying to build an airport and tries to deceive the masses with a "Test Flight" and it becomes a media hype. Go figure….

I have seen on local TV Station in Atlanta, in the past year, at least twice, when small aircrafts about the size of the overland airways aircraft that landed the uncompleted Asaba Airport have landed safely on State Highways with other vehicular traffic, safely. So what's the big deal with landing an aircraft on a tarmac?

Folks, I will not bore you with any more of those facts as I am sure you get the drift. On Tuesday April go out and do the needful by VOTING OUT DR. EMMANUEL UDUAGHAN.

All Nigerians who voted for our dear President Goodluck Ebele Jonathan GCFR I am sure will be wishing FOR this as well to be a final assault on the cabal that prevented Dr. Goodluck Ebele Jonathan from taking the mantle when the Late President became in-capacitated. On April 16th all across the nation, we were able distinguish and separate President Goodluck Ebele Jonathan from his party by voting for him enmasse. Do not let anyone deceive you into thinking that it is important for President Goodluck Ebele Jonathan to have a fellow party member as Governor in Delta. If anything, previously concluded elections have showed that Nigerians are not voting for political parties but for the individual candidates. Moreover, President Goodluck Ebele Jonathan has showed over time that he is the President of all Nigerians irrespective of their political affiliations. That point is buttressed by the good relationship President Goodluck Ebele Jonathan continues to have with other governors of other political parties. His relationship with Governor Obi of Anambra State comes to mind. I am convinced that, that kind of rapport is possible with a future Delta State governor of a different political party.

Umu Anioma, Chief James Ibori who is sitting in a jail in U.K. this minute is Dr. Emmanuel Uduaghan's first cousin. When James Ibori was Governor for 8 years, Dr. Emmanuel Uduaghan was his Secretary to State Government. When late President Umaru Yar Adua became incapacitated, the "Cabal", Chief James Ibori and his first cousin, Dr. Emmanuel Uduaghan did not want our President Dr. Goodluck Ebele Jonathan to become Acting President. They schemed and used all kinds of tactics to prevent him from taking the mantle of leadership. Now, we may not be able to deal with the Cabal completely right now as we would like but all well-meaning Nigerians would agree with me that we can take care of Chief James Ibori, his cousin Dr. Emmanuel Uduaghan and their likes. The preceding thought is bolstered by one of my favorite all time Anioma proverb that goes thus….
"Ndi mu anyi asi na isi kaa ogbome, na o ya aka nwa a"
English translation: Our people say that if a head-witch is invulnerable to the attack of the enemy, its child cannot be.
Moral of the story…. Let us come out on April 26, 2011 and help President Goodluck Ebele Jonathan continue the good work to transform our country that he has started by ending the corrupt and perhaps the criminal career of one of the children of the cabal, Chief James Ibori and his cousin Dr. Emmanuel Uduaghan by voting out Dr. Emmanuel Uduaghan on Tuesday April 26, 2011

Great Umu Anioma, I greet you all and wish you and your family a Happy Easter.

Ofu Obi Bu Ike Anyi [Unity is our strength]

Prince Emmanuel O. Ohai, Convener, Umu Anioma Group. Phone: +1-404462-6983. E-Mail: [email protected]
Disclaimer:

"The views/contents expressed in this article are the sole responsibility of the author(s) and do not necessarily reflect those of The Nigerian Voice. The Nigerian Voice will not be responsible or liable for any inaccurate or incorrect statements contained in this article."
Articles by thewillnigeria.com