CPC Raises Alarm, Petitions INEC Over Guber ElectIon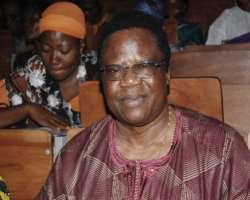 CPC NATIONAL CHAIRMAN PRINCE TONY MOMOH.
ABUJA, April 25, (THEWILL) – The embattled Congress for Progressive Change (CPC) has raised an alarm over the possibility of majority of its supporters being disinfranchised in the last leg of the election.
The party in a petition to the Independent National Electoral Commission (INEC) Chairman, Professor Attahiru Jega less than 24hours to the governorship and state houses of assembly elections also accused the commission of failing to create a level playing field that would encourage CPC to participate actively in the election.
The petition, which was signed by its National Chairman, Prince Tony Momoh further lamemted the security arrangements for the election which he said targetted only supporters of the party, in addition to the continued incaceration under inhuman conditions of its members and supporters.
Momoh said members of the CPC were deliberately singled out by the security agencies on the premise that it was the party that orchestrated the post-election mayhem despite its denials.
Momoh therefore demanded for the relaxation of the curfew imposed in most states in the North so that its supporters and party are not scared off from the polling units.
The petition reads: "Recall that when you spoke to Chairmen of political parties on Wednesday April 22 at your office, I drew your attention to the fact that our party supporters were being massively arrested and detained without trial all over the northern part of the country.
"Your response was that there was nothing you could do about it because it is an area that only security agencies can address.
"Before then, on the same day, I had written to the Inspector General of Police and the Director-General of the State Security Services informing them of the arrest of our supporters from their homes, manhandling them and detaining them under inhuman conditions. I said my party was neither the initiator of the violence nor in support of it and that if anyone committed an office, they should be dealt with in accordance with the law.
"Today, less than 24 hours from the time slated for the last leg of the election your commission is conducting, we are worried that your commission has not created the environment for such elections to be held. There is no level playing field for those who want to take part and are entitled so to do to do so without fear of being arrested or molested.
" Our concern is hinged on the following irrefutable facts:
a) The Governors in parts of the North have declared what amounts to a state of emergency in their states by imposing curfews that have grounded movements both day and night.
b) On the basis of the curfews, many people are being arrested and incarcerated without recourse to due process. Our supporters bear the brunt of this obvious constitutional infraction. Areas most targeted are Niger, Gombe, Kebbi, Katsina, Kano, Nasarawa, Kaduna, Yobe, Bauchi, Adamawa, Sokoto, and Jigawa States.
c) On the basis of the curfews, police have issued orders restricting movements of citizens exempting only INEC and security agencies. This means that party agents would not be permitted to move during those hours movements are restricted.
d) Reports reaching us from Bauchi show that all Presiding and Returning officers have been invited to Government House by the Governor. They were asked to report with their appointment letters from your office! What would the governor, aside from being empowered to take charge of security in his state, be doing with those who are expected to preside over elections you are conducting and which should be free and fair and be seen to be so?
e) In some states, government media were used to announce purported decampments or stepping down of our candidates.
f) Many of your Resident Electoral Commissioners have suddenly become hostile to simple enquiries or complaints on procedures and guidelines by our party executives or agents at various levels.
g) Some state governors have flaunted your directive on the use of security agents. The Yobe State Governor for instance, announced in a broadcast today that all their candidates and members of the House of Assembly and commissioners in his government should be given security agents to help them maintain peace!
"We have doubts that in what amounts to a period of emergency, there can be free and fair elections. But because of the constitutional constraint on your commission to conduct elections that should not only be free and fair but that should be seen to be so, we suggest that:
a) The curfews be lifted and free movement of people be allowed;
b) The hours of the curfews be limited in such a way as not to inconvenience stakeholders whose agents must know what is happening at every stage of the electoral process – from accreditation, through voting to collation and final announcement of results.
c) Where the curfew must stay, the counting of votes should stop at ward level, and the following day, the stake holders move to the local government collating centres.
"As you can notice, we are straining to see how your commission can defend strong restrictions on movement during the election and the claim that the elections can be free and fair".