I'll never talk to Oge Okoye again –Chioma Toplis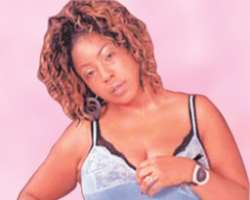 Actress Chioma Toplis has left the shores of the United Kingdom, where she resides with her husband, and has landed in Nigeria.
In a telephone interview, she told us that she came back home for the Easter holidays but would do some work at certain locations while at home.
"I intend to spend three months or thereabout. That is how long I usually stay each time I come home. I have some jobs I'm doing as well," she says.
We wondered aloud if she had made up with her estranged friend and colleague, Oge Okoye.
"I doubt if I will ever talk to that girl again. I don't go back to my vomit. Please leave that girl and her wahala (problems). I'm not interested in her. Even if she comes back begging me, I doubt if she will be my friend again," she says.
Toplis and Okoye used to be pals. The latter used to stay in Toplis' house each time she was in the UK.
However, the actresses fell apart and have not been on talking terms since.
Click the link below to go to ...
Another Nollywood War:Actress OGE OKOYE Versus Colleague CHIOMA TOPLIS
Between Nollywood Actresses OGE OKOYE And Chioma Toplis