ABUJA PROPHET WARNS JONATHAN'WATCH IT!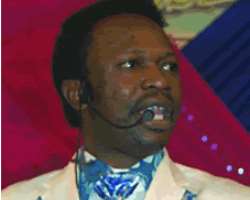 His name may not ring any bell in your ears especially if you are not resident in the Federal Capital Territory. But who started a church in his living room, four years ago, has taken Abuja with the force of a tsunami with his prophetic utterances. Joshua Iginla, a prophet and senior pastor of the Champions Royal Assemblies, Biagi in Kubwa near Abuja, has become a household name through his predictions, prophetic declarations and healing services.
As Prophet Attahiru Jega officially declared President Goodluck Jonathan winner of last Saturday's presidential poll, Pastor Iginla congratulated the president for a well-deserved victory won through a process which even the international community adjudged free and fair but dropped a warning.
Jonathan, he said must watch out for some alleged 'Judases' in his team so that his new administration could have a smooth sail.
'God told me to warn him (the President) to be very careful because there are some Judases around him,' Prophet Iginla said. 'He needs to be very careful of people.'
The outspoken prophet also commented on his connection with Pastor T.B. Joshua, the prophet at the Synagogue Church of All Nations, saying he has never met nor spoken with him.
Excerpts:
You claimed to have foreseen the re-election of President Jonathan and the trouble that followed in the north. Is this an intelligent guesswork or a coincident or a revelation in the true sense of the word?
The Lord has been so faithful in speaking to us and this is not the first time that God has spoken to us on politics and our country, Nigeria and the world. In general, God revealed to me what was going to happen about the presidential election and that there was going to be reactions by some people who might not be so happy about the result. At the same time, God told me that the current president would still retain his position. And from what God showed me, I knew it would come to pass.
My fear for Nigeria is because there are lots of people that Satan has so darkened their hearts that they want to perpetrate evil. God was telling me that more of these crises would come except we beef up security seriously. As I speak there are lots of groups that are being formed secretly with arms and we really need to pray so there might be no further loss of lives. As for the president, God told me to warn him to be very careful because there are some Judases around him. He needs to be very careful of people.
From past experiences, many Nigerians view the so-called prophets with cynicism because many prophets have had their predictions rubbished over and again. How are you different? How can we know that you are a prophet called by God?
Yes, just like we have in the secular world, just like we have good doctors and bad doctors, just like we have good teachers and bad teachers, so also it is with the church. To every that has original, there is fake. And one of the things you have to see as quality of a genuine prophet is that each time the word is spoken, it will not go unfulfilled.
Like the scripture says, my word that goes out of my mouth shall not return to me void but shall accomplish that which I have sent it. One of the things you look out for when you are looking for a genuine prophet is that he doesn't speak his mind but the mind of God. And each of the word that comes from his mouth does not contradict the written word of God and the word of God will be the standard of his life. Then, his life must be an exemplary life in terms of being God-fearing.
It's not long you came to Abuja, yet you are making such heavy waves within so short a time. How did it all begin?
This ministry is just four years old. We started it in my living room. And the Lord has been so faithful. Part of the reasons why, to borrow your words, the church has been making waves is that we deliver God's message without adulterating it. It started right from when we were in my living room, when we talked about issue of the throne being empty even when the late president (Yar'Adua) was very much alive. We said certain things and all these prophecies have come to pass. One of the things that multiply the church is the prophetic accuracy that is attached to our ministry. It is undeniable and the confirmation is automatic.
People see a big church, almost a cathedral, in just four years, and they are wondering where could the money have come from?
One of the things I tell people is that when there is a vision there will be a provision. And part of the things I tell people is that we are not out for money but to bless lives and save souls. And imagine the church starting from my living room, if I had money I won't be starting the church from the living room. But one of the things that brought the funding and the rising of the church is that people have come here with sicknesses, problems and the Lord touches their lives and they were transformed. In fact, part of the resources that fund the church comes from lowly placed people who came to the church and had nothing. But by the word of prophecy, God opened their doors and they were blessed, and they were coming back to sow seeds and bless the ministry.
Let's go back to your person, who is Prophet Joshua Iginla? What was your background like and where are you coming from?
Prophet Joshua Iginla is a humble barrack boy. His father was a soldier in the Nigerian Army and retired from the Army after 35 yards of service. I spent all my life in the barrack. I was born a Muslim and my real name is Abdulkarim Lasisi Iginla. Then, I met Jesus and He transformed my life. My father, my mother, and the entire family got converted through me.
My mother once told me that while she was pregnant of me, in the seventh month, she was working along the street with the pregnancy and being a Muslim covering herself, a pastor stopped her on the way and said God told him that the child in her womb would be a male, and a prophet that will affect nations despite the fact she knew she was a Muslim.
My father desired that I become an alfa and I was given a Muslim name. In fact, I was highly indoctrinated with Islam but as God will have it, the Lord took over my life. I could remember in the quest to rise up in life, I had to go to the depot of the Nigerian Army, Zaria, to join the army. But when I was in the training, my elder sister came to meet with the platoon commander and I was taken out of the place because she said that I was going to be a waste. I was angry, sad, mad. But I never knew she was working for my good. Today, I'm here, preaching the gospel.
What's your opinion on pastors and prophets joining politics? Secondly, how do you see the non-recognition of prophets like Prophet T.B. Joshua by CAN?
There is nothing wrong for a pastor to go into politics. David in the bible was a leader, king in Israel despite the fact that he was a preacher, musician, poet, etc. What is wrong is when a man of God has not heard from God and he goes in for selfish and say, 'thus says the Lord.' Because when we, who are supposed to be the eyes of the nation spiritually, begin to falter in our judgment of hearing from God, it is quite pathetic. Believers can go into politics but the man of God must be sure God is leading him. It should not be an issue of waking up over night and taking the decision of going into politics. It is very wrong. But when God's hand is in it, the result is clear.
As for the person of T.B. Joshua, I will not really want to make too much comment about that. But then, one of the things I feel is that everybody has right to judge men of God from different perspective but one of the things I always say is that let us stop using the issue of miracles to judge men of God. Rather, let us start looking at the fruits because the bible said that by their fruits we should know them.
I don't believe that men of God should be judged by miracles, rather, they should be judged by their fruits. I can say categorically that we have people who talk about T.B Joshua that are worse preachers in the Pentecostal fold and in the C.A.N who are living for their pockets. I'm not advocating for anybody but I feel that sometime it is good for some people to remove the beam in their eyes before talking about removing the speck in somebody's eye.
When some people hear your name, Prophet Joshua, they want to link you up with T.B. Joshua. Is there any link between both of you?
I have never seen T.B Joshua in my life one-on-one. I have never talked to him on phone and my ministry is not patterned around him. It's just coincidental that my name is Joshua Iginla. I don't have any straight or indirect connection with T.B Joshua and my calling is quiet different and unique. My ministry is word-based and word-centered. I don't have any grievance with any preacher. I'm one person who believes that all preachers should be left until the judgment day, that God is the one that will judge you and that judgment will begin in the household. So, there is no connection. Sometimes, people even think maybe there is an indirect way he mentored me but I say no, there is completely nothing like that.
What message do you have for Nigerians in these delicate times?
One, Nigerians should believe in Nigeria. Nigeria, as a country, is a blessed country. We are blessed with mineral resources and human resources. I believe our leaders can still do well. I'm one person that believes there could still be a better Nigeria. I believe that the hands of God are upon Nigeria. We have great preachers from this country, great scientists, great educationists, and God cannot let this country down irrespective of our relieve beliefs and ethnic differences. This country is one country that is playing a vital role in Africa and in the world at large.
I believe that there is going to be a better Nigeria where peace will reign and justice and equity will prevail. Finally, I want to say this to everybody who cares to listen and believe: God's hand is upon President Jonathan. God has raised Goodluck Jonathan for a particular purpose. Even though he may not be the messiah Nigeria is looking for, for now, he is part of God's prophetic agenda to bring about credible leadership who will cause the change we all desire. I believe that we will see the handwriting more clearly in the incoming dispensation because one of the things God told me was that the problem of power would definitely be addressed by this administration.