Jonathan wins Presidential Election ...Floors Buhari with over 10 million votes...Beats him in Sokoto, beats Ribadu in Lagos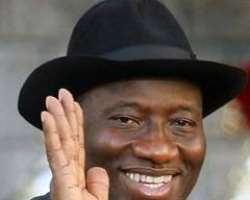 President Goodluck Jonathan of the PDP, has won the Presidential election, considering the number of votes in his name tallied from around Nigeria, despite a strong showing by rival Muhammadu Buhari in his mainly-Muslim strongholds.
He is leading Gen Muhammadu Buhari of the CPC with over 10 million votes so far.
Jonathan also humilliated the Action Congress candidate, Nuhu Ribadu in AC strongholds of Lagos, Ogun, Oyo.
The proposed alliance between AC and CPC crashed few hours to the election, paving way for a landslide victory for Jonathan.
Buhari, a former military ruler was hoping to at least force a second round against Jonathan, the first head of state from the swamps and creeks of the oil-producing Niger Delta.
But that looked impossible with the tally of results from 30 of 36 states across Africa's most populous nation showing Jonathan on 20.3 million votes to 10.4 million for Buhari.
There were not enough registered voters in the remaining states for Buhari to make up the difference.
Observers called the election the fairest for decades in Nigeria, where rigged polls have been the norm. There were still suspicions of malpractice in some districts, though, and that could inflame tempers after the count.
Jonathan's officials said there would be no victory claim until results were announced by the Independent National Electoral Commission.