MOTHER'S DEATH FORCED ME INTO MARRIAGE AT 16 - PRINCESS AMAM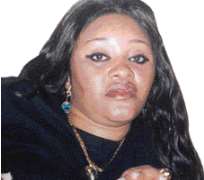 Amam
Princess Nneka Amam (nee Okeke) is a businesswoman and President of Adorable Social Club of Nigeria. Her life evolves around charity to the less privileged, especially children. Her life's story compelled her to have passion for these children just as it also brings to the fore the popular axiom that it is not over until it is over.
Princess Amam's experience also teaches that one can change one's destiny and say no to failure in life. The beautiful mother of four, the eldest an undergraduate in a London University, and the second an A-Level student in the UK, was almost in tears while reminiscing her childhood days. Her mother died while she was very young and she lived with her father and his wives. She was given out for marriage at the age of 16. And from then began the journey of life for the beautiful young lady. In this interview, she speaks on issues concerning her childhood and how she tried hard to fight poverty, her passion for the less privileged, among other issues.
You look downcast talking about your childhood, were you fetching firewood?
Fetching firewood with my mother around would have been very easy and fun. It won't be like punishment. There's a role a mother plays in a girl's life. My mum died early in my life. Girls should not be given proper education was the trend then, and I was given away in marriage when I was 16 years. When I was about to have my child, they called my dad to come and sign at the hospital because I was a 'baby'.
It was child abuse. If my mother were there, it wouldn't have happened to me. I owe my life to the motherless children. While growing up, every night was full of cries, but nobody to console me. I remember the first time I had my period; I was so scared. These are the things my mother would have taught me. I wanted to talk to somebody, but there was nobody to talk to. I knew something was coming out, I had to seek counseling from my peers in school, and they told me what to do.
There was no love, but I thank God. These are memories that can't be erased easily.
Were you married to a rich man?
No, the Igbo culture caused it. My father is the only son from a big polygamous home, the only surviving child of his mother. He always insists that as the only son, the best way for me and to avoid issues in a polygamous setting is to marry early. He felt my getting married would solve a lot of problems at the home front; at least, I would have my own house.
Then I became pregnant. I had my first son when I was 16 years. Motherhood was not easy, you just need grace to do so many things at a time, and I felt like dying would have been the best thing at 16, and I don't love the man. Sometimes the man would look at me, call me inside the room and lock the door. He would pour hot pepper on my head, and my hair was so long. He cut my hair several times.
Thank God, today's women are stronger and bolder. Women are now fighting for their rights.
My turning point
I had to survive, I knew I had challenges and I had to rise up to my challenges. I knew I had to move on in life and I had to make it. I had to enter into business early and got married to my business. Failure is one thing I don't like. No matter where you come from or how you started, if you want to be on top, you can make it.
I started business with one guinea brocade someone gave me, about 30 yards of it. I looked at it and thought of doing tie and dye with the fabric. I went to Akerele Drive to meet the tie and dye merchants. That got me five pieces out of 30 yards. My friends liked it. I started with one bundle, then two. Later, I started adding my own designs. Then I started selling guinea brocade to Aswani Market traders every market days. (Tuesday). I tied my scarf and pretended to be one of those market women. I came down to their level.
They all got to know me and collected goods from me to resell because I gave them good prices. I would wait for them to sell the wares they bought from me, and after the day's sales they would come and pay me. From Aswani Market I decided to take a shop at 55, Martins Street, Lagos.
My late brother took me to the Nigerian National Petroleum Corporation (NNPC), where I started tank cleaning. After my little contract, I pushed my money into importation.
My first trip abroad
It was a business trip. I went to China, Indonesia and Hong Kong.
The first day I stepped into the Murtala Muhammed Airport, I was just asking myself is this I going to do importation? It was a very wonderful experience for me, considering what I went through in life. At the airport, I was watching the way people were doing things. When they bring out their passport, I would do the same. When they stopped, I follow suit, and it never occurred to them that I was on my first trip.
I went to Hong Kong; met with manufactures and told them the goods I wanted them to do for me. I brought in a 20-footer container, and that was how I started. The spirit of 'you must break through' was the kind of spirit I had. I was very young, about 19 years old, when I brought in my first container.
I remember my manager, when people came to ask for goods and he would say let me ask my boss first, and they would turn around to say this can't be your boss, because I was quite young.
Adorable Social Club of Nigeria (Daughters of Love), how did it start?
I really wanted to change lives. I have been president of many associations, but I wanted to touch lives. I was president of Awka Daughters for five years, and also president of Immaculate Ladies for five years. Sometimes, my vision doesn't augur well with some members. You know charity work entails giving what you have to the less privileged.
I'm always emphasizing on charity - my idea about charity didn't really jell with them and we had a lot of issues afterward. I shared my ideas with the trustees of Adorable, which they subscribed to. If you are not ready to touch lives and change positively the next person, then you are not qualified to be an Adorable Woman. During our first meeting, we had 11 trustees and later we registered the association.
Now, we have 25 social members. You know, it's not easy gathering women. I love to do charity. A woman touched my life as a child.
That has been the propelling force behind helping the less privileged. I remember in school, we were told to bring wrapper clothes for a cultural dance. I went to my step-mother and she could not give me a wrapper. I was going back to school crying.
One woman saw me and said, 'Princess, what is it?' I told her we were doing a cultural dance and my step-mother said she doesn't have wrapper to give me, and she said I should wipe away my tears. She brought down her box and gave me an Into Rica George. She said I should keep the wrapper in my box after the dance in case of another time.
Sharing love with orphans
Adorable is a new club, but we have made a great impact in the society. The Immaculate Ladies went to the SOS Children's Home, Isolo, Lagos. We had a grand party for them and gave out things.
If I can do a party for my children and have 2,000 guests in attendance; why can't we do the same for these children? I was touched that fateful day.
There was this girl, she had fever but wanted to be part of the event. The woman on duty tried to stop her. This little girl pointed at one of us to carry her. One of us carried her; she insisted she wanted to be backed. She was at her backed till the party was over. We were there for these children and that was the concept I had. We had dancing competition. We brought a lot of playthings such as the castle, they were all playing, they were asking us a lot of questions as we carried them.
Secrets of her beauty
I got my complexion from my father. He is an albino; that really helped because I don't spend much on body creams and all that to have a clear, smooth skin. Also, Senator Florence Ita-Giwa is my role model. Look at her; she's looking beautiful at her age. When I remember her, I tell myself I have to be like this woman; even at her age she's got charm and charisma.
I contested for Miss Ultimate and Miss Africa beauty pageant in the 80's. I was the second runner-up. In 1987, I contested for Miss Africa, organized by Angela Onyeador. I was the first runner-up. I already had my first daughter and son when I participated in this pageant. I always strive to keep in shape, I don't want people like Auntie Angela to see me looking shapeless. I pray that one day there would be an African beauty queen contest for mothers. Our vision was to portray Africa and Nigeria's value as a beauty queen. Later in life, I wish to inculcate pageantry that would reflect the true African beauty into Adorable Club's programme for the year.
My philosophy
Easy come; easy go. If you think too much about life, you'll get confused. I believe what will be will be, that had always been my motto. Why did I take such a decision? Not quite long ago I went to a hospital and discovered I had high blood pressure.
I had to tell myself the truth - to accept whatever comes my way. I don't overstress myself. It is also necessary to note that you cannot cheat nature, and this has helped me so much.
My BP drastically dropped and now I'm okay.
I implore women to think less, and always be jovial. I keep telling myself there must be morning, afternoon and night. I believe that what I cannot do my children will do it. The Bible says don't think about tomorrow; leave tomorrow to think about itself. I do my best and leave the rest to God. With that, you'll kill stress. Before some women get to 50, their hands are already shaking.
I was in church in London with my daughter and they did an altar call. They gave me a microphone to testify and I said I thank God that through my daughter I came to know about this church. Is she your daughter? Everyone was amazed. At home, I do dancing competition with my children; you will be amazed. That is how life is supposed to be. I take life easy.
If you keep thinking, you can't sleep.
Your body needs rest. Otherwise your beauty will be gone and you can't function and reason well. I try as much as I could to fight stress and problems, because problems are bound to be there. Be truthful to yourself and the people around you. It matters a lot.
You don't have? Don't shy away from saying so.
Are you going into politics?
I don't like politics. For now, I want to live my life peacefully and see my grandchildren.
Coping
Now, I call myself a man and also a woman. Men these days want to tap from intelligent women.
Projection
We have Adorable months; we want to reach out to at least more than six orphanage homes and the female prisons. I led the group again to Randle General Hospital; we got there and saw people with burnt skin and other ailments that fateful day. My idea is to touch lives and I want to carry along women that have the same passion. Like our first lady, Dame Jonathan, she is really touching lives. When she tells you her story, you'll agree with me that she is a grassroots person and does not discriminate.
Charity comes from the mind. I don't want to force it on anybody.