Entertainers still ready for elections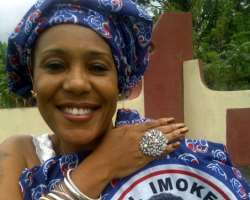 The entertainment industry has played a noticeable role in the build up to the current general elections. The artistes have not only been involved in producing campaign jingles for politicians, they have also been following them for rallies and recording songs for them.
Now that the elections proper have started, many of them have told Life and Beat that they are all set to cast their votes for their candidates as they did last week during the National Assembly poll.
Actor, Victor Osuagwu, says nothing will stop him from voting today and in next week's election.
He says, "I'm not even in Lagos as I'm speaking to you now, but I know I'll take the last flight to get into Lagos before the election. I registered in Lagos and I will caste my votes there. My vote will make a lot of difference and I'll definitely give it to my main man this Saturday," he says.
His enthusiasm for voting is the same with mulato actress, Shan George, who said she flew in from Calabar to Lagos in order to perform her civic duties.
"I didn't vote last week because I was in Calabar, shooting my movie. I'm not even done with it yet but I abandoned it half way and came back to Lagos just because of Saturday's election. I'll definitely go out there to vote," she says.
Bovi Ugboma is a comedian who is taking the matters of his civic rights seriously. According to him, the polling centre where he registered is far from his house but it won't deter him from voting like it did last Saturday.
"I didn't know how the security will be last Saturday, as such, I didn't go out to cast my vote. I was devastated with what happened in Suleja. But now, I'll check into a hotel with my wife before the election to make sure we're able to cast our votes. Nothing will stop us," he says.
Nothing will also stop actress, Uche Ogbodo, from casting her vote.
"It is my right to vote and I'll not abuse it. I'm entitled to vote for I'm a Nigerian. We need a change in this country and who said my vote would not make a change," she asked.