OIL WELLS REVENUE: A'IBOM TO MAKE REFUND TO RIVERS WITH INTEREST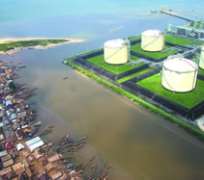 As Akwa Ibomites are still grappling with the ceding of 86 oil wells to Rivers State, steps are being taken by the Federal Government to ensure that Akwa Ibom State refunds the revenues from the oil wells to Rivers State since 2009 with interest.
To ensure the payment and enforcement of other rulings by the Supreme Court on the case, the Revenue Mobilisation Allocation and Fiscal Commission (RMAFC) yesterday, in Abuja, inaugurated a technical committee to work out the modalities for the payment and to implement other rulings by the apex court.
The committee comprises representatives of the Office of the Accountant-General of the Federation, Office of the Attorney-General of the Federation, National Boundary Commission, Department of Petroleum Resources, and Office of the Surveyor-General of the Federation.
Chairman, RMAFC, Elias Mbam, while inaugurating the committee, said they were to work out modalities for the implementation of the judgment which gave the 86 oil wells to Rivers State and the payment of money accruing from the wells and interest calculated at the prevailing rate.
The committee which was given two weeks to complete its work, also has to examine the implications of the judgment in all its ramifications; collate all the data required to implement the judgment; compute the amount to be paid to Rivers States by Akwa Ibom State as ordered by the court; recommend the modalities for the payment of the amount due to River State and make any other recommendations that the committee might deem necessary.