REPORT SAYS FORMER MINISTER, KEMA CHIKWE DAUGHTER MOVED OUT OF HUSBAND HOME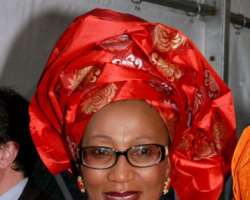 Recent media report has it that Somachi, the daughter of one time minister of Avaiation, Chief Mrs. Kema Chikwe is already on the verge of collapse as she and her husband has gone their seperate ways.
According to the report, Somachi could no longer endure the way her husband turned her into a 'punching bag' after every little provocation. While some are saying Somachi her self was a spoilt child who did not take her domestic commitment seriously, others are of the view that the man was not patient enough with woman he professed to love with his whole life.
We gathered that Somachi has already packed out of the house to ease tension around her. Pray they get back.
By the way, Somachi is a sister to award winning musician, Naeto C. kini big deal abeg!