JONATHAN UNFOLDS FRESH PLAN TO BOOST ECONOMY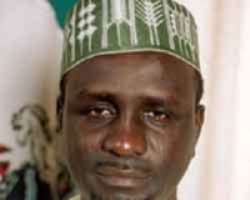 Shekarau, Dangote seek jobs for youths
PRESIDENT Goodluck Jonathan yesterday promised that he would use the private sector and Nigerians in Diaspora to drive the nation's economy in the next four years.
The President therefore asked key players and Nigeria's development partners to work with the Federal Government to work towards a rapid job creation programme in order to harness the energy of the youth for national development.
Besides, there was little or no indication that presidential candidate of the All Nigerian Peoples Party (ANPP), Alhaji Ibrahim Shekarau, would join a youth rally organised for credible elections yesterday, until he made a surprise appearance at the event in Lagos.
Extolling the virtues of young Nigerians, Shekarau said his government would provide needed jobs for the youth, who account for over 60 per cent of the country's population.
The rally, which featured a walk from the National Stadium in Surulere, culminating at the Tai Solarin Cenotaph at Yaba Lagos, was packaged by a coalition of civil society and youth groups including the Democratic Alliance for Youths (DAY), Oodua People's Congress (OPC) and Congress of Political Leaders (CPL).
Decrying the state of Nigerian affairs, the Kano State governor said: 'So many things are wrong in our nation. There are no jobs and we live in a state of insecurity. At present, youths have uncertainty written all over their future; and no youth can face tomorrow with confidence. But all of you will agree with me that the moment for change has come.'
Dressed in green agbada and sokoto, Shekarau was flanked by his running mate and former Edo State Governor, Chief John Oyegun, the ANPP gubernatorial candidate for Lagos State, Chief Yomi Tokoya, and several ANPP national and Lagos chieftains.
Tokoya described youths as the country's future, and said only ANPP at the state and national levels could provide free education.
According to Shekarau, the ANPP is the only party that could give a promising future to the Nigerian youths, through massive job creation and free and qualitative education.
He promised that his administration would build a great nation capable of providing the people's basic needs that Nigerians would be proud of.
The civil society movements that organised the rally said Shekarau spoke as a guest, and that many others dignitaries and politicians who had been equally invited failed to show up.
DAY's General Secretary, Mrs. Felicia Oridani, said the rally was important in view of the spate of bombings and fights that resulted in the loss of over 30 lives and billions of naira worth of property before, during and after Saturday's National Assembly elections.
In the words of Oridani: 'Those killings sent an alarming signal that Nigerians have yet to imbibe the spirit of peaceful elections, instead of the do-or-die style of politicking played by politicians at the present moment. So the rally will be used to educate the electorate on voting for credible and acceptable candidates. It will be used to campaign for violence-free and rigging-free elections.
'We as youths feel that we must come out to let the electorate, the public and other stakeholders in these elections to know that violence will do nobody any good. The main concern of the people is how their lives can be positively transformed, with adequate provision of facilities and infrastructure throughout the country. Victory at the polls must not be for politicians who can rig or fight the most but for people of integrity and those capable of bringing needed development to Nigeria.'
Oridani also expressed confidence that the rally would convince Lagosians about voting credible candidates in next week's presidential polls and other elections.
'We set out to ensure that members of the electorate are educated on their voting rights. And we are confident that our coalition can convince Nigerians to forge a unity of purpose in support of good governance,' she said.
President Jonathan, who spoke at two different fora - A breakfast meeting with the business community leaders and A Presidential Summit on Job Creation - pledged to boost the nation's economy in the next four years, if elected into office on Saturday.
At the job summit held at the State House Banquet Hall, the President said he envisioned a Nigeria where the youth should be gainfully employed so that politicians would find it difficult to recruit unemployed youths as political thugs.
President of Dangote Group and Chairman of National Job Creation Committee, Aliko Dangote, said at the event yesterday that youth unemployment should be accorded the highest national importance and urgency.
Dangote said this was the only way Nigeria would escape the situation in the Arab countries where unemployed youths became effective catalyst for social unrest.
He also noted that Nigeria could not grow and develop as it should if more than half of its population was not working either because there were no jobs or because they had no skills.
According to Jonathan, 'I am calling on the key players in the private sector and our development partners; this is a beckon on you to join us because job creation cannot be left for government alone. As a government, we need to provide an enabling environment. I will not be happy if Nigerians elect me on Saturday to come after four years to talk about rice importation. We must look at certain things that we import in large quantities and see how we can produce them here.'
From all indications, rice is the most staple food in this country and we are supposed to produce rice not just for our consumption alone but also for exportation.
'We may not take everything at the same time, but we must take a very critical area that government and the private sector must work on. We must come up with a policy that will enable us to improve. My vision for Nigeria is to make sure that in the next four years or there about, we should have a country where our young men and women should have something to do so that, those of us who are politicians will no longer have raw materials to be used as thugs. I know by God's grace, we will get there.'
He added that 'in the next four years, Nigeria must stop importing rice. Even if we are not exporting it, we must be able to produce for local our consumption because it will help the economy. The money we spend on rice importation annually is huge. We must do something about it. There are certain things we must do to make sure we revolutionalise the sector. Younger generation hardly engage in farming because it is labour-intensive and they see it as demeaning.  We have to make farming attractive to the young people because even if we make micro credit available to peasant farmers (though we will continue to do that), the yield is so low.'
At the special breakfast meeting and his endorsement by the business community, at Transcorp Hilton Hotel, Abuja, President Jonathan stated that 'any leader who wants to build this country must use people. I will use you and our sons and daughters in the Diaspora to develop this country so that the whole world will be proud of us.'
In an address at the endorsement ceremony, Oba Otudeko, chairman of the ceremony, listed three demands of the business community in Nigeria to include electricity (uninterrupted power supply); education (more emphasis on vocational) and employment generation (placing high accent on rural community through agriculture).
In addition, Otudeko also stressed the need for accountability, transparency, good governance all anchored on the rule of law.