'I am Leading in Anambra Central Senatorial Race'- Dora Akunyili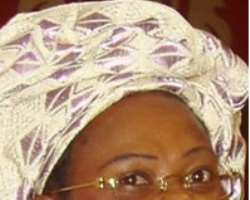 In contrast to HUHU projections on the outcome of the Anambra central senatorial race, the immediate past Information and Communications Minister, Prof. Dora Akunyili of the All Progressives Grand Alliance (APGA), said, she has taken an unassailable lead over her closest rival, Dr. Chris Ngige , as collation of results continues in the Anambra Central Senatorial election.
In a statement issued by Isaac Umunna, Special Assistant on Media to Prof. Dora Akunyili, the collated results as at   7:30 this morning were as follows:
 
Anaocha LGA: APGA 22,481; ACN 4,561; Accord 1,282; Awka North LGA: APGA 4,245, ACN 1,787, Accord 3,924; Awka South LGA: APGA 12,510, ACN 11,973, Accord 3,812.
Continuing he said,
'Final results by the Independent National Electoral Commission (INEC) are still being awaited but the gap is obviously two wide for Ngige to catch up'.
'You shall be updated as INEC releases more results'.