HOW PDP PLANS TO RIG NATIONAL ASSEMBLY POLL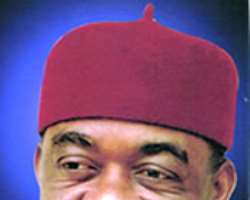 In its desperation to win tomorrow's rescheduled National Assembly poll, the chiefT.A Orji-led government in Abia State has hatched a plan to use the military and other security agencies to intimidate opposition candidates and their supporters.
A source told Daily Sun that feelers from the botched Saturday's polls sobered the Peoples Democratic Party (PDP) government. 'It brought home clearly to them their dwindling popularity to the point. They were so shocked that they have decided that the only way out of the woods is to cause mayhem with the use of the military that is already playing along with them,' the source said.
At high level meeting in Umuahia which had the governor in attendance, to review the poll, was said to have told the governor point blank that the popularity of the opposition was so pronounced that the only way to checkmate them is to throw caution to the wind.
The governor and his kitchen cabinet at the meeting held in a secret location was said to have tagged their mission, 'Stop Orji Kalu and his boys at all cost.' 'They did not understand why people voted the opposition, particularly PPA during last Saturday's polls despite all the money they have spent on the electorate,' the source said. Even one of their members was said to have told the governor's think-tank that the only thing they can do to win at the poll was to 'take it by force and violence.
According to the aide, 'any attempt to play by the rules of the game will surely fail us. Since we have the soldiers on our side, we should use them and get victory first; then if there is any need for explanation, that will be done later. We have the money, we have the military and can influence other security operatives, so why can't we use what we have to get what we want?' the aide said.
In fact, a security adviser to the governor, who is a retired military personnel, reportedly boasted before an audience in Ohafia they would use the military to effect victory for PDP on Saturday.
He was said to have advised government to leave Ebem and other parts of Ohafia to him and his military boys, which he vowed to 'deliver on a platter of gold.'
Other places they have planned to 'take by force' are Obingwa, Isialangwa South, Ukwa East and west as well as Osisioma, Umunneochi, Isuikwuato etc. These are areas considered as stronghold of the opposition. 'The plot is to rattle them with violence and once that is done, they will substitute such areas with already prepared results.
Investigation also revealed that there are plans to use his house and those of other well placed PDP Ohafia natives as rigging points, since he will provide the security that would guide them .
'His exploits during last Saturday's polls where some soldiers were reporting back to him whatwas happening on the field during the polls shows that democracy has been thrown into the dustbin in Abia,' our Source said.
Another meeting has been slated for today to fine-tune the winning plan, which will not be without violence. They are said to have boasted that they have the military, police and other Security agencies and so cannot fold their arms and allow somebody who is not in government to over-run them in the 'battle.' Meanwhile, Mr. Aloy Nwabueze, a youth leader in Umunneochi who was battered by the military has cried out to President Goodluck Jonathan and the Chief of Army Staff, Gen. Azubuike Ihejirika for justice.
Speaking with journalists in Umuahia on his experience in the hands of soldiers at his community during the last postponed National Assembly election, Nwabueze said he was forcefully arrested by the soldiers over trump-up charges that he slapped the soldier's niece. He said the soldiers took him to Leru hill, where he was undressed and flogged with cable. He said he was saved by a captain after interrogating him. 'He asked them if they found any incriminating tools with me and they said no before I was released.'
The youth leader said that his niece ha told him when he was released that she wanted him to join her party the PDP, but that he went and joined the wrong party, 'I told her that I do not belong to any political party and do not care what happens politically only came home to vote'. He said that he had gone to the police to lay his complain after he was discharged from hospital where he went to after the soldiers allowed him to go, stressing that he is not ready to go to court, but only want those in authority to call they soldiers to order.
Nwabueze said that he went home from school where he is studying law to perform his civic duty and that while waiting for the INEC officials to come, a to that the deputy chairman of the council Daniel Okoli came in with some soldiers and asked for his brother. He said that while this was going his niece Obiageli Okereke brought the soldiers to where he was and pointed him out as the one that slapped her, after which the soldiers came after him and ran upstairs in a bid to escape from them.
He said, 'On getting to him they started beating him and threw him down from upstairs and forced him into their armoured car and took me away, saying that they are going to waste me, after all many people have died before you and you will not be the last'. The youth leader said that they also told him that the elections have been concluded and that there is nothing he or any other person for that matter can do about it, stressing that there need for the authorities to define the role of the army in the elections.
Nwabueze noted that when he asked them what his offences were, they told him that he is a cultist and trouble maker, 'but I told them that I just came back to the village to vote and a law student that I know what it means to be a law breaker and that I know my right'. Nwabuze explained that his aim is to bring to the public what the soldiers are doing in some communities in the rural areas, like parading the roads of the villages with armoured cars and swinging their guns from the top of the armoured cars, making people to run away.
He warned that if the soldiers are not called to order that their behaviour will not make room for a free and fair credible elections in both the state and country, stressing that it could lead to breach of peace as some people may not be ready to allow some few people in cloths bought with public funds to scuttle the elections.