CAN INEC ARREST AND PROSECUTE ELECTORAL FRAUDSTERS?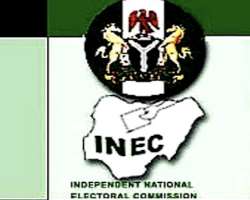 Any electoral officer (EO) found to have manipulated results in favour of any of the political parties in the forthcoming general elections would be prosecuted, Chairman of the Independent National Electoral Commission (INEC), Professor Attahiru Jega recently proclaimed.
It gives one a sign of relief and space to rejoice that as elections in Nigeria approach indications are rife that, unlike before in recent time, the breeze of free and fair polls is hovering in our atmosphere. I have never seen an INEC that so strongly stands firm on its decisions. May God Almighty grant Attahiru Jega's INEC the wisdom, will and patriotism to accomplish its divine assignment for all Nigerians. Please, help me say a loud amen.
The shifting of the elections by one week, despite criticisms, is a sign of INEC readiness to respond appropriately to any development in the conduct of acceptable polls. If it were in the past, results would have been fabricated. Nigerians of strong memories would recall that election materials were often delayed to frustrate the electorates, thus when they had gone back to their homes, electoral frauds took place. This, Jega, does not want to occur. He has even assured that the electorates can stay around to wait for the results.
With this shift, according to INEC, the presidential election initially billed for Saturday, April 9, would hold Saturday, April 16, while the governorship and state assembly elections which were originally slated for April 16, have been moved to Tuesday April 26, 2011 to allow Christians celebrate their Easter festivities across the country on the preceding weekend.
The question is can INEC arrest and prosecute electoral offenders? Has it ever happened in the past? Laws are often made but never or selectively implemented. And that it why we are where we are today.
Jega has made it very clear to all electoral officers who were, in the past, the primary manipulators of electoral frauds that it will not be business as before. At a retreat for the EOs in Abuja, Jega said the INEC will not fail to arrest and prosecute any electoral officer who connives with politicians to manipulate the outcome of elections during the April polls.
On this note, Jega is not only optimistic that a new dawn has come for the electoral processes, he knows that it is human beings who process the results and human beings are likely to be induced by self-acclaimed political powers. So he warms, "if there is anybody who thinks that the job of an electoral officer is to connive with politicians and to take money and allow fraud to be perpetrated and to declare false results or fraudulent results then they should be prepared to answer to the consequences of their actions."
I think this is not mean to discard the honest jobs of the patriotic citizens. I believe that not all Nigerians are corrupt or fraudulent. We can count sizeable number of Nigerians who do their jobs diligently and are guided by the spirit of patriotism, humanity and statesmanship in whatever they do. They are everywhere in Nigeria: in the civil service and private sector. I know of some private business men who sack their employees on grounds of corruption and bribery.
There are also civil servants who do not seek favour to process documents.
But, assuredly, there are a few bad eggs among us. It is this category of the citizenry who continue to give us a bad name internationally. And since they are not more than the good citizens, it would have been easier to identify and cage them. However, they have defied conventional remedies because they seem to be the powerful. So, it is important for us to do self cleansing so that this negative perception among Nigerians is changed.
Jega told the EOs of the enormity of the duty of conducting credible, free and fair elections in Nigeria. He knows that when a worker is well paid, there is little possibility of being induced by monetary or any kind of advancement. Successful April polls are, therefore, a herculean test for the national electoral body. He challenged government on the need for better remuneration for INEC staff.
The INEC code of conduct spells out every thing that will assist in conducting credible elections this month. A scrutiny of the code shows that every Nigerian will be responsible for any failure. The INEC alone cannot do the job. The political parties and all their apparatuses, the electorate and the law enforcement agencies have even greater roles to play. The INEC Rule of Law categorically states thus: that all political parties, their leaders, members and supporters, and candidates, shall adhere to all existing laws, rules and regulations partaking to elections, and the conduct of political parties, especially the elections guidelines established by INEC through the authority of the Electoral Act, 2010 (as amended), as well as provisions of the extant constitution of the Federal Republic of Nigeria, and shall do nothing whatsoever; individually or collectively to undermine, flout, disrespect or circumvent them.
Section seven (a- f) particularly demands that every party and every candidate recognize the authority of the INEC in the conduct of any election; work together with the Commission to promote transparency, impartiality and confidence in the electoral process; Give effect to any lawful direction, instruction or order of the Commission, or a member, employee or officer of the Commission; establish and maintain effective lines of communication with the Commission and other registered parties contesting the election; facilitate the access of members, employees and officers of the Commission, and the chief electoral officer, to public meetings, marches, demonstrations, rallies and other public political events of that party or candidate; and cooperate in any investigation by the Commission.
It has been observed that some provisions of the code of conduct for the general elections have already been breached. Some political parties have sponsored or allowed members to carry offensive weapons during rallies and marches and this has resulted in the death of some innocent Nigerians. This has been reported in many national dailies. Even at registration centres, some Nigerians were killed during different political squabbles. There were clashes among political parties at diverse political events.
It can be contestable if parties have really separated party business from government business. It will yet be proved if public funds were not utilized for party activities and campaigns.
It is doubtful if all political parties had equal and equitable access to public-owned print and electronic media, as guaranteed by law. It cannot be assured that parties, their agents or candidates did not protect, or exercise undue influence for the release of persons arrested for carrying offensive weapons or infringe on any electoral law, rules or regulations, INEC's electoral guidelines, or the provision of this code of conduct till date.
More vividly, political party and candidates prevented or attempted to prevent other parties or candidates from pasting their posters or distributing their leaflets, handbills and other publicity materials in public places. Parties and candidates gave directives to their members and supporters to remove or destroy the posters and other campaign materials of other parties and candidates. The big parties, their members and supporters ensured that all their party posters and other election campaign materials were not removed from public places even after the end of campaign period.
Did parties discourage their members in government from using their power of incumbency to the disadvantage of other parties or candidates during campaign?
However, INEC code has these rules for the elections day: Political parties, their candidates and agents shall respect the law restricting access of unauthorized persons to polling stations, collation centers, and discourage undue interference with the voting process.
- Every party shall instruct its members and supporters that no weapon or any object that can be used to cause injury shall be brought to the polling station, and that no party attire; colours, symbols, emblems or other insignia shall be worn to a polling station on election day.
- Political parties shall recognize and acknowledge the rights of accredited observers and monitors at polling stations for the purpose of observing the conduct of elections and shall grant full lawful access to party activities to such observers.
- All political parties and their candidates shall ensure that their polling agents and officials are sufficiently trained to monitor the voting exercise to ensure free and fair elections.
- Political parties, their candidates and members shall cooperate fully with law enforcement agents to ensure the safety and security of election materials, election officials, party agents, and the electorates on election day.
- Political parties and their agents shall not engage in any of the following corrupt practices: a) Forcible occupation or invasion of a polling station, collation centre or INEC office; b) Destroy any electoral materials or INEC property; c) Encouraging its supporter(s) to cast more than one vote; d) Encouraging any supporter(s) to vote in the name of another person, living, dead or fictitious; e) Buying votes or offering any bribe, gift, reward, gratification or any other monetary or material consideration of allurement to voters and electoral officials; and f) Canvassing for votes within the vicinity of a polling station on polling day.
And the ultimate demand of article eight of Election Day Code is that all political parties, candidates, party members and supporters shall accept the official election results as certified by INEC as free and fair, or challenge the results in court.
After the election, the Code states: No political parties shall intimate, harass or cajole polling agent of a political party to sign election result; if in his/her judgment the election in the polling station was not free and fair.
- No political party, candidate or agent shall procure election results fraudulently or manipulate collation sheets, ballot boxes or cause to be published or displayed by the electronic and print media such unofficial or fraudulent results, except those published or announced by INEC.
- Political parties and their candidates shall endeavour to send congratulatory messages to their opponents who are announced as duly elected.
- All political parties and their candidates shall refrain from the use of violent or extra judicial means in expressing their non-acceptance of election results. In this regard, political parties and their candidates shall ensure strict adherence to provisions of the law in seeking redress against perceived electoral irregularities.
Professor Attahiru Jega has assured that results will be announced as they come from the grassroots and states. "There is no way a result will be announced elsewhere and we will sit in Abuja to reverse it. That will not happen", he once asserted adding, "Obviously our political process has been characterized by a number of challenges in the past. As we move towards 2011 elections, it is necessary that all participants in the process make extra efforts to bring civility."
It is hoped that Nigerians will take note or be reminded of the processes before, during and after the elections so that sanity will be brought into our system and the peoples' choices really triumph. A trying but not tying time for Nigeria indeed!
Muhammad Ajah is a writer, author, advocate of humanity and good governance based in Abuja. E-mail [email protected]
Disclaimer:

"The views/contents expressed in this article are the sole responsibility of the author(s) and do not necessarily reflect those of The Nigerian Voice. The Nigerian Voice will not be responsible or liable for any inaccurate or incorrect statements contained in this article."
Articles by thewillnigeria.com